xoxo

Basic


Name·Kristen


Nickname·Krissii, Kristy, and/or squirell squirel :/ squirrel.


Age·15


Gender·female


Birthday·August 1st


Sexual Preference·male


Location·Miami, Florida



Favorites


(Maximum of 5 of everything..I don't want to know every movie you've
seen or every band you listen to.)



Bands: The Killers; Maroon 5; The Walkmen; Franz Ferdinand; Interpol


Songs: The Killers "Andy, You're A Star"; Maroon 5 "Shiver"; The Walkmen "Littlehouse of Savages"; Interpol "Specialist";


Movies: The Phantom of the Opera, Sugar and Spice, The Titanic, Eternal Sunshine for the Spotless Mind, Chicago, Alice in Wonderland


Animal: squirell squirel :/ squirrel


Actor/ress:Charlice Theron, Kate Winslet, Leonardo DiCaprio, Johnny Depp


Video/Board/Card Game:DDR Max


Movie Preview: Sin City (Can not wait for that movie to come out!)


Book/Author/Series:((to be honest with you... I don't really like to read))


Quote:
"When you wish upon a star
Makes no difference who you are
Anything your heart desires
Will come to you"

Body Part: My blue eyes


Subject in School: TV Productions


Website:
eljay.com

This or That


Coke or Pepsi?· Pepsi


Britney or Xtina?· Britney


Email or Old School?· Email


Livejournal or Xanga?· eljay


imafall3nstar or
x__i_heart_bert? If I had to choose, I'd go by the person with the better journal layout, which is
x__i_heart_bert.


Roller Coaster or Kiddie Rides? I'm a sucker for Kiddie Rides.


Cat or Duck OR Squirrel? squirell squirel :/ squirrel



Randomness


Tell us something funny about yourself: My facial expressions when I'm angry


Tell us something random: I have big, ugly feet


Put a few lines/lyrics of a song you're listening to right now.
Sometimes love is addiction. Sometimes it hurts like hell. And sometimes you just can't get enough.


What makes you a fineb? I beleive myslef to be a very fregin ingenious, notorious, yet enchanting bitznch!!!


Why should we let you in? I think I deserve to be in a community with Ingenious bitznch's like myself


Oh tell us where you found out about us. Just for reference. I know I saw a promotion on a community, but I honestly don't remember which one it was (sorry).


Do you see the evil kitty laughing? Yes I see the demonic squirrel and crazed duck with the kittie too.


Try to explain the crazyness of the mods(For the fun of it): Well, their crazyness is what drives everyone else's crazyness which allows the world to continue spinning in it's daily routine (I have no idea what I just wrote!).


Tell me your hobbies: I like to try new things... I'm really good at observing, but I'm even better at commenting. I love to sing when no one's wathcing, especially in the shower. And even though I'm not such a great dancer, I love to dance. Some would say I have a black belt in shopping and I have most definitely mastered talking on the phone. I guess you could call those hobbies. :)


Do you like that we don't have any opinions? What do ya mean by that?


Make me laugh hysterically with a joke or a picture: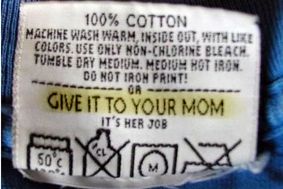 Pictures



Minimum of 3..Maximum of 7
Please remember the 100x100 or 100x75 pixel picture.

I made this myslef::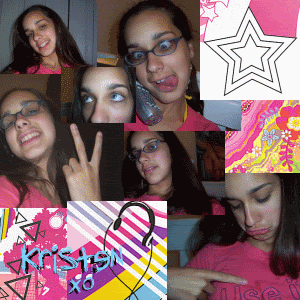 my 100x100::




I would really appreciate it if everyone voted for me even though I have an auto-accept! :]