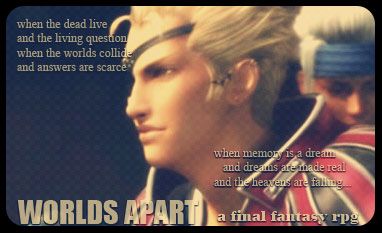 Format: Greatest Journal

Genre: Final Fantasy

Contacts: Gippal! at Gipparu Nights (AIM) and Auron! at Stoic Auron (AIM) or you can email us at: ffau_rpg@yahoo.com
Website:
World's Apart
Minimum Age Requirement:
We prefer 18+, but we do have some younger, mature members. The rule isn't set in stone, and we choose from your application.
Deadline:
None.
We are a slash/NC-17 friendly community, so please be able to handle mature themes.</p>
(
Collapse
)
(
Collapse
)
(
Collapse
)
(
Collapse
)
We're not too terribly bad, and so far, this little venture has been tons of fun! And, as you can see, we still have lots of canon characters still left, so don't be afraid to sign up! We're always looking for friendly new faces to join in on both the rp goodies and the ooc hilarity. We're dynamic, with several members, and lots of great characters to interact with! Not to mention the limitless number of story arcs you can follow, all leading up to the grand finale! If you have any questions, just IM me, Gippal, at Gipparu Nights, and I'll do my best to answer them. Also, it's been brought to my attention that not joining my cause serious risks to your health, courtesy of Zidane and Irvine (we kid! we kid!). Otherwise, happy rping!