Entries by tag:
Con el socio todo, sin el socio nada.
With the fan everything, without the fan nothing.
Sticky: Book Discussion Post.
FC Barcelona funds new early infant diagnosis laboratory in Swaziland

By Sibongiseni Mamba



MBABANE, Swaziland, 27 July 2011

The opening of a modern new laboratory to test blood samples from infants exposed to HIV infection in Swaziland has been hailed as a major milestone in the treatment of children affected by the virus.

The laboratory, which meets all international quality standards, has the capacity to test nearly 100 per cent of blood samples collected from infants across the country. Situated at the Mbabane Government Hospital, Swaziland's main referral hospital, it is equipped with high-tech polymerase chain reaction' machines, which allow the Ministry of Health to test blood samples of infants locally.

Previously, these samples were sent to South African laboratories. Not only this was costly for the government, but it also prolonged the waiting period for patients. The new early infant diagnosis equipment reduces the wait for results from 18 to 3 days. It also eliminates the high cost of sending samples to South Africa.
(
més
Collapse
)
+ An understrength Barca team beat third division Benidorm 0-1 with a strike from
Bojan
in their round of 32 first leg Copa del Rey game. The return leg is at the Camp Nou. Anyone want to guess how many people will turn up to that one? 3,000?
+ Bad injury new first: worryingly,
Abidal
has a knee problem that will rule him out for at least a week and might require surgery if it doesn't improve after that.
+ Good injury news:
Guddy
and
Pedro
both have medical clearance! They haven't been included in Pep's squad for Malaga, but look for at least
Guddy
to make a comeback against Basle midweek.
Keita
is running again as well, which is very encouraging.
+ Speaking of which, the squad:
Goalkeepers: Valdes, Pinto

Defenders: Marquez, Pique, Puyol, Caceres, Sylvinho

Midfielders: Xavi, Toure, Sergio B

Forwards: Henry, Bojan, Eto'o, Messi

*Swiss army knives: Iniesta, Hleb, Alves, Victor Sanchez
The new category there is for people who can play in a variety of positions across the pitch, leaving me unsure as to how I'm supposed to classify them.
+
Pep says we need to be careful
. He's right - Malaga are a good side, only 4 places below Barca in the table, having just beaten Sevilla away [not many teams can do that] and on a 4-game winning streak. Any complacency will be punished.
+
He also says that Xavi is going nowhere
, so feel free to continue laughing at the desperate attempts of publications such as
Tuttosport
to drum up rumours about half the Barca midfield.
+
Some news on the work of the FC Barcelona Foundation
.
I apologise for my lax posting lately: it's exam time. Look for an increase in about a week's time.
Aleks
now has medical clearance, so he'll be fit to play in Bilbao.
Dani
's probably going to be okay too, after missing the Atletico game as a precaution.
That's the good news. The bad news:
Pedro
broke in training with the Spanish U21s, and he's out for a month,
Guddy
got an injury playing for Iceland and will be out for at least a week, and
Yaya
's got some sort of knock from playing for the Ivory Coast which is not terribly serious but might be enough to rule him out for the Athletic game.
+ Quick international highlights round-up:
Titi
and
Andres
both scored fantastic goals for France and Spain respectively [both definitely worth watching],
Leo
now has 8 goals in his last 9 games,
Sammy
has now scored 10 goals in his last 11,
Puyol saved the day for Spain
(and scored a goal in their other game) and
Sergi Busquets
made his debut for the Spanish U21 side with a goal.
+
the Fundacion FC Barcelona's collaboration with UNICEF
is expanding to cover projects in Malawi and Angola as well as Swaziland. The article also details the good work that's been done in Swaziland already.
+
Leo made his official first team debut four years ago.
Seems like longer, to be honest. So much has happened.
+ On the contract extension front, talks for
Sergi Busquets
' new contract have begun. There's a lot of BS flying around about other clubs poaching him, but I wouldn't worry. Firstly, he's a cule who is the son of a cule who works at the club. Secondly, he shares an agent with
Guardiola
and said agent has a record of dealing well with the club. As long as Barca don't screw him over economically, we should be fine.
+ Further contract news: it has now emerged that the club sneakily signed a new contract with
Leo
a couple of months back and just didn't tell anybody. There's no extension involved - it still goes until 2014 - and the buyout clause is still an astronomical 150 million euros, he's just earning a lot more money now. No one's sure as to the figure, but the rumour that was floated a while ago was 8 million euros + up to 4 million euros in performance-dependent bonuses per year.
[This is Leo's fourth professional contract, which just goes to show how careful Barca are about keeping him, even though neither him nor his dad (who acts as his agent) have ever come out and publicly demanded anything of the club.]
+ Injury news first:
Current Mood:

chipper
Also FC Barcelona was awarded with the Silver Prize for using one of it's famous commercials or advertisments of having childeren surrounded by trash or dump and the child being inside the goalposts (like the image below). Also with the text to the right saying "Barca's most difficult game is about to begin". This advertisments had been awarded for getting the powerful point across.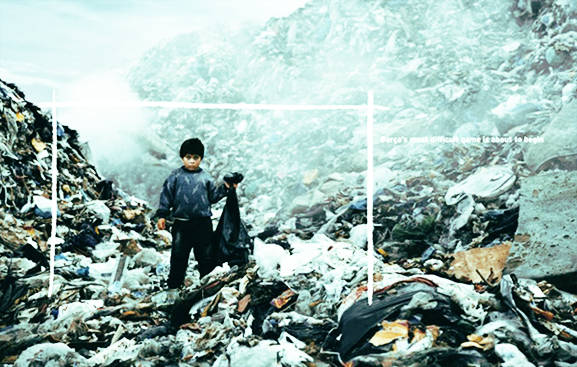 more information here:
http://community.livejournal.com/f_fanatics/3184.html#cutid1
The charity work being done by Futbol Club Barcelona has been recognised by the award of International Festival of Football Publicity and Communication Gold Price for the "best social initiative" - article