Entries by tag:
Con el socio todo, sin el socio nada.
With the fan everything, without the fan nothing.
Sticky: Book Discussion Post.
http://furia-roja.livejournal.com/695299.html#cutid1
and give me a grief translation?
And why are Barca called both Azulgrana and Blaugrana? Is this the same or is there a difference? I allways thought that AZUL was that kind of blue you see at Cote d'Azur ... any Barca-blue is nowhere near this kind of blue:(
Can you help?
BTW: can we have a "curious cule" tag?
Can anyone have a look at that :
So Barcelona just won against

M

I

L

A

N

A

C

and there's not even a little wee bit of a match-spam? SMH guise.

S.M.H

. So I'm just gonna leave this here ok XD Just a quick note: it's equally hilarious and

creepy,

so enter at your own risk XDDD

XAVI HERNÁNDEZ IS
"THE GIRL OF MY DREAMS WHO KEPT SAYING NO"

(

"Xavi is the novia, the bride, everything to Barcelona..."Collapse

)
When I saw this earlier i thought OMG this'll be great for the post-match spam on _fcbarcelona_... But OH WAIT.
Current Mood:

scarred for life

Current Music:

Besos (ELCL) jk I'm listening to Beirut XD
¡TOO MUCH INFORMATION ABOUT TITO VILANOVA!
checking tumblr during work hours
(
tito tito tito tito tito tito tito tito tito tito tito tito tito tito tito tito tito tito
Collapse
)
EXCLUSIVE: DAVID VILLA AND LEO MESSI HATE EACH OTHER
FC Barcelona just released a statement that
they're going to sell these two players
, as their animosity towards each other is disrupting the feeling of camaraderie in the changing room. On the list of footballers who might replace the two rogues there are names that will make us forget Messi and Villa very soon, some informers say: the names will not be disclosed until the next press conference, but our anonymous sources say players of the caliber of Alexander Hleb might be brought back. Culés will surely rejoice at this wonderful piece of news! After all, who will mourn the loss of such a pigheaded, selfish player such as Leo Messi?
Don't believe us? Watch the last interview Messi has given to Barça TV, and see for yourselves.
(
such a disgrace...
Collapse
)
picspam
of the Alcantara brothers.
cheers!
have a
The 4th Season of Crackòvia starts Monday Sept 12th!!!!!!!!!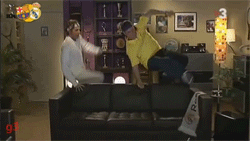 Interviewing Pau Escribano, director of the kick-ass awesomeness that is Crackòvia!!!
First of all:
CRACKÒVIA IS NOW ON TWITTER
(
gif-spam ahoy
Collapse
)
Current Mood:

bouncy

Current Music:

Mou, res!!
Since everything has been Spain NT for the past few days, here's this gem I found. I dare you to watch it and NOT burst into laughter. I laughed so hard I'm crying right now! XD
Current Mood:

bouncy

Current Music:

"Houdini" - FOster the People (obviously XD)
O
UR FLAWLESS MESSIAH TURNS 24 TODAY!
HAPPY BIRTHDAY MESSI!
WISH YOU LONG AND SUCCESFUL CAREER IN FOOTBALL WITH BARCA AND ARGENTINA!
WE LOVE YOU , LA PULGA!

1. CULES, WHAT DO YOU LIKE/ADMIRE MOST FROM LIONEL MESSI?
2. SPAM THIS POST
WITH RAINBOWS GIFS UNICORN FAIRIES SEXY PICTURES COMPLIMENTS GALORE
OR I WILL BAN YOU


GO GO GO GO GO



*gifs not mine, A+ to whoever made it though