Entries by tag:
Con el socio todo, sin el socio nada.
With the fan everything, without the fan nothing.
Sticky: Book Discussion Post.
Heads up you guys, the current issue of GQ España has a feature on "Los Héroes de España" and guess what? Every one of the three players featured in the shoot (Andres Iniesta, David Villa, and Cesc Fabregas) are Barça-connected! So far I've only found the Iniesta photo, but if anyone gets their hands on the rest of the photos and article it would be appreciated (I would buy it and scan it if I had the slightest idea where I could find a copy of Spanish GQ in the States).
(
bigger photo
Collapse
)
I bought this a few weeks a go but just got the scanner now so here's some articles off Champions mag on Messi and Villa.

(Exclusive interview with Villa)

Everything is high res on 2000 x 3000 pixels (more or less) just click through the pics.
(
I hope the images are loading up for you guys but lj is pmsing I can't guarantee
Collapse
)
Current Mood:

groggy
From iSport (will get more info soon)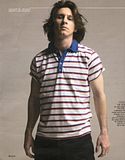 (
3 more pics and a-style ad back here
Collapse
)
My friend scanned these for me and I want to share with you all. Thanks :)
+ Bad news: Ronaldinho's out for the rest of the season. I...yeah.
+ The April issue of FourFourTwo magazine had a cover feature on Messi, which is fun but not exceptionally interesting (
John Carlin's recent piece for the Observer
is better), and an excellent article on the Barca youth system, both of which I've scanned in.
Apologies in advance for the quality of the scans - it was my first time scanning anything, would you believe.
(
Read more...
Collapse
)
+ Good news: Leo Messi's back in town, and will hopefully be fit in two weeks or so.
Current Mood:

tired
(
I've always liked having the ball at my feet
Collapse
)
(
The club's job is to keep the percentage of satisfied footballers...
Collapse
)
(
Rijkaard's secret weapon...
Collapse
)
I haven't seen this posted here before so I thought I'd share (hope this is okay). There is a "Barcelona Special" in the new issue of the Champions magazine and I've scanned a few articles on Messi, Dos Santos and Deco (click to enlarge):