Entries by tag:
Con el socio todo, sin el socio nada.
With the fan everything, without the fan nothing.
Sticky: Book Discussion Post.


A moment of silence, please, for the end of an era.

Thank you, Ronnie. You were brilliant.
[Just to update the
previous post
, since we now have an
official announcement and confirmation of the price
: 21 million euros, plus 4 million conditional on performances.]
ETA:
the official site has quite a few tributes up:
the Brazilian Magician
,
Individual Recognition
, and
the Smile and the Magic
.
Current Mood:

numb
ROME (AFP) — Brazilian superstar Ronaldinho agreed on Tuesday to leave Barcelona, where he was deemed surplus to requirements, and sign for AC Milan in a deal reported to be worth 30 million dollars.
"AC Milan and FC Barcelona have reached an agreement for the transfer of Ronaldinho," said a Milan statement released on the club's official website.
"Tomorrow (Wednesday) the player will be in Milan for a medical and to sign the contract which will tie him to Milan until June 30, 2011."
The Article :
http://afp.google.com/article/ALeqM5gpoUBI3Qe8Q-HiiC29Udntmj8ZHw
Current Mood:

depressed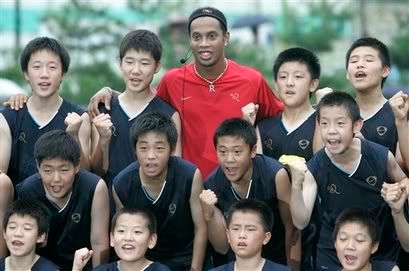 Ronnie's currently 2/3 of the way through an Asian tour, being done with Nike as part of a shoe promotion. At each stop, he runs clinics for giant mobs of local kids, all of whom are clearly having the time of their lives -- and Ronnie looks pretty happy, too, all decked out in his line of Nike gear (of course). He was in Japan Monday, South Korea yesterday, and I think will be China today (I'll edit with China pix if there are any, rather than putting up a new post).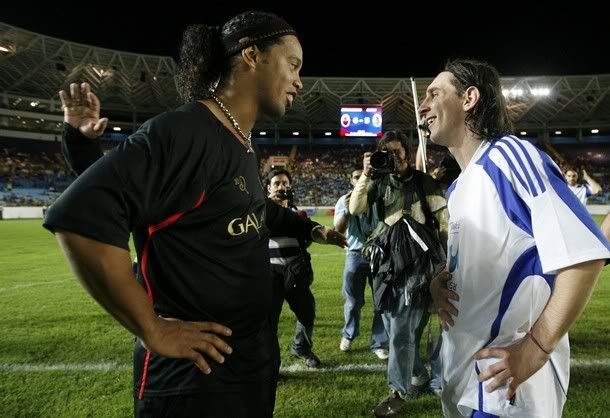 In Maturin, Venezuela last night, the impressively monikered "A Game from Another Galaxy" -- the second annual exhibition match organized by Ronaldinho and Leo -- took place. (Though I can't find info about the organization or the match itself, it was apparently held to benefit a charity of some sort.)
Ronnie and Leo were captains and both scored (Ronnie got two) and handed out multiple assists; the match ended
with an impressive final tally of 7-7
. Sylvinho was supposedly there as well, but I'll be damned if I can find any evidence of his presence. (If anyone knows more or has more pictures, drop them in the comments and I'll edit!)
ETA:
More info about the result
, if anyone wants to know Important Things like who scored and whatnot.
(
+10
Collapse
)
In light of the latest news, and the fact that some of you guys expressed a preference for more picspams around here, I bring you this bittersweet look back.
Current Mood:

listless
We now formally have a new manager. Well, he's now off on vacation after a season of hard work with the B team, but he'll back on the 22nd to present players and argue with Txiki about transfers.
+ Speaking of the B team, the official website has a
summary of their great season
.
+ If anyone still doesn't know anything about our new manager, they've got
a bio up
as well.
+ Guardiola said a number of interesting things in his press conference, spread out over
two
reports
on the official site.
Main points:
(
Read more...
Collapse
)
ETA:
a great article
about Guardiola's coaching style, via Google Translate. To give you an idea, comparisons are made to Sacchi and Mourinho. [Slightly scared now.]
Current Mood:

worried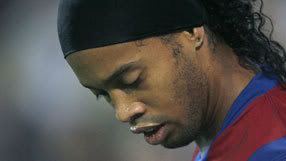 RONALDINHO AGREES GENERAL TERMS WITH AC MILAN
Ronaldinho has agreed initial terms with AC Milan and the Serie A club will now
speak to Barcelona about the deal, Milan and the players agent have said.
read article>
+ Bad news: Ronaldinho's out for the rest of the season. I...yeah.
+ The April issue of FourFourTwo magazine had a cover feature on Messi, which is fun but not exceptionally interesting (
John Carlin's recent piece for the Observer
is better), and an excellent article on the Barca youth system, both of which I've scanned in.
Apologies in advance for the quality of the scans - it was my first time scanning anything, would you believe.
(
Read more...
Collapse
)
+ Good news: Leo Messi's back in town, and will hopefully be fit in two weeks or so.
Current Mood:

tired