Entries by tag:
Con el socio todo, sin el socio nada.
With the fan everything, without the fan nothing.
Sticky: Book Discussion Post.
Current Mood:

calm
"Messi has made me a better footballer"
David Villa (Tuilla, Asturias; 1981) came to Barcelona a year ago and reinvented himself as a striker. He stopped being center forward and learned to play on the left side, in Leo Messi's shadow. He is the top goalscorer for the Spain NT (49 goals) and tomorrow's game against Scotland will be his 80th with La Roja.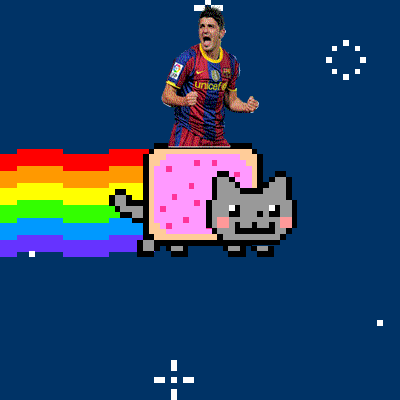 (
IDEK what *that* is, but it invites you in... LOL
Collapse
)
Current Mood:

horny

Current Music:

Calle 13 - "Latinamérica"
ÉRIC ABIDAL: I AM NOT AFRAID
THE SCAR OF THE WARRIOR

by Riccardo Romani, photos by Antoine Doyen shamelessly downloaded from tumblr cos my scanner sucks


Two months ago at Wembley stadium he lifted the Champions League trophy while wearing his Barcelona shirt and the captain's armband his teammates gave him. Two months before that, he was diagnosed with liver cancer.
(
King Abi invites you in...
Collapse
)
Current Mood:

bouncy
XAVI: "BARÇA IS THE BEST CLUB IN THE WORLD"


There are some players who don't need a formal introduction and Xavi Hernández is one of them. He's the best midfielder in the world and the player who played more games in the history of Barcelona.
(
El Maestro's xavilicious hips invite you in...
Collapse
)
The World Game
which talks about... well, you only have one guess, really.
The week just past, Craig Foster (big name in Australian soccer, former player, critic, commentator, chief analyst, etc.) had an exclusive interview with our very own Maxwell, and they have the video uploaded onto their website.
I don't think the video has an embedding option, so you can see the interview
through this link here!
Craig Foster chats with Barcelona defender Maxwell about his time with the La Liga champion, playing with some of the world's best footballers, being coached by Pep Guardiola and the Brazilian national team.
And yes, it's Maxwell speaking English. Hoorah! \o/
(note that for some reason, the video shows up on my Safari browser but not my Firefox browser, but that might just be my Firefox being a bitch)
(They mentioned some other "exclusive interviews" with other Barcelona players(!!!) for next week's show, soooooo... stay tuned, y/n? :D)
K, so, in Aussieland we have a weekly (fairly well-respected) TV show called
Current Mood:

sleepy
SEVILLA FC
vs.
FC. BARCELONA

21H CET

TIME CONVERTER

STREAMS: atdhe // roja

Barcelona line-up: Valdes, Alves, Pique, Abidal, Adriano, Xavi, Busqets, Iniesta, Pedro, Messi, Villa.
(
so hot, gimme your gasoline!
Collapse
)