Entries by tag:
Con el socio todo, sin el socio nada.
With the fan everything, without the fan nothing.
Sticky: Book Discussion Post.
The floor is yours, what do you guys and gals think?
For your info, this is the Google Translate version of the SPORT article:
FOURTH HAMSTRING RUPTURE
As most of you know by now, our Sexy Cesc is the latest victim of what appears to be a real plague for our boys: a hamstring rupture will keep him out for about three weeks. He now joins Iniesta, Alexis and our poor Ibi in Barça's infirmary. Let's not forget Pretty Pique who just recovered from the very same type of injury. Now, SPORT, Barça's number one newspaper is expressing in an article the concern that some culers are also feeling: is there anything wrong in the way our babies train? Do we need to worry?
Current Mood:

worried
Afellay set for knee surgery
Barcelona's Dutch midfielder Ibrahim Afellay will undergo surgery tomorrow after suffering knee ligament damage in training today.
The Spanish and European champions did not indicate how long the 25-year-old will be sidelined for, but he could be
out of action for as long as six months
after going under the knife.
A statement from Barcelona this evening read: "Ibrahim Afellay suffered a torn anterior cruciate ligament in his left knee during training on Thursday afternoon. The Barça No20 will have surgery tomorrow."
Afellay, who joined Barca from PSV Eindhoven in January, had just got back into Pep Guardiola's line-up after missing the start of the La Liga season due to a hamstring injury.
source
brb crying.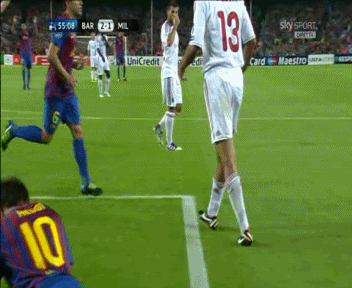 The B team played their first game under new coach Eusebio today, a friendly against 5th division L'Escala. And guess who scored!
(
well...pretty much everyone
Collapse
)
besos
ITP DISCUSS HOW INIESTA COULD HAVE WENT AND GOTTEN HIMSELF INJURED.
bonus points for creativity and hilarity, this is supposed to be a fun lighthearted post as we all know our midfield is the most wonderful and absolutely flawless, no matter who plays or doesn't ok <3 <3 <3
He has been struggling with lumbago for a few weeks, it has been worsening in the past 2 days.
His decision to go to Mestalla and instruct from the bench aggravated this condition even further.
He was admitted into Dexeus hospital as soon as the team landed in BCN (around 2.30am).
EMD says he spent the night but Sports indicated that he's still in admission.
He will most likely be out for Zaragoza.

UPDATE

: The Doctor who's treating Pep is Dr. Caceres, the Enlightened One.

UPDATE 2: OFFICIAL FROM FCB.CAT:

Pep has a spinal disc herniation.
He will continue with pharmacological and epidural treatment. Still in hospital.
Xavi on Pep coming to Mestalla despite the pain:
"Guardiola está un poco jodido. Pero es el compromiso del entrenador y de la gente de casa".
Pot meet kettle!
Xavi Hérnandez has a slight calf strain in his left leg.
He is expected to be out for around 7-10 days
.
He will miss the game against Mallorca and Valencia.
What is your reaction to this?
FFFFFFFFFFFFFFFFFFFFFFFFFFFFFFFUUUUUUUUUUUUUUUUUUUUUUUUUUUUUUUUUUUUUUUUUU