Entries by tag:
Con el socio todo, sin el socio nada.
With the fan everything, without the fan nothing.
Sticky: Book Discussion Post.
The 4th Season of Crackòvia starts Monday Sept 12th!!!!!!!!!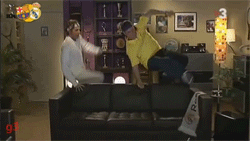 Interviewing Pau Escribano, director of the kick-ass awesomeness that is Crackòvia!!!
First of all:
CRACKÒVIA IS NOW ON TWITTER
(
gif-spam ahoy
Collapse
)
Current Mood:

bouncy

Current Music:

Mou, res!!
Since everything has been Spain NT for the past few days, here's this gem I found. I dare you to watch it and NOT burst into laughter. I laughed so hard I'm crying right now! XD
Current Mood:

bouncy

Current Music:

"Houdini" - FOster the People (obviously XD)
In a recent interview with Diari Sport, our second captain, Xavi Hernández, took the time to talk about some current issues on Barça's agenda. The original interview can be found here.

Here are some of his words, which are always worth a read, regarding Barça's relationship with Madrid, the Spain national team after the four derbies last season, and the new (still rumoured) signings.


(

.....................Collapse

)
O
UR FLAWLESS MESSIAH TURNS 24 TODAY!
HAPPY BIRTHDAY MESSI!
WISH YOU LONG AND SUCCESFUL CAREER IN FOOTBALL WITH BARCA AND ARGENTINA!
WE LOVE YOU , LA PULGA!

1. CULES, WHAT DO YOU LIKE/ADMIRE MOST FROM LIONEL MESSI?
2. SPAM THIS POST
WITH RAINBOWS GIFS UNICORN FAIRIES SEXY PICTURES COMPLIMENTS GALORE
OR I WILL BAN YOU


GO GO GO GO GO



*gifs not mine, A+ to whoever made it though



XAVI: "BARÇA IS THE BEST CLUB IN THE WORLD"


There are some players who don't need a formal introduction and Xavi Hernández is one of them. He's the best midfielder in the world and the player who played more games in the history of Barcelona.
(
El Maestro's xavilicious hips invite you in...
Collapse
)


Who do you think made the best cameo in this video?
I SAY LAHM, KUN, AND JORGE > EVERYONE ELSE TBH

lol
thx to barcastuff