Entries by tag:
Con el socio todo, sin el socio nada.
With the fan everything, without the fan nothing.
Sticky: Book Discussion Post.
Following the good news about Abidal contract renewal here's another story about this wonderful man. Grab a box of kleenex and get ready to feel even more proud of this team.
A letter written to the Spanish newspaper "La Vanguardia" tells us the beautiful story starring FC Barcelona's French player and a kid affected by a similar tumor to the one Abidal had last year.
The letter explains how much it helped his son to get better, using Abidal as an example.
(
Read the letter
Collapse
)
DIVER & AGUILAR HAVE DONE IT AGAIN.
Another stunning batch of photos of the boys, this time with a vintage theme.

Diver & Aguilar:
In 1871 the American company of Allen and Ginter began inserting pieces of card to protect the cigarettes from being damaged. It was not long before tobacco companies had the idea of printing advertisements on these cards, or "stiffeners" as they were called in the trade. In about 1876 companies began producing a series of cards that the smoker could collect. It was believed that this would encourage the smoker to continue using that particular brand.

The tobacco companies discovered that these sporting cards were a great way to obtain brand loyalty. In 1896 the first football set appeared. Footballers & Club Colours was published by Marcus & Company, a small firm in Manchester. These cards are extremely rare and individual cards are valued at £170. This is true of all the early football sets that were issued at this time: Footballers & Club Colours (Kinner, 1898); Footballers (J. F. Bell, 1902); Footballers (F. J. Smith, 1902) and Footballers (Percy E. Cadle, 1904). The cost of individual cards of these sets vary from £40 to £160.

In 1902 W.D. & H.O. Wills published a set of 66 football cards. This included George Clawley (Tottenham Hotspur), Matt Kingsley (Newcastle United), George Hedley (Sheffield United), Jimmy Crabtree (Aston Villa), Ernest Needham (Sheffield United) and Fred Spiksley (Sheffield Wednesday). Interestingly, most of the players were photographed in suits.
For the 2011-2012 La-Liga Season, Diver & Aguilar have recreated these vintage style cards with the first team squad of FC Barcelona,including Lionel Messi, who for the third year running has been voted World Player of the year & Pique,Xavi,Ineista and Puyol European and World Cup & Club Champions of Spain.
RAFA MÁRQUEZ TRAINS WITH BARÇA B!
"Messi has made me a better footballer"
David Villa (Tuilla, Asturias; 1981) came to Barcelona a year ago and reinvented himself as a striker. He stopped being center forward and learned to play on the left side, in Leo Messi's shadow. He is the top goalscorer for the Spain NT (49 goals) and tomorrow's game against Scotland will be his 80th with La Roja.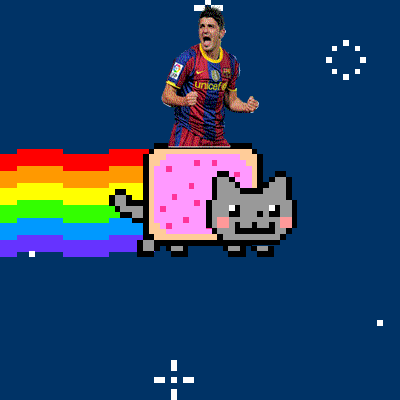 (
IDEK what *that* is, but it invites you in... LOL
Collapse
)
Current Mood:

horny

Current Music:

Calle 13 - "Latinamérica"