Entries by tag:
Con el socio todo, sin el socio nada.
With the fan everything, without the fan nothing.
Sticky: Book Discussion Post.
If you watched the final you know that Messi and Xavi ran the show. Now here is a little look into just how much.
(
spoiler: barca were pretty good
Collapse
)
The pretty sad thing for Santos in the Club World Cup final is that nearly every goal could have been prevented if the center backs could clear the ball. However that did not happen and as we know FC Barcelona went on to defeat the Brazilian club 4-0. This is a little look into just where Barca attacked from, how the goals were created, and where the shots from the players came from.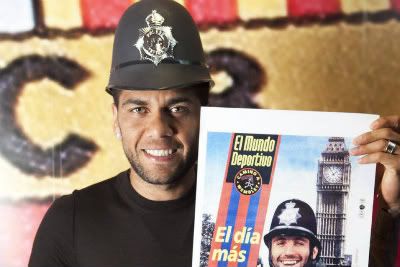 yeah I know the interview is with The Guardian and not Mundo Deportivo..;_;

In an exclusive interview, Dani Alves talks to Fernando Duarte about his move to Barcelona, the prospect of a first Champions League final – and his contempt for those cheat allegations.



(

The king of swag (and trolling) speaksCollapse

)



I thought this was very interesting, especially the comments in regards to Busquets and the Pepe situation. I wish there were more interviews with him!
FC Barcelona is pleased to announce an agreement with Dani Alves to extend his contract with the club for another three seasons, until June 30, 2015. The document will be signed on Wednesday at around 19.00. There will then be a photograph session open to the media by the doors to the FC Barcelona offices.
Source
DANI ALVES ADMITS TO BEING
THE OBJECT OF RACIST INSULTS IN SPAIN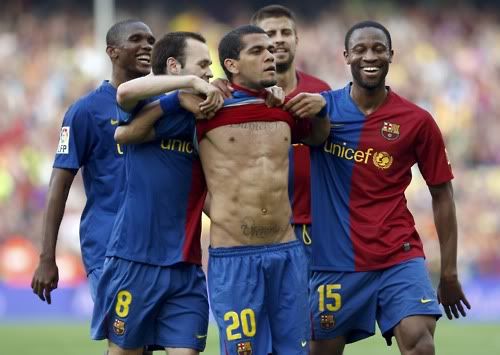 08/02/2011

Daniel Alves, footballer of FC Barcelona and the Brazilian NT, has stated that "unfortunately" he has already "learned to live with" racism in Spain, and that the situation is "beyond control" in Spanish stadiums.
(
BAMF Dani invites you in...
Collapse
)


source (El Mundo Deportivo): http://www.elmundodeportivo.es/gen/20110208/54111732071/noticia/dani-alves-se-siente-victima-del-racismo-en-los-estadios-espanoles.html

I dunno what you guys think, but he deserves a HUGE PICSPAM.
(crossposted to ontd_football)
Current Mood:

angry
Badass Dani that must sign that contract already invites you in for the last meme of weekly kind for 2010
(
it's the weekly opinion meme, in fancy party disguise, guyse!
Collapse
)

Barcelinha over and out, have a ball Culitas, and Visca Barca!
(
what am I doing this feels so weird
Collapse
)
THIS POST BROUGHT TO YOU BY PARTYING HARD.
Some good looking people, questionable fashion and google translate to ~raise our spirits~