Entries by tag:
Con el socio todo, sin el socio nada.
With the fan everything, without the fan nothing.
Sticky: Book Discussion Post.
The 4th Season of Crackòvia starts Monday Sept 12th!!!!!!!!!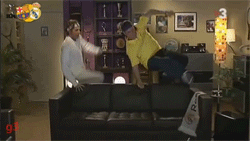 Interviewing Pau Escribano, director of the kick-ass awesomeness that is Crackòvia!!!
First of all:
CRACKÒVIA IS NOW ON TWITTER
(
gif-spam ahoy
Collapse
)
Current Mood:

bouncy

Current Music:

Mou, res!!