Entries by tag:
Con el socio todo, sin el socio nada.
With the fan everything, without the fan nothing.
Sticky: Book Discussion Post.
Afellay, the man who brought the Berber flag at Camp Nou.
The Dutchman, son of Moroccans, has become a hero among young Berbers after he wore the flag of the Amazigh nation on Sunday for the Champions League celebrations with FC Barcelona .

Afellay, born in Holland and son of Moroccan immigrants, has never kept it a secret that he feels part of the Amazigh nation. The Amazigh, or Berbers, are a people of North Africa who live in parts of the states of Morocco, Egypt, Libya, Algeria or Tunisia. They have traditionally been a nomadic people who lived in the desert, but for decades now they have also started living in a sedentary way in different areas such as in Alhucemas, the north of Morocco, the Ibakuyen region, where the parents of the football player were born. This area, located near Melilla, has always had a great Amazigh presence. The Amazigh are a nation without a state who fights for the recognition for their language and identity in states where they haven't always been given any rights.
(
have my babies, please, Ibi
Collapse
)


i don't even have the gif for this moment
i just
i can't
idk
srsly

Sorry guys because I have no idea how to make those small pictures with tweet extracts, but you totally have to check Andresitos twitter. Out boy decided to learn english and practice it with people on twitter! How cool is that!
(
terrified falafel right this way
Collapse
)
This post was brought to you by snuggly Pijan.
I know everyone might still be fuming over last night's non-match so here's something that should, er, lighten our moods a little? We could use some of that. So could Victor...
DANI ALVES ADMITS TO BEING
THE OBJECT OF RACIST INSULTS IN SPAIN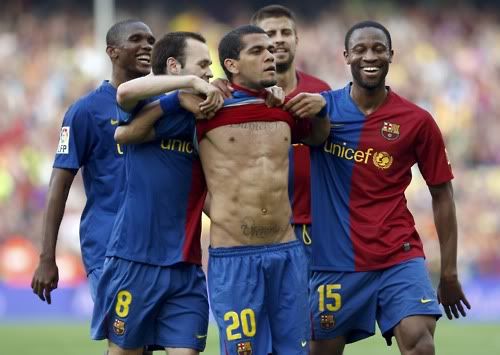 08/02/2011

Daniel Alves, footballer of FC Barcelona and the Brazilian NT, has stated that "unfortunately" he has already "learned to live with" racism in Spain, and that the situation is "beyond control" in Spanish stadiums.
(
BAMF Dani invites you in...
Collapse
)


source (El Mundo Deportivo): http://www.elmundodeportivo.es/gen/20110208/54111732071/noticia/dani-alves-se-siente-victima-del-racismo-en-los-estadios-espanoles.html

I dunno what you guys think, but he deserves a HUGE PICSPAM.
(crossposted to ontd_football)
Current Mood:

angry
Current Location:

NOT IN HOLLAND

Current Mood:

full

Current Music:

JUMP! FOR MY LOVE feat Hugh Grant's spectacular dancing.