Entries by tag:
Con el socio todo, sin el socio nada.
With the fan everything, without the fan nothing.
Sticky: Book Discussion Post.
And now, Kobe talking about Pep' s team:
Kobe Bryant fielded questions from the media on Tuesday and was asked what he thought about Barça star Juan Carlos Navarro. "I do not know if he is the best in Europe, but he is one of the best," he explained.

On Lionel Messi the basketball star added: "He is the best in the world." Asked about Xavi and Andrés Iniesta he explained: "They are also very good, but I think Messi is the best."


BTW, the match will be broadcasted in Spain by Cuatro, at 20:30 h. :)
Next Thursday in Barcelona, L.A. Lakers and F.C. Barcelona will play a match in Palau Sant Jordi at 20:30 h. This is actually a Best of Europe club Vs Best of NBA team. This awesome visit is generating a lot of news, including Kobe Bryant talking about Pep Guardiola's team. :)
Has this ever been posted? Because it's on telly all the time and I don't know if it's old or not / if you've already seen it.
11th of September is our National Day. Tradition sets that FCBarcelona (like the catalan government or many other institutions) go to
Rafael Casanova's
statue to give a flower offering. This year the representatives of the Club were:
·Board of directors: headed by Sandro Rossell, Bartomeu, Vilarrubí, Cardoner, Moix, Monés, Guinovart, Elías, Arroyo, Lee and Vidal Abarca.
·First football team: Guardiola, Puyol and Estiarte.
·Basketball team: Creus, Pascual and Grimau.
·Handball: Masip and Víctor Tomás.
·Indoor football: Carmona and Javi Rodríguez.
The players of the hockey team could not attend because they had different sport commitments.
The three captains, Puyol, Grimau and Javi Rodriguez the ones that put the flower offering next to the monument.
Later, in the official ceremony of the Generalitat (catalan government) held at the Parc de la Ciutadella, Carles Vilarrubí has represented the club.
Tonight, before the Barça Hercules match, a giant senyera (252 m²) will be deployed at the stadium, escorted by a group of 'trabucaires' de Gracia and Sant Andreu Palomar, The catalan actor Jordi Boixaderas will read a text before the big moment: the Cor Jove de l'Orfeo Català will sing "Els Segadors", the Catalan national anthem.
The sources are in spanish:
(1)Visca
(2)Catalunya!
Btw, i'll miss tonight's game because i'm going to a concert. Enjoy the match and the best of luck for our boys!!!!
The american director Spike Lee in Turkey, attending FIBA World Championship 2010.
Since I'm a huge fan of some of his movies, I got excited when I saw this picture :)
BTW, Any basketball fan her? Because I'm a fanatic of it.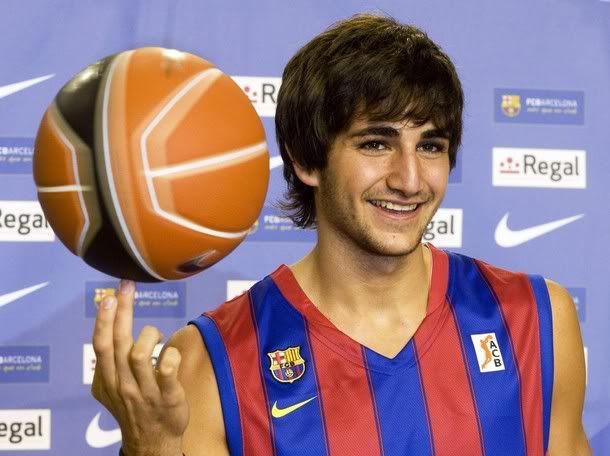 Not something we usually cover, but FC Barcelona Basquet (known as Regal FC Barcelona)
have signed possibly the biggest rising star of Spanish basketball
, 19-year-old Ricky Rubio. (You may remember him from
this adorable photoshoot
with Bojan Krkic. Or how scarily good he was at the Olympics at such an young age.) This transfer saga has been rumbling on in the Spanish press for months, so I thought it was worth a post.
[Regal FCB won their league last season, with their big star being one Juan Carlos Navarro, who you may also remember from the Olympics.]
(
A couple more pics from the presentation behind the cut
Collapse
)
Current Mood:

busy