Entries by tag:
Con el socio todo, sin el socio nada.
With the fan everything, without the fan nothing.
Sticky: Book Discussion Post.
Uncle Sandro has some good news~ to tell ya.


(
I can't wait to read what it is!
Collapse
)
Current Mood:

sad
Hleb
has signed with
Stuttgart
on a
1 year loan
.
»
Cáceres
is set to sign with Juventus on (supposedly) a 1 year loan, he's already passed his medical.
USA Squad List:
Valdés, Jorquera, Pinto, Puyol, Alves, V. Sanchez, Piqué, Márquez, Henrique, Abidal, Maxwell, Xavi, Touré, Keita, Busquets, Gudjohnsen, Iniesta, Henry, Pedro, Messi, Bojan, Ibrahimovic, Muniesa, Fontás, Dos Santos, Jeffren
SCHEDULE fcb.cat
Thursday 30 July » Nike-FCB promotional event
Thursday 30 July » Reception for members of the LA Barça Supporters Club (19:00)
Friday 31 July » Commemoration of the agreement between FCB & Malaria No More (19:30)
Saturday 1 Aug » Game: LA Galaxy v FC Barcelona (20:00)
Sunday 2 Aug » Travel to Seattle (16:00)
Monday 3 Aug » Event to set out the 'More than a Club in the World' project, the activities of the FCB Foundation and the club's global alliance with UNICEF (17:30).
Tuesday 4 Aug » Visit to Microsoft's HQ and House of the Future (17:00).
Wednesday 5 Aug » Game: Seattle Sounders (19:30)
Thursday 6 Aug » Travel to San Francisco (16.00)
Saturday 8 Aug » Game: Chivas Guadalajara (20:00)
Saturday 8 Aug » Return to Barcelona (23:50)
Sunday 9 Aug » Arrive in Barcelona (20:15)

While in LA they'll be training at UCLA and
staying at the SLS Hotel in Beverly Hills.
(
p i c s p a m
Collapse
)
»
Q: Are you especially motivated to play against Real Madrid at Camp Nou?
Leo Messi: Well, it's a special match because it's Real Madrid. But, basically, it's just the usual: two teams, eleven players...
Video of the day:
Leo said that in an interview days before this game, the most exciting of the recent Clasicos:
+ The latest speculation as regards Real's make-shift backline is that it will be Metzelder-Ramos-Cannavaro-Salgado. That's right, Salgado to mark Messi (if Pep sees fit to put Leo on the right again).
+ On the Barca side, everybody's doing fine, except Aleks Hleb who has a fever and had to miss training.
+ The official website makes my life easier with a series of preview articles:
one focusing on the influence of Dutch players on first Barca and now Real
and
on Juande Ramos' year in charge of Barca B
.
+
Xavi spoke to the press and was properly very cautious
about Barca's prospects.
And finally, just an early reminder:
_fcbarcelona_
will be hosting a live reaction post on Saturday. The game's at 10PM local time. Please come and join us - it's better than freaking out by yourself! *g*
Quote of the day:
Aleks
now has medical clearance, so he'll be fit to play in Bilbao.
Dani
's probably going to be okay too, after missing the Atletico game as a precaution.
That's the good news. The bad news:
Pedro
broke in training with the Spanish U21s, and he's out for a month,
Guddy
got an injury playing for Iceland and will be out for at least a week, and
Yaya
's got some sort of knock from playing for the Ivory Coast which is not terribly serious but might be enough to rule him out for the Athletic game.
+ Quick international highlights round-up:
Titi
and
Andres
both scored fantastic goals for France and Spain respectively [both definitely worth watching],
Leo
now has 8 goals in his last 9 games,
Sammy
has now scored 10 goals in his last 11,
Puyol saved the day for Spain
(and scored a goal in their other game) and
Sergi Busquets
made his debut for the Spanish U21 side with a goal.
+
the Fundacion FC Barcelona's collaboration with UNICEF
is expanding to cover projects in Malawi and Angola as well as Swaziland. The article also details the good work that's been done in Swaziland already.
+
Leo made his official first team debut four years ago.
Seems like longer, to be honest. So much has happened.
+ On the contract extension front, talks for
Sergi Busquets
' new contract have begun. There's a lot of BS flying around about other clubs poaching him, but I wouldn't worry. Firstly, he's a cule who is the son of a cule who works at the club. Secondly, he shares an agent with
Guardiola
and said agent has a record of dealing well with the club. As long as Barca don't screw him over economically, we should be fine.
+ Further contract news: it has now emerged that the club sneakily signed a new contract with
Leo
a couple of months back and just didn't tell anybody. There's no extension involved - it still goes until 2014 - and the buyout clause is still an astronomical 150 million euros, he's just earning a lot more money now. No one's sure as to the figure, but the rumour that was floated a while ago was 8 million euros + up to 4 million euros in performance-dependent bonuses per year.
[This is Leo's fourth professional contract, which just goes to show how careful Barca are about keeping him, even though neither him nor his dad (who acts as his agent) have ever come out and publicly demanded anything of the club.]
+ Injury news first:
Current Mood:

chipper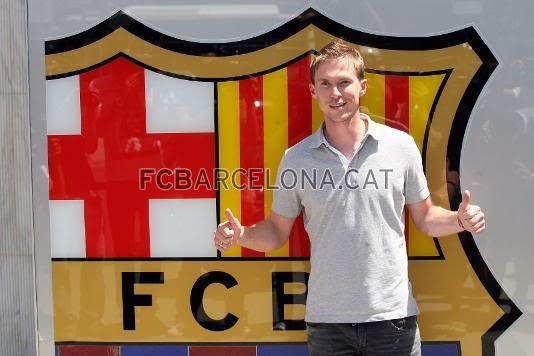 Hi there, Aleks!
He's signed a
four-year deal with a 90 million buy-out clause
, and has cost Barca the rumoured 15 million euros.
At the presentation, attended by a watchful Thierry Henry (his former captain at Arsenal),
Aleks was very eager to please
: he joked that he was willing to play in any position, including goalkeeper. In line with those comments, Guardiola praised his versatility and also his technical skill.
(
many pictures under the cut
Collapse
)
Current Mood:

cheerful