Entries by tag:
Con el socio todo, sin el socio nada.
With the fan everything, without the fan nothing.
Sticky: Book Discussion Post.
Following the good news about Abidal contract renewal here's another story about this wonderful man. Grab a box of kleenex and get ready to feel even more proud of this team.
A letter written to the Spanish newspaper "La Vanguardia" tells us the beautiful story starring FC Barcelona's French player and a kid affected by a similar tumor to the one Abidal had last year.
The letter explains how much it helped his son to get better, using Abidal as an example.
(
Read the letter
Collapse
)
"Messi has made me a better footballer"
David Villa (Tuilla, Asturias; 1981) came to Barcelona a year ago and reinvented himself as a striker. He stopped being center forward and learned to play on the left side, in Leo Messi's shadow. He is the top goalscorer for the Spain NT (49 goals) and tomorrow's game against Scotland will be his 80th with La Roja.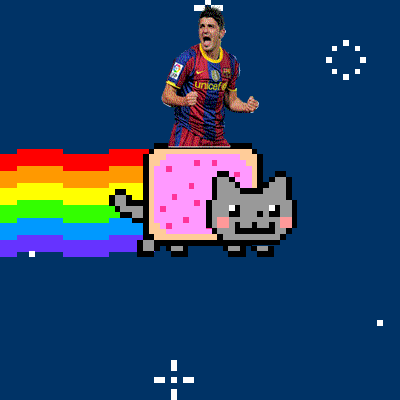 (
IDEK what *that* is, but it invites you in... LOL
Collapse
)
Current Mood:

horny

Current Music:

Calle 13 - "Latinamérica"
ÉRIC ABIDAL: I AM NOT AFRAID
THE SCAR OF THE WARRIOR

by Riccardo Romani, photos by Antoine Doyen shamelessly downloaded from tumblr cos my scanner sucks


Two months ago at Wembley stadium he lifted the Champions League trophy while wearing his Barcelona shirt and the captain's armband his teammates gave him. Two months before that, he was diagnosed with liver cancer.
(
King Abi invites you in...
Collapse
)
Current Mood:

bouncy
I know most of you are asleep / wasted / getting laid but I'm going to post this anyways.
Feel free to add any gifs, macros, and images from last night (this morning) El Clasico.
I'd love to have a great collection of them and save it in my ~memory.
I'm sure there are loads of them :)
(
TOTS UNIT FEM FORÇA
Collapse
)
Current Mood:

accomplished
GREEK PICSPAM
BROUGHT TO YOU BY THE AMAZING PIKEITE
is this picspam in order of time? no.
in order of hotness? nu-huh.
in order of hipsternes? wrong again.
it's in order of colours, because we all know in this club we care about fashion sense.
WHO ARE THE CHOSEN ONES TO GO TO ATHENS??
(
very pic heavy!!!!!
Collapse
)
DISCLAIMER: so, this post is so complete there's even a video. Problem? The damn embed code included some sort of autoplay. Turn your volume down because i couldn't find a way to make it stop. Sorry. :/
wannabeinsicily
but instead found our favourite French defender looking fly during an interview on the 19.
(
poppin bottle in the ice, like a blizzard
Collapse
)
I was looking for something for
The squad trained at the Ciutat Esportiva this morning in their final session before tomorrow night's game against Atletico Madrid.
Éric Abidal missed the session and will not travel to Madrid.
The French defender was given permission by the club to miss training to deal with a personal matter and he joins the injured Jeffren as the only players to miss the trip to the Spanish capital tomorrow as Guardiola named all 17 of his available first team squad for the game.
(
More Info and squad for the game tomorrow
Collapse
)
GET READY TO CRY... FROM HAPPINESS!!!!!!!
(
crying Pep invites you in!
Collapse
)