Entries by tag:
Con el socio todo, sin el socio nada.
With the fan everything, without the fan nothing.
Sticky: Book Discussion Post.
BOJAN HAS PRESSIES FOR YOU





FOLLOW HIS BANANA HIM





HE'S BEGGING YOU!



(Guys, I'm honeslty sorry for the lateness, I lost the post several times & had to redo it, hope no one minds!)


(
Right guys this is BOJAN, you know him, some stuff is prob not safe for work! Enjoy :D
Collapse
)

Sources: Wikipedia FCBarcelona.cat totalBarca.com Blaugranas.com fuckyeahbojan.tumblr.com bojankrkic.org
& of course,
kitty69lover who provided me with a generous selection from her very substantial stash of Bojan photos, thanks babe!
Current Mood:

drained
BUT YOU GUYS CAN AND SHOULD POST WHATEVER YOU WANT (AS LONG AS IT'S BARÇA RELATED OFC).
Anyway, Bear with me for the next couple of days ok, guys?
Dani is also here btw.
He seems to be thinking a lot.
(
it doesn't look too bad trust me
Collapse
)
Sorry if I post a lot but some of the mods aren't available so I'm taking over.
DANI ALVES ADMITS TO BEING
THE OBJECT OF RACIST INSULTS IN SPAIN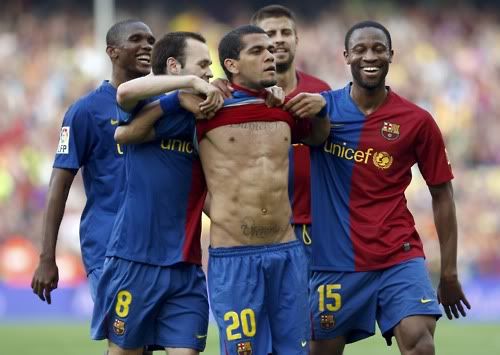 08/02/2011

Daniel Alves, footballer of FC Barcelona and the Brazilian NT, has stated that "unfortunately" he has already "learned to live with" racism in Spain, and that the situation is "beyond control" in Spanish stadiums.
(
BAMF Dani invites you in...
Collapse
)


source (El Mundo Deportivo): http://www.elmundodeportivo.es/gen/20110208/54111732071/noticia/dani-alves-se-siente-victima-del-racismo-en-los-estadios-espanoles.html

I dunno what you guys think, but he deserves a HUGE PICSPAM.
(crossposted to ontd_football)
Current Mood:

angry
I adore this man, I think he's the best coach that can Barca ever dream of!!! My best wishes to Pep, hope he will be chosen as the FIFA Best Coach of 2011 and we'll get to see his another tears of happiness when BARCA will win Champions League this season!!! Happy Birthday, Sweetie and May All Your Dreams Come True <33333333333333
Now, picspam as much as you can, he truly deserves it!
(
Here
Collapse
)
Current Mood:

excited
IT'S OFFICIAL:
FC BARCELONA #20 IS IBRAHIM "IBI" AFELLAY
Take some water before you get into the cut.
(

VICTOR VALDES: UNSTOPPABLECollapse

)



And now you can take a shower.

Feel free to share these pictures in other communities. Just credit to Sergi Jasanada. :)
GREEK PICSPAM
BROUGHT TO YOU BY THE AMAZING PIKEITE
is this picspam in order of time? no.
in order of hotness? nu-huh.
in order of hipsternes? wrong again.
it's in order of colours, because we all know in this club we care about fashion sense.
WHO ARE THE CHOSEN ONES TO GO TO ATHENS??
(
very pic heavy!!!!!
Collapse
)
DISCLAIMER: so, this post is so complete there's even a video. Problem? The damn embed code included some sort of autoplay. Turn your volume down because i couldn't find a way to make it stop. Sorry. :/