Entries by tag:
Con el socio todo, sin el socio nada.
With the fan everything, without the fan nothing.
Sticky: Book Discussion Post.
On 26th and 27th July, Barça will take part in the Audi Cup in Munich, alongside Bayern Munich, AC Milan and Internacional de Porto Alegre. Supporters will choose the pairings for the first round of games.
The Allianz Arena will host the Audi Cup in July and Barça will join three more big teams to fight for the trophy, with Bayern Munich, AC Milan and Internacional de Porto Alegre also involved.
On the opening day, 26th July, FC Barcelona and Bayern Munich will face either AC Milan or Internacional de Porto Alegre– with the fans choosing the match ups on line. Fans can vote until May 7th at 15.30, when Barça's and Bayern's opponents will be announced.
The winners of those two games will meet in the final the following day, with the losers fighting for third and fourth spot.
Advance ticket sales for the 2011 Audi Cup are starting now. One-day tickets – for two consecutive top-class games – start selling for as little as 18 euros. More information and tickets -
http://www.audicup.com
source
So Bayern and FCB are my two favourite teams ~ever~ and I'm actually going to be in Munich when this match is on...I ordered tickets as soon as I heard about this hahaha. Could not have been timed any better! Aaaaahhh :D
Brazillian bros thank you for your time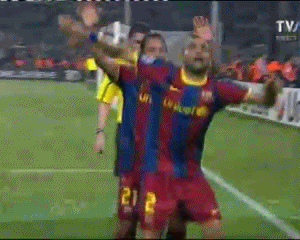 Yes I know everyone is more excited about Wembley but this deserves a post too ok >_>
Current Mood:

excited
In response to the grave insinuations broadcasted on Sunday night on the Cadena Cope radio station, FC Barcelona wishes to publically express its total indignation at these unfounded references which link the Club to doping practices and to condemn such attitudes, which have nothing to do with fair play and gravely affect the image of sporting competition.
FC Barcelona is demanding an immediate rectification and wishes to let it be known that its legal department is studying possible legal action to defend the Club's honour, alongside that of its coaching staff, players and medical staff and is prepared to take such action to its final consequences.
A little background:

Radio station Cadena Cope unveiled yesterday what, presumably, Real Madrid is plotting to try to destabilize FC Barcelona. According to them, citing "Real Madrid sources," the blancos plan to ask for a "more serious drug testing".
According to Cope, the club chaired by Florentino Perez is suspicious of both FC Barcelona and Valencia CF. Yesterday, during the program 'El partido de las 12', its editor, Juan Antonio Alcalá, linked Valencia with Dr. Eufemiano Fuentes (from Operation Puerto), while he said about Barca that they are "working with doctors of dubious reputation" and that "tomorrow (today, Monday 14th of March) we will give names".
wow. just W O W. i seriously have no words.
but good for the club, first time i approve of a decision of this board.
we'll have to wait and see what happens now.
Current Music:

Inside Out - Britney
The Club is naturally concerned about its members and supporters clubs in Japan and also the sportspeople at the FCB Escola. The north of the country has been hit by an earthquake of 8.9 degrees on the Richter Scale, causing many deaths and injuries.


i hope all our members in Japan and other countries that may be affected by the tragedy are safe. take care bbs, our hearts and thoughts are with you! <3
http://twitter.com/#!/barcastuff/status/38531773121957888
JEFFREN HAS A TWITTERRRRR!!!
-->
http://twitter.com/Jeffren11
Current Mood:

chipper
What a shit, isn´t it? O_o
I just saw it in a spanish board (ACB Forum), The guy just put the pic.
I hope none F.C. Barcelona fan stop being a fan because of this... think in Pep. Messi, Pedro, Xavi, Iniesta, Pique, Puyol... please, think about them ♥
EDIT: I think It's an imitation that started to manufactured just after it was leaked a outline of the next Barcelona Shirt.
THIS SITE
is already selling it. The Shirt is real? Yes, but I think it's just an imitation of the future real one.