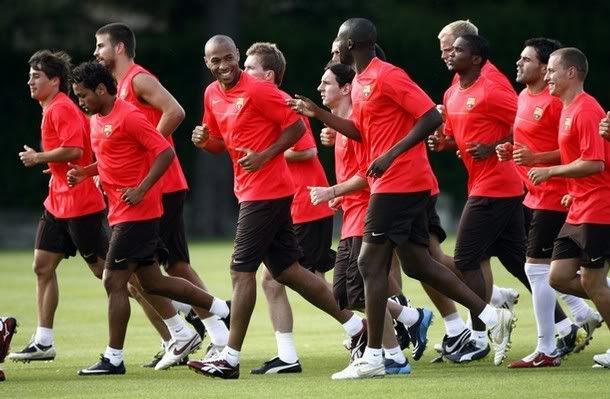 Look at the height variations!
I know, I know, bad timing since the first game's in a few hours. But there are lots of nice photos, so here we go.
(
Collapse
)
Barca will play Hibs in a few hours. Due to injuries to Eto'o, Sylvinho, Abidal, and Oleguer (all short-term, don't worry), and the fact that Xavi, Iniesta and Puyol still aren't 100% since they've just gotten back, this is the expected starting line-up:
Valdes; Alves, Pique, Marquez; Caceres; Yaya Toure, Keita, Hleb; Messi, Henry, Bojan
So all the new boys will get a run-out.
So, the first game, start of a new season and all that. Last season was a bit of a write-off, so let's hope for better things this time around. Personally, I hope and pray that everyone has a bit of patience with this new project, because new players taken time to bed in, and even the most successful teams had to come from somewhere.