Once again I apologise for getting this up so late - I wasn't able to get hold of the game until yesterday. Hopefully this trend won't continue, but I'm going to be quite busy with uni in the next month, so if you guys would like to chip in with match reports and picspams and such, I'd be very grateful.

But anyway, onto the second game in Scotland.



Line-ups:

Barca

First half: Valdes; Alves, Caceres, Marquez, V. Sanchez; Keita, Gudjohnsen, Crosas; Henry, Pedro, Bojan

Second half: Pinto; Alves (Abraham, 63), Caceres, Pique, V. Sanchez (Corcoles, 79); Toure, Busquets, V. Vazquez; Eto'o, Messi, Jeffren

Dundee

Dundee United: Zaluska (McGovern 45), Dillon (Kovacevic 57), Grainger (Dixon 57), Wilkie (c), Dods (Kenneth 75), Flood (Swanson 75), Feeney (Sandaza 75), S Robertson (D Robertson 57), Daly (Shala 57), Gomis (McCord 84), Buaben.

Goals: [on Youtube]

Buaben (26), Henry (27), Messi (54), Eto'o (61), Messi (76, 79)

Match Reports

+ Official website.

+ BBC Sport.

Points of Interest:

+ It's still early days, but it's interesting to see signs of Guardiola's system at work. Alves, say, would push up to join the attack, but the defence would still maintain its shape because Caceres would be in his right-back position, Marquez and Sanchez would have shifted across, and Pedro would be back to cover as left-back. It didn't always work, because they haven't exactly had much practise at it, but when it did, it was impressively neat and quick.

+ The midfield has no balance without either Yaya or Busquets there to hold things down. Having said that, given that Xavi and Iniesta have yet to play, the combination of new signings, make-shift midfielders and B team players have done a great job making the attacking portion of the midfield work. Players like Vazquez and Crosas have done very well.

+ Keita probably needs a bit more time to settle in, but his physical presence and shooting ability is handy to have around as an alternative to the smaller, pass-and-move style midfielders who are the norm at Barca.

+ Busquets deserves his own bullet point. I was worried about the squad being thin in the holding position, but not any more. He's definitely capable of making the step up and being a good back-up for Yaya and Marquez.

+ More youth players: Jeffren is really, really skilled and hard-working. He could make it big, if only he'd stop 'trying to be Leo Messi' [as Pep once put it when telling his B team charges to pass the damn ball already]. By which I mean he's not quite got the balance between dribbling and passing right. But that's okay - it took Leo a couple of seasons too.

+ The rest of the B teamers had good games too. They'll all be coming to Florence and the US except for Abraham and Corcoles, who have been cut from the final squad. That doesn't mean those two won't be part of the first team this season, though, or that the ones who are going will be. Apparently Guardiola has yet to make the final decision.

+ The defence looked a bit shakier this time around, which is to be expected, I guess, with all the chopping and changing. The return of Abidal/Sylvinho and Puyol will hopefully settle things down.

+ Henry looked a bit better in this game than he did in the last, but still doesn't seem to have found his shooting boots properly. There's still time before the real games start, so we'll see. He combined well with Bojan, who looked very lively.

+ Alves is becoming a quick favourite of mine, with the way he runs all over the pitch, combines well with the attacking players (especially Messi, my God) and whips in dangerous crosses.

+ This match was a graphic demonstration of why the 'keep Samuel Eto'o brigade' exists. He looks ever closer to full fitness, worked his ass off, combined amazingly with Messi, and scored a typical Eto'o goal.

+ The team for the second half looked far more dynamic and threatening than the one for the first half. That's not only down to Messi.

+ But having said that, Leo really was fantastic. Nearly everything he tried worked. We all know the way he can go past players, but I was especially impressed by his passing, which has come on in leaps and bounds in the last two seasons. And a very well taken hat-trick it was too, with the first and second both lovely goals.

+ I won't lie, seeing him get the armband made me come over all funny. *g* It was nice to see him taking his capitan responsibilities seriously and acting as mediator between Caceres, the ref and a Dundee player after poor Martin had his ankle stamped on.

+ A note on numbering: these numbers are still not official. Leo had 19 back this time because he didn't start the game, and the same deal with Eto'o and 14.


And now for the pics. No real chronological order, as usual - I'll just put all the goal celebrations last.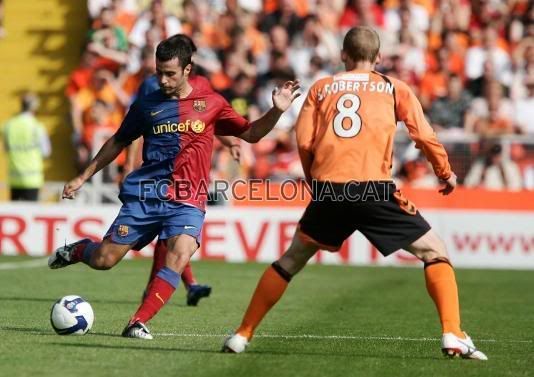 Marc Crosas. He played quite well, I thought. Clearly needs a bit more time to develop, and he will probably get that with a loan move, very likely back to Scotland.





Eidur! Not quite as good this time round, but he was playing deeper anyway, and he worked hard.





Dani is awesome. Expensive, but awesome.





This is Victor Sanchez, my favourite out of the 7 B teamers. He doesn't have a defined position because he's Guardiola's wildcard, able to be deployed anywhere from left-back to striker. That bandage is because he's got a broken elbow (ow) just healing up now.





This young man needs no introduction. He's really tan, no?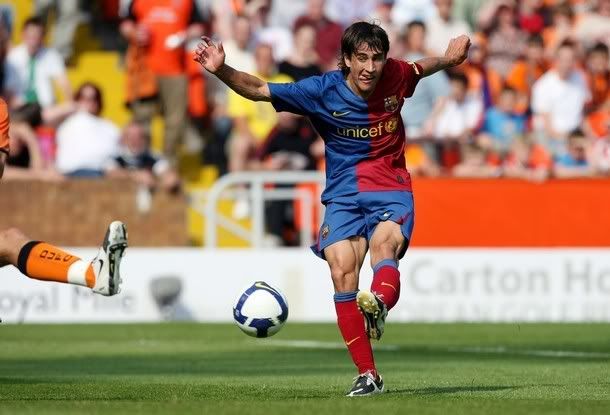 Lol what a brilliant face.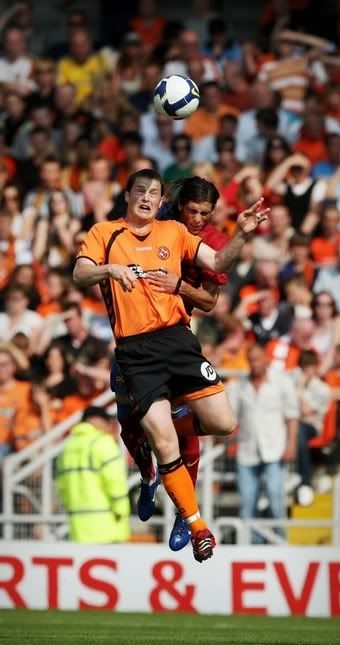 Martin. Slightly shaky in patches, but also impressively quick to recover and salvage the situation in most cases.





He just needs a bit more time and experience. I hope the fans are nice to him.





Hee. Gerard was pretty great again, except for a couple of times when his lack of pace was exposed, but we can hardly ask him to magically gain a yard of pace.





For the type of defender he is, he's pretty great.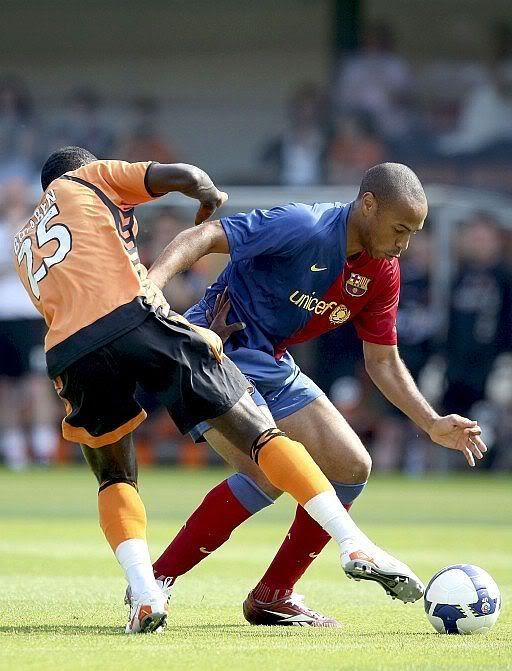 Titi!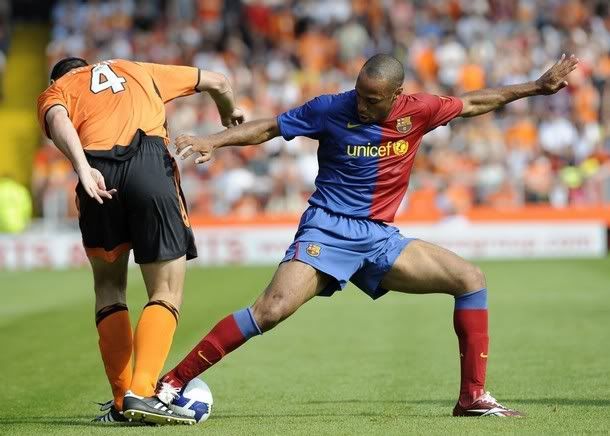 I love this photo, awesome poses and all.





Scoring! I'm glad Titi's broken his pre-season duck. Pressure was building, given his determination to have a good season as a striker.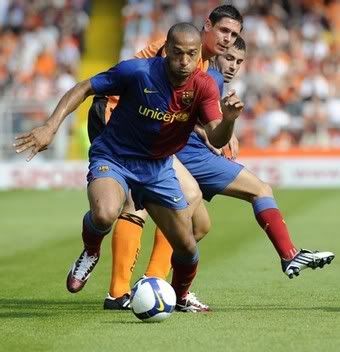 It's quite funny to watch him do that thing where he throws his hands up at a bad pass in his general direction and nobody is even bothered, not even the kids. *pats him*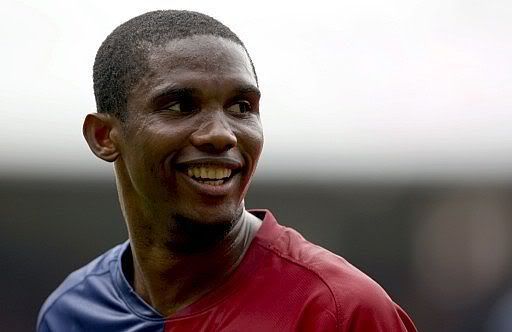 Sammy! Oh, Sammy.





"You thought I was serious about Uzbekistan? Really?"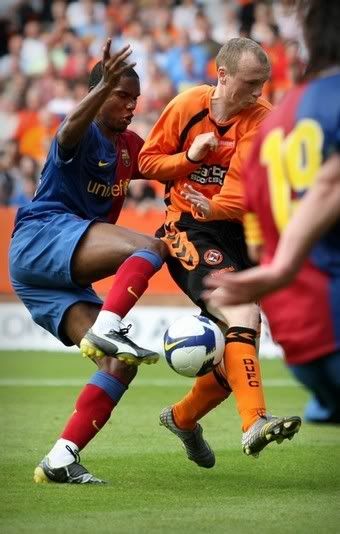 He seemed as well-motivated as ever.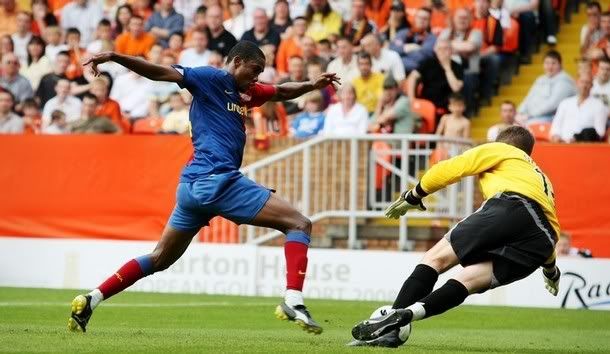 Calmly rounding the 'keeper...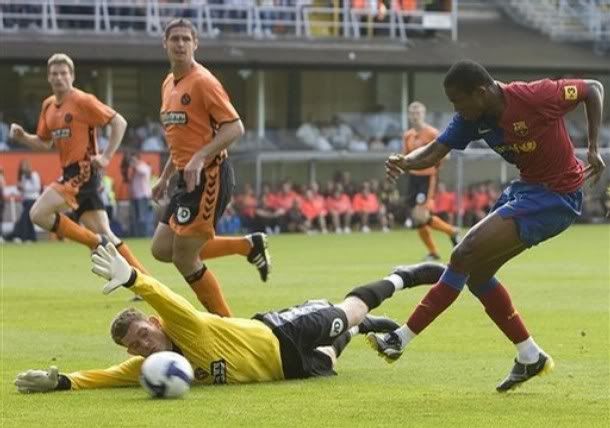 Takes his shot...





...and watches it go banging in.





Unsurprisingly, there is a lot of Leo.





In which he is either 1) being surrounded by opposing players...





Going past opposing players...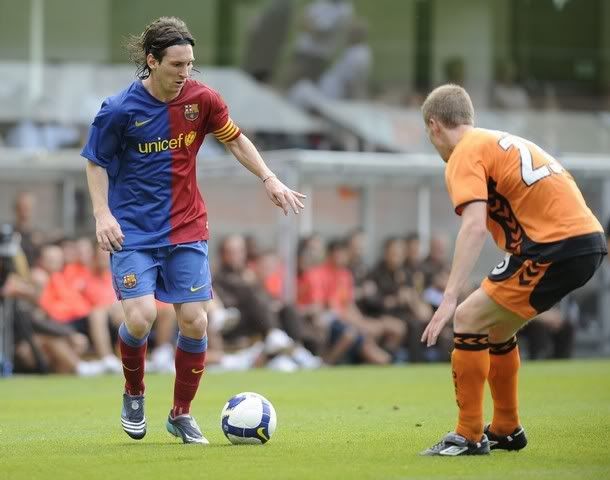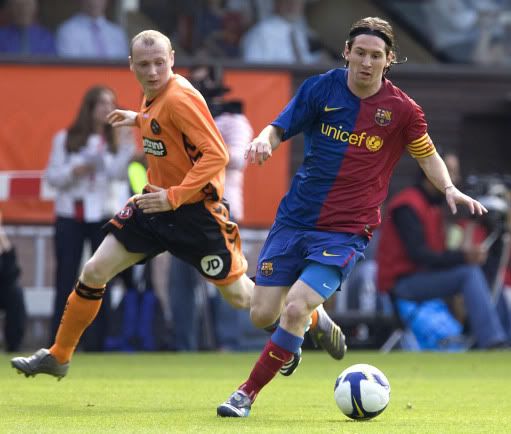 [Fantastic action shot, this one.]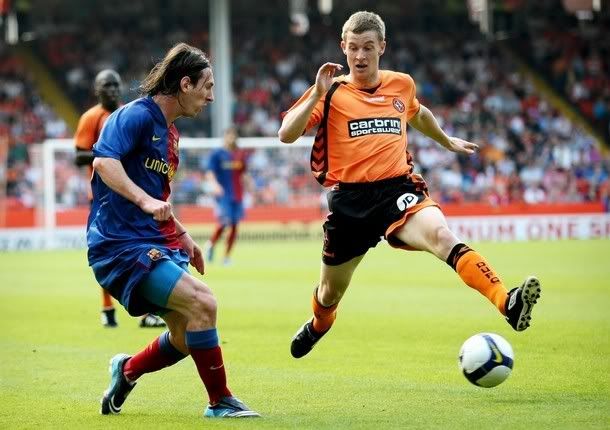 Graphically illustrating why he keeps having thigh muscle problems...[I really don't think that's normal.]





And of course scoring goals.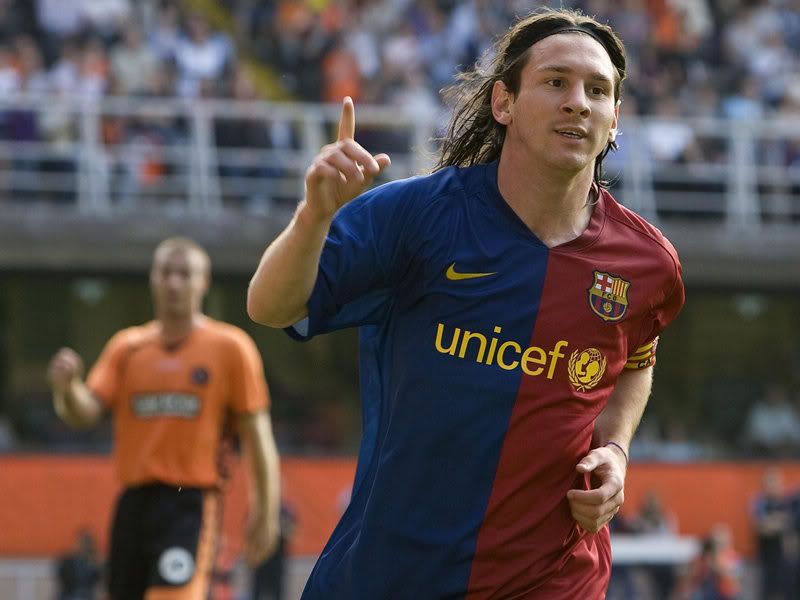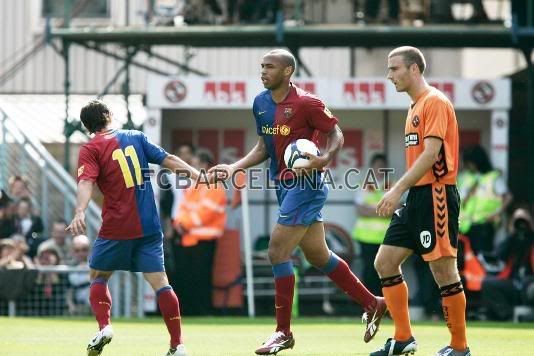 On to the goal celebrations. Titi grabbed the ball and ran back to the center circle (he had made it 1 - 1). Good for him.





And here comes the attack of the adorable Leo-Sammy photos. These are from after Sammy's goal. [The best thing about this celebration: Sammy actually didn't look too bothered after he scored, but as soon as he spotted Leo running towards him he started smiling.]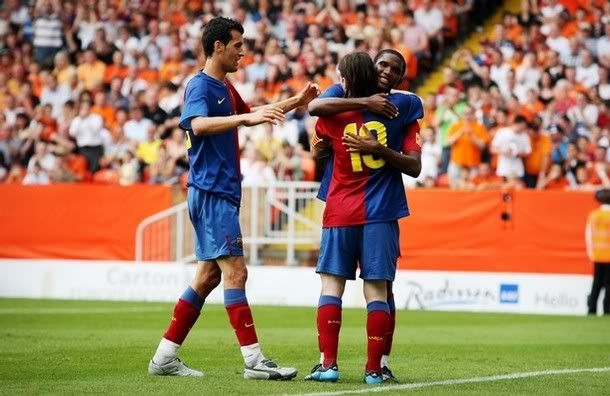 Busquets wants in.





Look at how tall he is!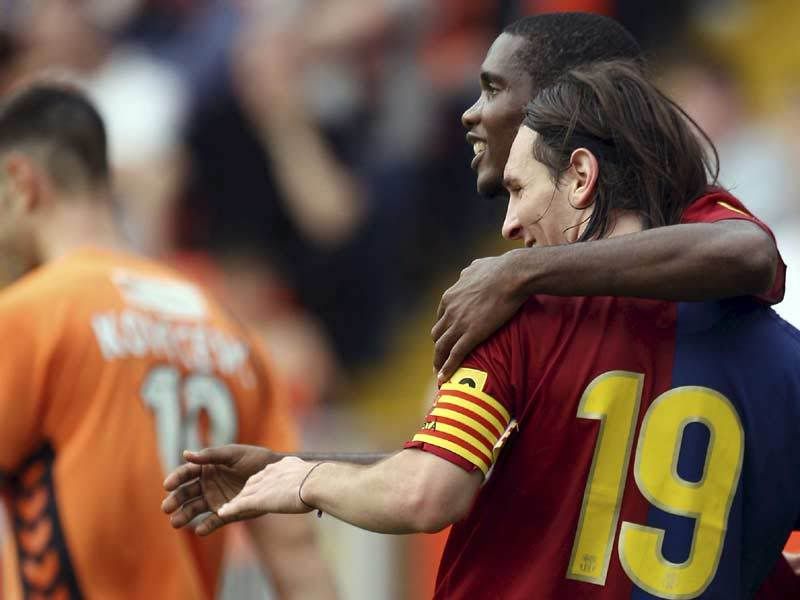 My favourite. Comrades!





Jeffren gets a...handshake?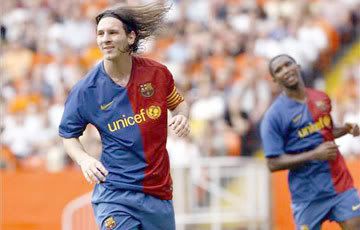 Leo scores! [Not sure which of his goals this is after.]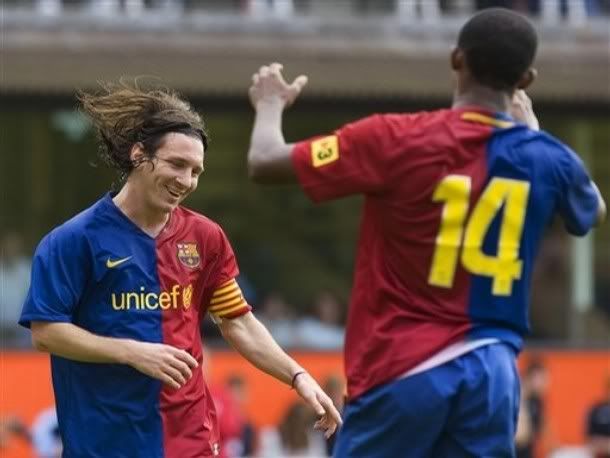 These two are after Leo's third, which explains the big smile.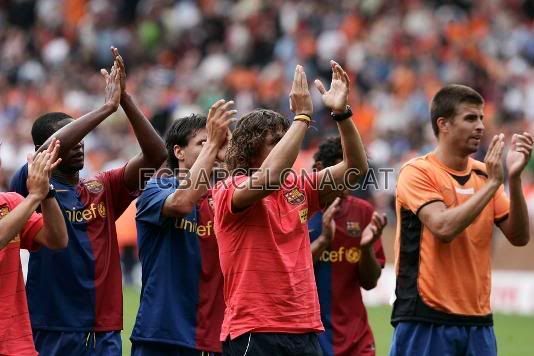 Applauding the fans, who had been very generous with their appreciation of the team's play.





In about nine hours Barca will play Fiorentina in the Artemio Franchi for a charity game, watched by a crowd of 40,000.

[Curiously, when Barca played Fiorentina in the semi-finals of the Cup Winners Cup in 1996/97, winning 2 - 0 in Florence, one of the goals was scored by Pep Guardiola.]

This game is being regarded as the biggest test for Barca before the CL qualifiers, and rightly so, given the talent possessed by the Viola, who are a fine team these days under Cesare Prandelli. Unfortunately, they are missing an important player in the form of Riccardo Montolivo because he's with the Italian Olympic football team, but I'm sure the likes of Pablo Osvaldo, Adrian Mutu, Alberto Gilardino, and talented new boys Stevan Jovetic and Felipe Melo [who you may remember being awesome for Almeria last season] will give the defence a hard time anyway.

As for Barca, everybody's now fit, but there's a doubt over Samuel Eto'o, who clashed heads with Victor Sanchez in training and was prescribed 48 hours of rest as a result. He may play if he's well enough - we'll see. Look for Sylvinho, Abidal, Xavi, Iniesta and Puyol to get their first run-out of the pre-season in this game.

Now for the difficult bit. Leo Messi has travelled to Florence, but having received FIFA's ruling on the Olympics issue, he is now probably set to fly out to Shanghai after the game in compliance with the decision. The latest from Laporta is that Barca will not stop Leo from joining the Argentina squad [thank God] but will appeal the decision to the Court of Arbitration for Sport to try and get him back. So more on this later.

For now, enjoy the game. It should be a good one.