After an epic battle lasting many years, Dani Alves has finally signed for Barcelona. [I may or may not be kidding about the epic battle, but it is true that Barca have been trying to sign Alves since 03-04.] His contract is for four years and the buy-out clause has been set at 90 million euros.

For those who don't know him, he's probably the best rightback in Europe, and has been for a good two or three seasons. [Which, along with Sevilla president Jose Maria del Nido's ability to drive a hard bargain, explains the 29 million euro price tag.] You may recall the numerous occasions on which he embarrassed our defence. That's not to say that he's a brilliant defender - he's alright, and his work-rate is insane, but the rest of the defense are going to have to cover for him in defence this coming season, as he runs all over the pitch making the attack work.

Sevilla built their team around his attacking capabilities and were well-rewarded for it. For various reasons, Barca can't do the same, but it is hoped that he will link up well with Leo Messi and help start attacks from deep.

In his comments, coach Pep Guardiola confirmed that he would be played primarily at rightback. When asked about the possibility of him and Messi forming a devastating partnership on the right [I am so excited to see them play together], he admitted that if they both played well Barca could have the best right flank around. [He then of course hastened to add that it depended on the collective effort, in line with his general message so far.]



+ the official website on the signing process, complete with photos from the medical.

+ An article on the contract signing. [I like his message for the fans.]

+ On the press conference, which mentions some of what I discussed above. [His opening words to the press were in Catalan, which was a nice touch.]

+ Laporta and Txiki on Dani and a few other issues. Laporta talks about the vote and says some nice things about Deco while Txiki's news is that there is no news on the Ronnie and Eto'o front [more on all of that in my news post].


basic info

So, let's get to know our new star signing a bit. He's 25, Brazilian, and he's been playing for Sevilla since 2002.

Personal honours include the Bronze Ball at the 2003 U20 World Cup, and MVP of the 2006 UEFA Cup.

He has won the aftementioned U20 World Cup and the 2007 Copa America with Brazil, and the UEFA Cup (2006 and 2007), the Copa del Rey (2007), the UEFA Super Cup (3 - 0 vs Barca, you may recall), and the Spanish Super Cup (2007) with Sevilla.

Team mates and coaches say that he's extremely hard-working and driven, and the amount of demand there has been for his services from big clubs all over Europe tells its own tale of his quality.


On to a lot of photos (with assorted silly commentary), and then video.

The signing first:



"Barcelona? Really? I thought I was going to London? Oh, that's all ancient history now?" [Also, skinny jeans, Dani? Really?]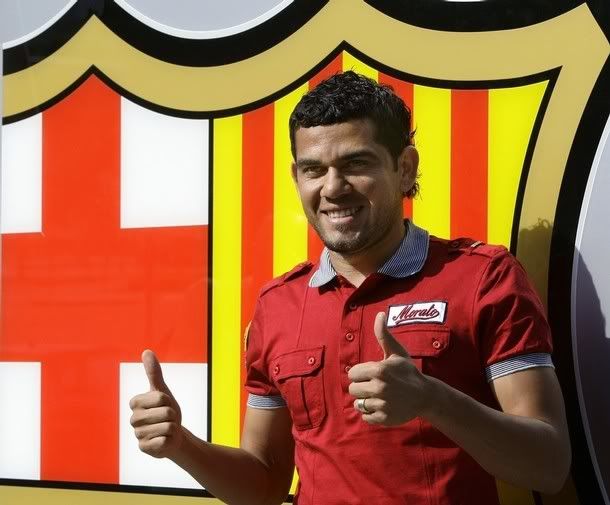 "How long do I have to hold this pose for? Cause I'm pleased to be here and all, but my arms are getting sore."




"No, seriously."




He could almost pass for a tour guide, there.




Ah, the contract signing photos must have been taken on the day of the presentation. I was wondering about the different shirt. [The red one's nicer, Dani.]




I really like this photo for some odd reason. Interesting composition, I guess.




And onto the presentation. Press conference first.




Would you want to meet this man in a dark alley? Well, I suppose defenders are supposed to strike fear into the hearts of men. *g*




Ah, that's a bit better. [I love that they seem to have wheeled out one of Laporta's infamous powerpoint presentations in the background.]




[See what I mean about the powerpoint presentation?]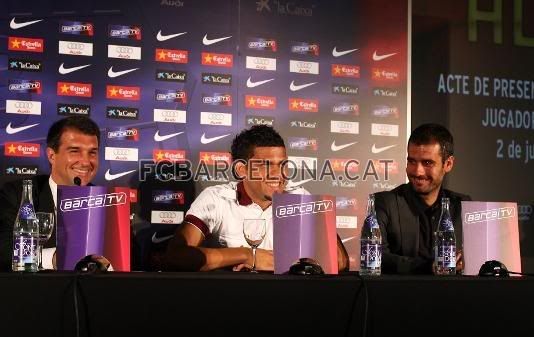 Aww, look at all the happy faces.




Posing with his shirt. [That font's not bad, I'll say that.]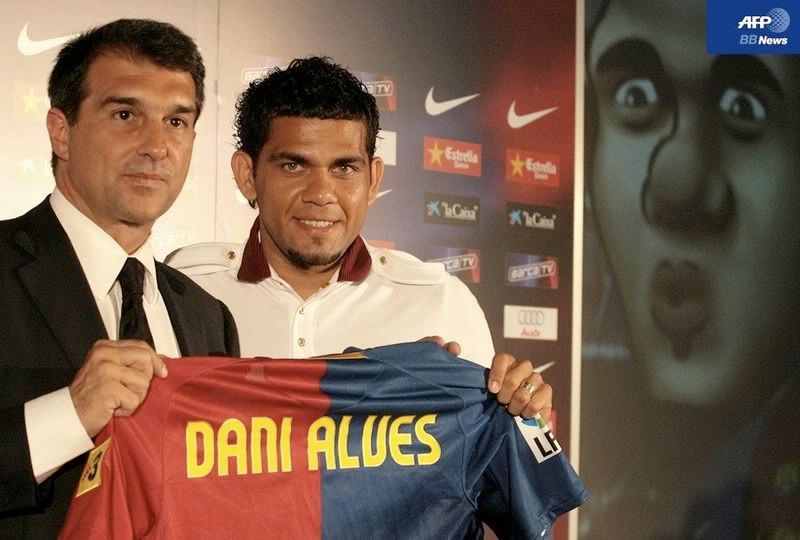 That terrifying thing in the background, looking like it's ready to eat them all?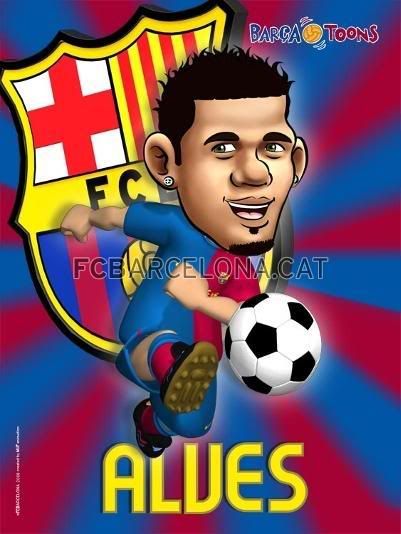 That's right, it's Dani's Barca Toon. Not bad - they've got the facial hair, the bling [although he was sadly bling-free on the day], and even the slightly eerie green eyes.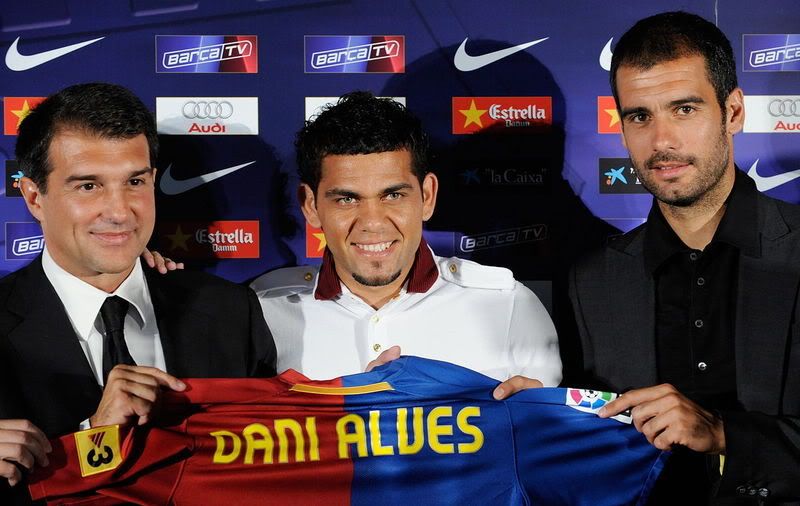 Behold the progression of facial hair, from none to moderate to really quite a lot. [Come to think of it, Laporta would probably look ridiculous with a beard.]




Just so Txiki doesn't feel left out, he can be part of some photos too.




"Enough photos, I'm taking my shirt and my...toon thing, and I'm leaving - to have more photos taken. Damn."




...aaaaaand the actual presentation to the fans.




[I really, really dislike the new socks. I promise that this is the last complaint I will make about the kit in a presentation post, but lord.]




Show us your skillz, Dani! [Footballers who cannot do more than 200 keep-uppys - while sitting - will not be signed.]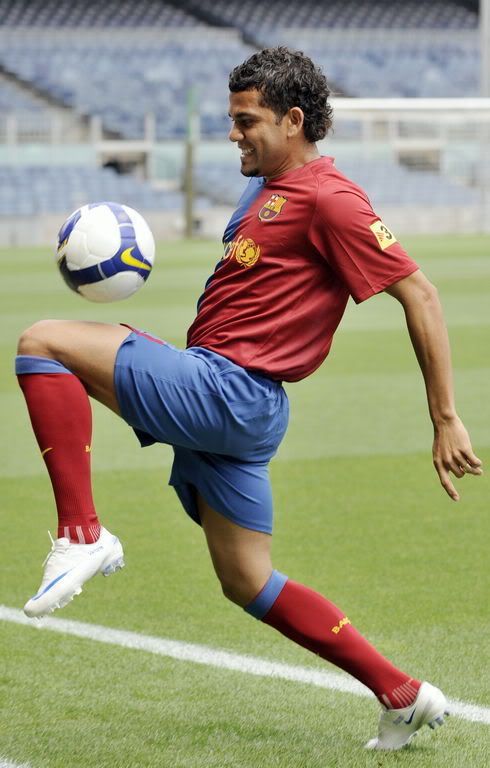 [Even the ball can be frightened away by the power of Dani's stare.]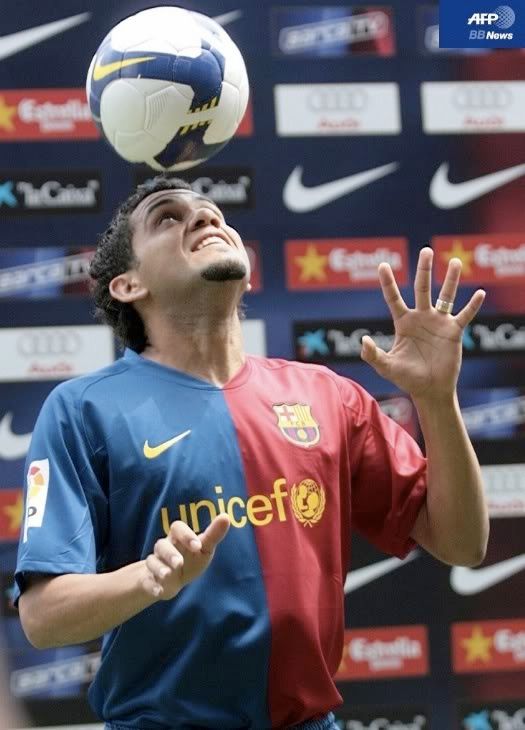 The question is, can he balance it on his head while running? [Titi Henry apparently can.]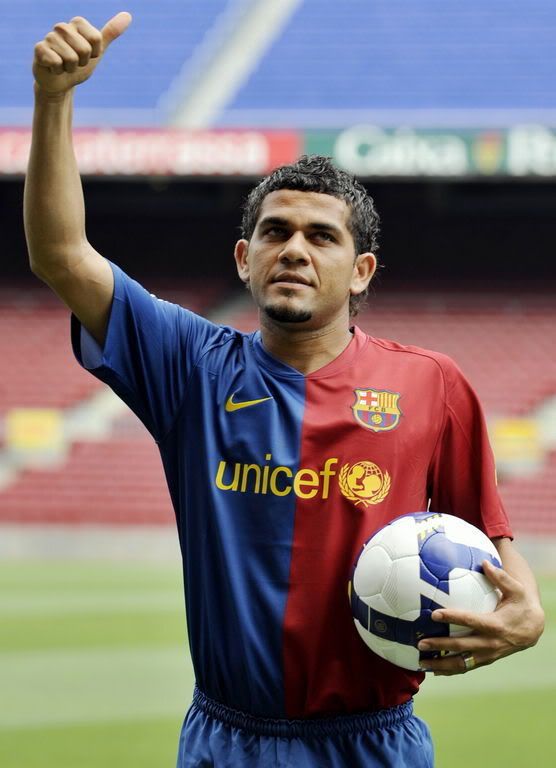 "Was that good?"




Thanking the masses.




My favourite photo. He looks genuinely happy.




OM NOM NOM crest.




[Wait a couple months before you do that, alright?]









The videos:




His big beaming smile is win. I also like the voice-over description of his mental state.

Oh, and his words aren't bad either. That's what we want to hear from a new player.

[Just to clarify the statement near the end, he's reporting back to the group in Scotland alongside Xavi, Puyol, Iniesta and Keita, who have been given a week's extra rest.]



Another interview clip.


He's a great player, and I look forward to him proving his quality [and earning every penny of his no-doubt massive salary].



[Video and most photos courtesy of
bustedflush, bless her. As usual, please do not spread the video links around.]



News round-up (depression time edition) later.