Interviewer: Like Pep Guardiola said [in the press conference],
Rafinha and Thiago's parents must have been incredibly proud to see both their sons play together [with the first team] tonight
. We know we are proud to have them both here with us tonight, at "El Marcador". So, Rafinha! Welcome to El Marcador, did you know about this program…?
Rafinha: Yes. Muchas gracias.
Interviewer: Bona nit. And Thiago, you're a veteran here. Actually, you quite literally were a veteran tonight on the pitch, weren't you?
Thiago:
Lol no, I don't think so. But anyway, bona nit.
[laughs]
Interviewer: Ok, but you were one of the few who already plays for the first team, and at his press conference Pep specifically mentioned you, the players from the first team who made an extra effort to play tonight.
Thiago: Well it was very special to meet again with guys I've played with since the Cadetes… it gives you extra motivation, although we always face every game with the same [motivation].
Interviewer: Well, go on, explain to me what it feels like to have your brother on the pitch next to you. I'm asking you both but… ok Rafinha you go first.
Rafinha:
Well you can imagine… to make my debut at the Camp Nou, and on top of that, with my brother by my side… It's something I'd always dreamed of, and to be able to make that dream come true… it's really huge for me.
Interviewer: Have you two talked about this a lot these past few days?
Thiago:
Sí, bueno.
..
Rafinha: Yes, we were so happy that this might actually happen, so…
muy felices
.
Interviewer: Thiago, how did you feel?
Thiago: Well, look,
I've been by his side since the day he was born, which makes it 18 years…
I've always dreamed of playing football, and my brother too… So we would take turns when we played together, he'd be the goalkeeper so I could practice shooting, and then I played the goalkeeper so he could pratice, too.
Football was always a big part of our relationship, on top of the friendship and the love we feel for each other. So obviously it's a dream come true.
It's something we've been dreaming of since we were kids, and finally it became true.
Interviewer: And what a game you guys played tonight! A "
partidazo
". 4-0 against BATE Borisov…
Rafinha: We are very happy about the result.
Muy contentos
.
Interviewer: So are you a little bit shy, or… isn't it strange that we're doing an interview to two brothers? And in front of the cameras! It must feel really strange for you.
Rafinha: Yep, this is the first time we've done this [
omg he's all blushy I cannot
], but…
Interviewer: Well it's about time we did though! Yessir!
[laughs]
Cougar interviewer [
lol sorry couldn't help it she's such a crepe
XD]: It's obvious you were pretty comfortable on the pitch. Pep said in his press conference that he wanted you to be daring, to forget about everything else, and… well Thiago has proven time and again that he's not scared of Camp Nou, but how was it for you? Did you feel comfortable?
Rafinha:
Yes. Well, it's a very impressive stadium at first… then little by little you get used to it. And all the love from supporters makes playing there an unbelievable experience.
C. interviewer: Well, maybe you felt even more comfortable than him, since you were playing with many other teammates from Barça B while Thiago has been playing with the 1
st
team this season.
Rafinha: Well, no, I don't think that would be a problem for my brother at all.
C. interviewer: You were telling me earlier that your father [Mazinho] is in Vigo, with your sister. I mean, on a day as important as this your dad wasn't here?
Rafinha:
Hey, my sister who just became Spain basketball Champion!
[best fucking moment in the interview. ILU Rafinha]
C. interviewer: Ok, I'll shut up now.
[lol yes you should]
I mean, this is what happens when you have children who are professionals.
Rafinha:
Yes, my sister plays in the Galician team who won the National Tournament. My dad will be… well, I don't know if happier for her than he is for us, but yeah, he'll be thrilled, I don't think he'll be able to sleep tonight.
Interviewer: Anyway, what a family you have! I mean, two Barça First Division players, a daughter who is Spain basketball champion… what did your parents feed you when you were little? [laughs all around] No, I'm interested! Just in case I ever…
Thiago: Quite simply, football was always present in our family. I think sport is very good, it makes you grow up a little faster, and in fact it's been an essential part of our maturing. Not just football, it can be any sport. I think we were very lucky to have a sport-addicted family.
C. Interviewer:
Your mother was a professional sportswoman, wasn't she.
Thiago: Yes, she was a volleyball player.
Back in Brazil
when we would like play football on the beach,
she played football as well. And she was pretty good at that, too.
C. Interviewer: So was your mother [at Camp Nou]? Did you talk with your parents at all?
Thiago: Yes, yes, my mom was there. It's a pity that my dad and my sister couldn't be there, but…
Rafinha:
I spoke with them and they told me they were very excited for us.
Thiago:
Yep. They were crying for sure.
[laughs]
Thiago: Of happiness, of course.
C. Interviewer: It's a little early to judge, it was your first time and all, but… the future looks bright, doesn't it.
Rafinha: Well, I hope this wasn't a one-time thing! But we'll keep on hoping and working hard to make it happen again.
Interviewer: I think Thiago is the typical big brother here, and surely this year Rafinha [will follow in your footsteps]… I mean we were talking about this last season, especially in the second half of the season: you played some games with the 1
st
team and then went back to the B team and all but carried the B team back on track to reach 3
rd
place in the rankings. You weren't the ony one of course, but you embody this concept better than anyone else.
Thiago: Well, [
last year] I was a Barça B player. I didn't feel I was a 1st team player, not for a second. I played with my team, and if I was needed I played with the first team too, which was like a huge prize for me.
But I always tried to play every single game with the same single-mindedness.
Interviewer: Yes, yes, but I meant… Pep, too, mentioned the big step that B players took tonight, Rafinha and so many others… I would like to know what you see in your future.
Rafinha: Right now I only want to focus on the present, on Barça B and doing a good job there. And if I do a good job there, then I hope other opportunities like this one will arise.
Interviewer: Also, the position you played in tonight, is that your ultimate position?
Rafinha:
No, no, I keep trying new ones all the time. Whatever [the coach] asks of me, I'll do it. [laughs]
Thiago: He might even try goalkeeper [laughs].
Mind you, I have proof he was a good goalkeeper when he was younger!
Interviewer: Of course, when you practiced together...
Moving on, Maxwell played as center back. That was also a bit of a surprise, shows that no positions are fixed with this team!
Thiago: Maxwell is awesome, he has the right characteristics that wherever you play him, he'll be good at it.
C. Interviewer: So what we can gather from today is… that there will be a lot of Barça to come, right? I mean for you [points to Thiago] and for you, of course [Rafinha].
Rafinha: I think we should be grateful for the opportunities that the coach give us.
There are many clubs with really good canteras, but of course we have a great coach who gives us this kind of opportunities, it's a real joy for us. It's not about being better or worse than other [canteras], the difference lies in the fact that we get to play with the first team. And of course it's up to us to make the most of it.
C. Interviewer: What about you, Thiago?
Thiago: I think they're doing a really good job at the cantera.
The first team is like a mirror for all the kids of the cantera teams. We have a coach that dares to bet on kids who are 18 or 20 in my case
, 18 in Rafinha's case, who believes they will be able to play at such a high level…
and if we do end up playing at that level it's thanks to the trust and confidence he instills in us.
Rafinha: And then of course the great job they do with kids at the cantera…
C. Interviewer: I'm sure Rafinha will be pending on what happens on Dec 10
th
. Who knows, Thiago migh be in the starting lineup, like he was at the Supercopa de España, it wouldn't be the first time against RM. Now, if I recall correctly,
you made your debut in a clásico. What did you feel? Nervous? Did you feel more pressured to do well than if it were just a normal game?
Thiago:
That was one of the few times in my life when I was actually nervous. It was a total surprise for me, I never hoped I'd be in the lineup, ever. But I worked as hard as I could, and in the end we got a very good result. I have a great memory of that day, too.
C. Interviewer: So looking back, it's been a couple of months now. Would you say that you, Thiago, have grown from that day, playing with the first team?
Thiago: I think so, yes. Not just me. Isaac Cuenca, too, and Fontás,
they all grew as players. Just like any kid from Barça B who gets to play for the first team. The veterans make it all so easy for us. You see them play at that incredible level, and in the changing room they're just like a big family.
C. Interviewer: I'm still thinking about next Saturday. You've grown as a player, you're more prepared… do you think it'll be a great opportunity to shine…
Thiago: Time goes by and bit by bit I'm feeling more responsible, more mature than I was a year ago. So
yes, I think I – like many other teammates – are prepared for Saturday's game.
Interviewer:
Isn't there competition between brothers?
Rafinha [
pats Thiago on the shoulder a la jedi
]:
No. I've taught him well.
[laughs all around] Yeah, I'm just kidding.
Interviewer: But seriously among the two of you the joker must be Rafinha, yes?
Rafinha: Yes, he's always been more serious.
Interviewer:
You're more serious? [to Thiago, who nods]
Interviewer:
Should I believe you, though?
Thiago:
Mmmmeh
.[laughs all around] Well. I'm more serious than
him
[Rafinha] for sure.
Interviewer: But is it because it's excpected of you, since you're playing for the first team?
Thiago: No.
It's because I'm the older brother, and elder brothers are usually more serious than their siblings.
Interviewer: I bet you've been following Rafinha's games since he came to B…
Thiago: Yes, of course.
Interviewer: He has another game with them this weekend.. [turns to Rafinha] and this season, when your start wasn't exactly the best, looks like you're getting back on track, right?
Rafinha:
Yes, we're going through a good spell right now. We're building up confidence and we need to take advantage of that, especially since we are about to face strong teams.
Interviewer: Do you have a good relationship with Eusebio? [Barça B coach] He treats you well, yes?
Rafinha: Yeah, yeah, he's a very good coach.
Interviewer: Look, guys, thank you very much.
Congratulations on the victory and for the wonderful image you have given of this club in Europe. In the end, tonight you guys showed Europe what this club is made of, what it's going to be like in the future…
and for the great, the great…
Thiago: Team work?
Interviewer: Exactly, the great team effort you've shown us tonight on the pitch. Okay?
Rafinha: Muchas gracias. [Thiago nods]
Interviewer: Again, thank you, brothers Alcántara. And now onto the stats. Who are we showing first? Thiago or Rafinha? OK, let's start with the older brother. These are his stats against Bate Borisov.
C. Interviewer: Minutes played 93; 2 shoots, of which none on goal; 145 passes, of which 130 completed passes. Balls recovered 6; 1 assist and 4 crosses.
Interviewer: And now let's move on to Rafinha Alcántara, one of our Champions League debutants. Though he already played a game with Barça during the Copa del Rey.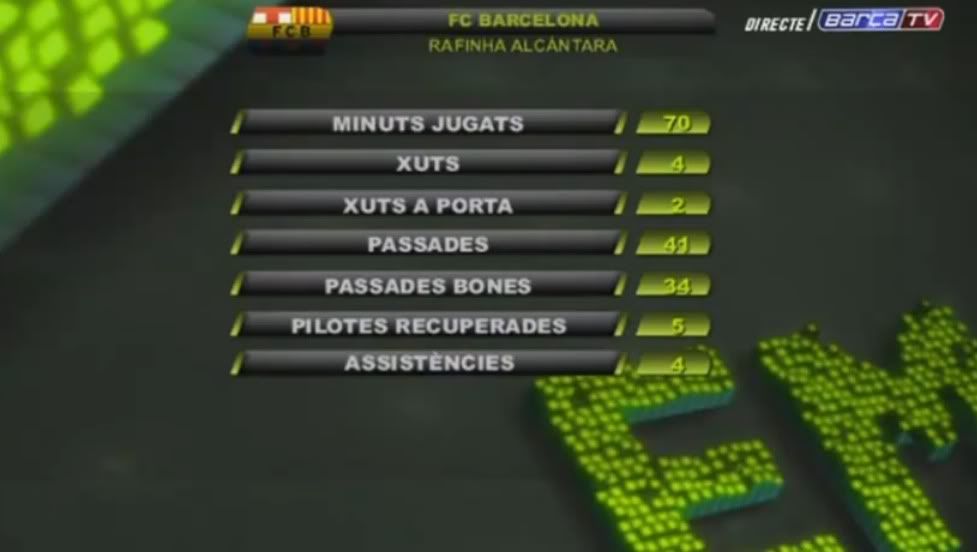 C. Interviewer: Here are Rafinha's stats… 70 minutes played, 4 shoots, 2 on goal; 41 passes, of which 34 were completed passes. 5 recovered balls and 4 assists.
Thiago:
Good thing that you're not showing his face, uh
.
[laughs]
Interviewer: That's
mean
!!! [Read:
guuuurrrrl
]
[more laughing]
Interviewer: Look, here's Thiago's goal with Barça. It's the only goal you've scored with the first team, right?
Rafinha:
Yeahhhh, he had a lucky shot and the ball just went in, nbd.
[laughs all around]
Interviewer: This was against Villarreal, correct?
C. Interviewer: Villarreal, yes. And we're sure there will be many more to come.
Thiago: Yeah, it was, like, a lifetime ago.
Interviewer: [laughs] Man, not that long ago! It's what, two months?
C. interviewer: Yes, it was at the end of August. The 29
th
I think. The first day of La Liga.
Interviewer: Okay. Again, congratulations. We wish you the very best of luck.
Rafinha:
Gracias
.
Interviewer: And now comes the best part, right? When you finally get out of here so you can celebrate all you want. And you're free on Thursday, too!
Thiago:
Oh yeah? I didn't even know lol.
Interviewer: Well, yes, it's a holiday. Pep said he wants you all to be well rested and with a clear head when you travel to Japan. [puts his hands up] That's what Guardiola said anyway!
Thiago:
We've been clear-headed since the beginning of the season.
Interviewer:
A very good answer, that.
Thanks again, and good luck [to Rafinha] for next Friday.
Rafinha:
Muchas gracias.
MINI PIC-SPAM BECAUSE I CAN:
I got the pics/gifs from
http://fuckyeahthiagoalcantara.com/
and
http://fuckyeahrafaalcantara.tumblr.com/
Via Thiago's twitter:
Thi_Alcantara91
: No tengo palabras para el día de hoy! 06/12/11 [
I have no words to describe this day
!]