"Messi has made me a better footballer"
David Villa (Tuilla, Asturias; 1981) came to Barcelona a year ago and reinvented himself as a striker. He stopped being center forward and learned to play on the left side, in Leo Messi's shadow. He is the top goalscorer for the Spain NT (49 goals) and tomorrow's game against Scotland will be his 80th with La Roja.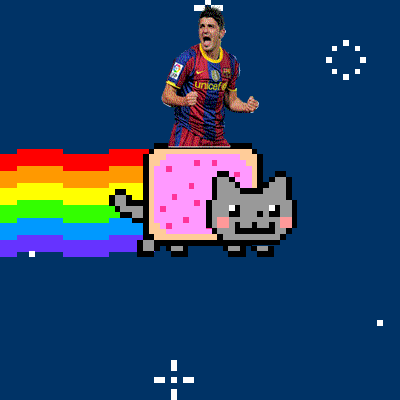 Q: Describe La Barriada, the place where you grew up.
A: It's a local neighborhood in my hometown. I grew up there playing football in the street. We would just use stones to make goalposts. Now I see my daughters and yes, they surely have many more things than I ever could as a kid, but at the same time they'll never have what I had.
Q: What was your childhood like?
A: A happy one.
Q: What's the difference between the way you played then, and the one you play today?
A: The essence is different. I wanted to become a footballer, but now I've gained things I couldn't have dreamt of. It was a game then, now it's a necessity. "The most important thing is to take part", that's not true at all. You always have to play to win.
Q: They say you like football so much you never switch off.
A: I do when I'm with my daughters. It's true that I spend a lot more time than I should thinking about football, much more than just training, games and traveling. But I like it. Thank god I have daughters. If I had boys I'd probably relax even less, even though I have to say my eldest daughter loves both watching games, and going on the pitch. [#BarçaDNA]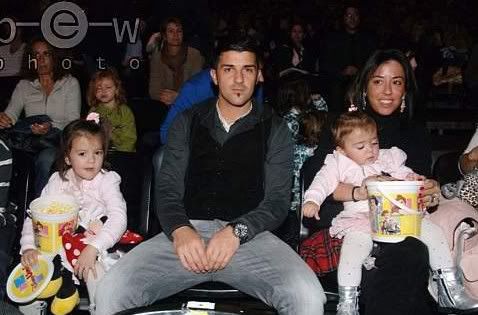 flawless family being flawless

Q: I suppose it helps that your wife was also a football player, right?
A: She has known me for so long! We've been together a lifetime. She understands me. She knows what my profession is about, and she enjoys it with me. She played until she was 15.
Q: Is she a good critic?
A: No, no, it's not about that. She knows when I'm going through a rough time and she's always there for me.
Q: How's the house coming along?
A: [laughs] Well, it's a very slow work in progress… But I'm sure it was Xavi who told you to ask me that, right? Of course, who else. Well, anyway, my wife's handling that part, she's the expert. Whatever she decides, it'll be great. She knows much more than me, and besides, I want the house to suit her tastes. I hope it'll be finished soon.
Q: You bought a house. Does that mean you feel at home?
A: We love it here in Barcelona. The truth is, we are very lucky. Our time in Valencia was amazing, and to trade off something like that, there's always a risk. But we're very happy.
Q: How do you get along with Catalans?
A: Good. I already knew about their culture, and the club... I knew what it was going to be like, and there weren't any surprises there. Well, one thing maybe. They eat calçots [spring onions] with sauce!!! They told me, "Let's go out for a calçotada!!! And I was like "A what?" Everything else, there's been no problem at all. Besides, since I moved here from Valencia, I already knew the language.


Q: Do you think they marginalize Spanish (Castellano) in Catalunya?
A: Absolutely not. It's more or less like in Valencia. People here have their own culture, they speak their language and if you're a newcomer you have to adapt. I haven't had any problems. Speaking it is a little harder, yes, but I've lived in Valencia long enough: I understand everything.




Q: Transfering to a new club usually means you have to adapt to new positions on the pitch. In your case this difference is even more noticeable.
[This, ladies and… ladies, is the part where he's finally explaining why he's always offside XDDD]
A: Yes, I have different tasks now. As far as attcking is concerned, it's the same: lose the markers, be careful about what's going on near the penalty area, try to open up new spaces, get away from central defenders… All my life I've struggled to avoid having to fight with defenders because with my height and my physique I can't fight for the ball with just anyone. Defensively speaking though, there are a few differences. I'm proud I've learned to pass the ball more, and to enjoy football from a position I've never played in before.
Q: Are you a better footballer?
A: Let me put it this way, I'm more complete now. Perhaps I score less goals, but I'm enjoying playing. No, I wouldn't say better. More complete.
Q: Less chances to score, but more teamwork.
A: Yes. I still get my chances to score, but I pass the ball a lot more. At Valencia I was the main forward, it was just me, and my job was to find open spaces and score goals. Now I cover even the midfield sometimes, I keep moving. Like I said, I'm more complete now. The hardest part no doubt was to pick up the defensive work.
Q: Did you work less on the pitch, before?
A: No. If I made it here, it's because I've always worked really hard, absolutely. I've never been the lazy striker type. If I were, I wouldn't have had my trajectory. It's all in the mind: you have to know when it's time to attack, and when to defend. There are guidelines, and the more you play like that, the more you get used to them, and when you get the hang of them you can run a little less. I already said several times that Pedro helped me a lot. When in doubt, I looked over at him. When I was a little bit lost on the pitch, I looked over to where Pedrito was on the other side and found my place again.
Q: They also say Abidal is a great reference to you.
A: Yes, because Abi has more perspective and has all the lessons learned a long time ago. He puts me in my place. Of course the goalkeeper is the one who sees everything. We strikers don't have the same perspective as defenders do. We lack view. Abi helped me a lot. That's also why I'm happy I'm here.
Q: How did Pep Guardiola help you?
A: If it weren't for him, I don't think I would have been able to adapt. With his talks during training he has helped me find my place here. He and the staff have been incredibly supportive. There's a lot of work put into making this team, it's not just a consequence of the individual players' talent. At the end of the day it's the coach's job to put together all these different talents. Day-to-day work at Barça, the way we prepare the next game, it's unlike anything I'd ever experienced.
Q: Xavi maintains that your success springs from humility.
A: I don't think it's any merit of mine. I come from a humble family, and that's what I learned on a day to day basis. My wife is the same, and that is also how we're trying to educate our daughers. That's it, I don't think it's a merit because that's just how I am, as simple as that. They taught me that with hard work you can become better at what you do, and I don't know any other way.
Q: And in what respect do you want to become better in this second season?
A: Everything I usually do on the pitch, I think I can do better this year. I've always had the mentality to push myself to improve. More so when it's about football, because things get harder each day, players are better prepared, and if you don't reinvent yourself, if you don't push yourself a little further, you get left behind. Even more so here at Barcelona, where the demands are huge, and each week the opponent plays against us as if it's their most important game of the season.
Q: Your scoring average is better this year.
A: Goals have a luck component that you can't control. One day you hit the goalpost, like I did in Prague, and another you nail it perfectly like in Wembley.




Q: Is that your best goal as a barcelonista?
A: The stars were all aligned that day. First of all, it wrote me into the history of such a great club as Barça. 50 years form now, it'll still be there; whenever someone will think back on Wembley, my name will come up. Then the result [3-1], and the fact that it was a lovely goal. And because it was the last goal scored against Van Der Sar… I only realized this later, I was the last player who scored against such an incredible goalkeeper; I was thrilled. It was a fantastic final, between two of Europe's greatest clubs that year. I am very proud of that goal, of how I played. But, most of all, how we all played. A club so great as Manchester United looked a little bit smaller that day, something that seems impossible. Not many clubs can achieve that.
Q: If a gesture could define your current team, could that be Puyol giving his captain's armband to Abi in Wembley?
A: Doubtlessly. There were many others that weren't taped on camera, but yeah, that's the one. What happened to Abi was a complete shock. At first, when Manel [Estiarte] told me, I couldn't believe it. But thank God, and most of all thanks to him [Abidal], we managed to overcome it. He brought us all even closer. And Puyi's gesture… only a great person with a big heart could have done that. I only realized what was going on when we were standing there; it was everyone's dream to be the first to lift the cup at Wembley, and he gave it up so Abi could do it. [sobbing rn, legit sobbing. Puyi is better than your faves etc.]




Q: Are you troubled that some are questioning that success?
A: We're above all that. We know why we got there, the work we've done to reach that spot… Everything else is unimportant.
Q: It seems incredible that in such an important year for Spanish football – WC Champions in South Africa and European Champions with Barça – there were some ugly things tarnishing it.
A: That's how it was perceived from the outside, yes. We, the players, are pretty calm about it, knowing what happened. Obviously we've seen some things that weren't pretty, but it's normal in games with that kind of tension, where there's so much at stake. Well, I don't know if pretty is the right word… There were things I didn't like, things nobody liked, but well&hellip
Q: Seems like this year it's gonna be Barça and Madrid fighting for the title again, a bipolar Liga.
A: You win the Liga day by day. We only play two games against RM in a season. Of course, they are a very strong team, they've bought stellar players that have made them even stronger. Winning against Real Madrid becomes harder and harder because they keep getting better. But we can make it.
Q: Who plays better: Barça or the Spain NT?
A: They have two different ways of playing. Similar, but different. Between them, they're playing the most eye-catching football style today.
Q: Is Xavi the key stone for both teams?
A: Xavi would be the key stone in any club in the world. Of any generation. Not just this one: I mean past ones and future ones as well. Es único (he stands alone/ he's one of a kind). On of the main reasons why Barça and the Spain NT are playing so well is him, that's the kind of impact he has.




Q: So the difference between the two must be Messi.
A: Without a doubt.
Q: A friend of mine says Messi should be passed around, play a little in every club.
A: Maybe. He's exceptional. Pep said it all: you can't talk about Leo, you have to watch him play. I have seen no one like him in my life: every day you think he can't possibly get better, that you've seen it all, and tomorrow he'll just do something new. He's a very humble person, and success hasn't gotten to his head. His family is very humble too, always by his side; you can tell by the way they are that they know exactly where they come from; they have very strong roots. Aside from his playing style though, Messi is an exeptional teammate, he has gained our affection not only for his generosity on the pitch but also, and it's even more important, for the way he behaves in the changing rooms, for the way he is.
Q: So how is Messi?
A: He's extremely demanding when you play next to him, you must be alert at all times. Sometimes it seems impossible that he see you, but he does. You have to be prepared for the most impossible passes when you play with Leo; it's not just what he does, but what he makes you do. He scores lots of goals, but he's so much more than that: he moves back, opens up new spaces, gives you the perfect pass, he's generous… It's a maravilla playing beside him. To be honest, playing by his side has made me a better footballer. Look, when in the future people see a photo of Messi and I'm also in the picture, I'll be able to say "I played with Leo Messi." It's a privilege.




Q: Forgive me the question, but what about the whole singing thing?
A: I don't know… I've always loved music and singing; everyone does, I guess. But then I recorded that song with Ana Torroja for charity – I'm really proud of being part of that project – and everyone kept teasing me about it, saying it wasn't really my voice… Well, in the end they betrayed me into singing at Camp Nou, when I was too happy to refuse.
Q: You sang in front of 100,000 people. Something only Lluís Llach, Zubi and Valdés have managed to do.
A: You have no idea how embarassed I was. Back in my hometown they say "Zapatero, a tus zapatos" [You should stick your own job.] So, yeah… maybe I should only concentrate on scoring goals.





Source here: http://www.elpais.com/articulo/deportes/Messi/ha/hecho/mejor/futbolista/elpepidep/20111010elpepidep_6/Tes
PS. If you want to learn more about the calçotada: pocketcultures.com/topicsoftheworld/2010/05/03/calcotada-time-the-secret-is-in-the-sauce/