The 4th Season of Crackòvia starts Monday Sept 12th!!!!!!!!!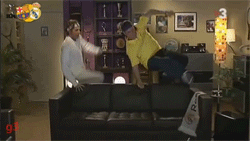 Interviewing Pau Escribano, director of the kick-ass awesomeness that is Crackòvia!!!

First of all:

CRACKÒVIA IS NOW ON TWITTER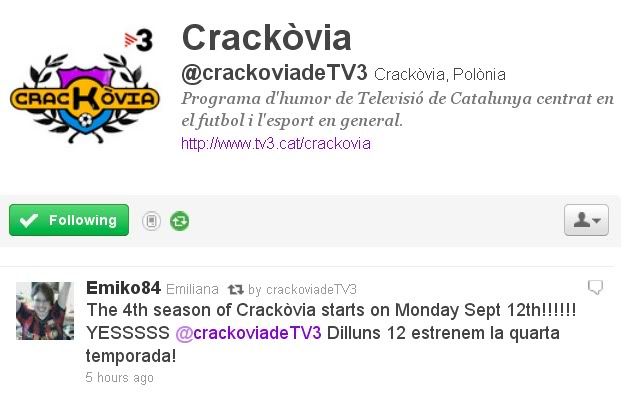 GO FOLLOW THEM AT http://twitter.com/#!/crackoviadeTV3
(and YES THEY motherfucking RETWEETED ME OMFG alkjhdlkjhaslkdj)




Secondly: Here's the VIDEO of the INTERVIEW to Crackòvia's director Pau Escribano:

http://www.tv3.cat/videos/3675550/Les-novetats-del-Crackovia
(won't let me embed =__=)




The new season will start in the middle of September, when La Liga has already begun. We'll shoot for a while, and when we air we're going to have to hook up to what's been happening in the first couple of weeks of La Liga. Right now we're working, we've started thinking up new ideas to work on, because we want to make quite a few changes and we have loads of new ideas - some of which I was considering just now.
(monitor pic: title "Ideas Crackòvia Season 2011-2012: empty page)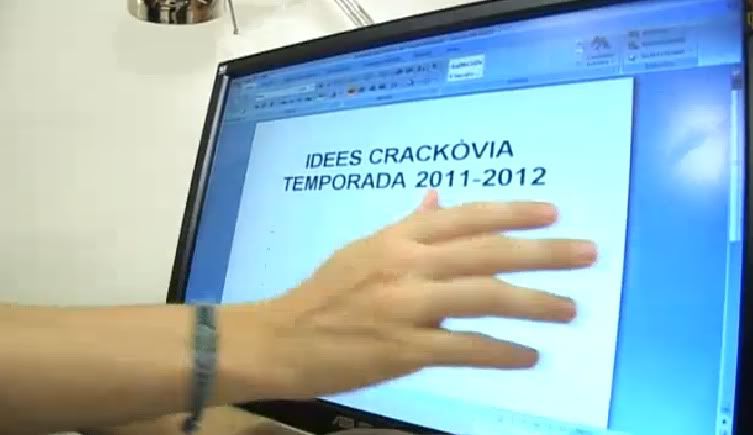 But, well, it's kind of a secret, so... (covers monitor with his hands)
Many, MANY ideas, but we're still working on them , so... really, there are loads of them, but they're secret, so you can't look right now.

..All the new signings are going to pop up, from Espanyol, Barça and Real Madrid.. they're all going to be there. Well, maybe not all of them, but the most important ones. The one character we're not engaged in right now is Cesc, because we were working on him all of last year in preparation for his landing here and then he didn't come... We seriously think he's not coming this year either, so -- What? They signed him? No, no, I don't believe you.




One of the most notable novelties is that Cruyff and Rexach, we've given them a bit more freedom to act, we've taken them out of the golf court and now they'll be writing and directing the episodes. I know it's abit risky, it's kind of an experiment, but they have both such creative minds, we want to see what happens when we put Carles Rexach and Johan Cruyff in charge of Crackòvia.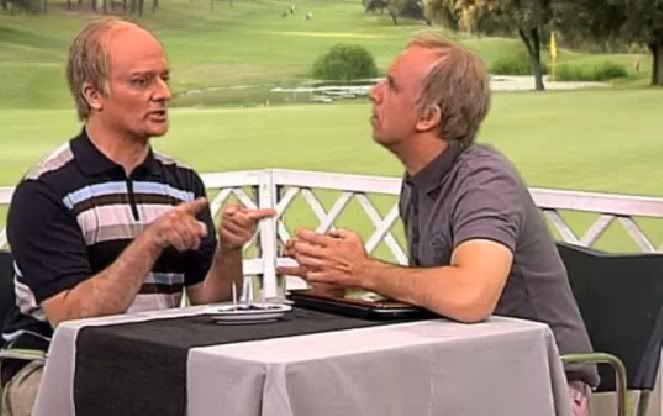 No, "Mou res" was a bit of a risky bet we made, like the "Copa, Lliga i Champions". The latter turned out to be accurate, the former not so much, but we knew. We knew they might not end up as good as they'd started out. But we love musicals, maybe we won't be doing them every week, but there will always be songs in Crackòvia, sometimes once a month, sometimes twice or three times... we'll always be doing musical number to, like, reflect the feelings of the fan base or a single character or whatever. Especially when it's something (doesn't have to be a song by definition) that helps with the final "sprint" towards the end of the season.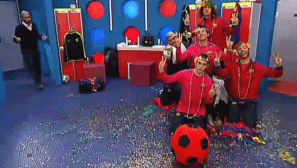 Barça's victories means more success for Crackòvia, everything Mou says means more success for Crackòvia... Whatever happens in real life, we'll try to adapt and find the humor in it. Of course, the more tension, the more extreme characters, the easiest it is to find good gags. That's what happens with Mourinho.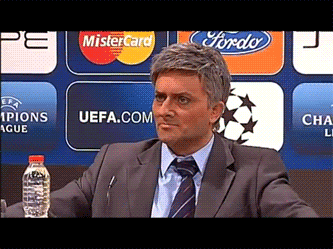 This year the confrontation between Mou and Pep will be at the heart of Crackòvia, we already finished last season with that gag of Pep and Mou as old men meeting up to talk about the past. We're definitely gonna see more of them this year, too.




Of course we try to cover all sorts of sports at Crackòvia, but it's hard because sometimes football takes up all the TV time in the News... this year we hope the Olympic Games will bring more visibility to other sports as well, so that we can add them to the list of sports we spoof.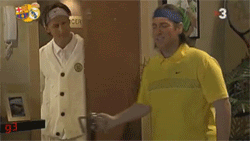 The fact that we have so many viewers gives us the necessary peace of mind to continue to do our job. We try not to look at our audience ratings, we try to value the inherent quality of our program, without looking at the number of viewers we have, but sometimes when we get really good ratiings we feel more at ease working on the next episode, with feel less pressured.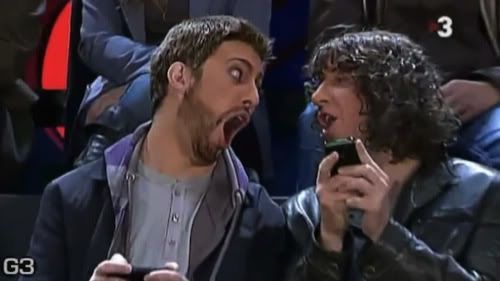 It's different to work for TV3 than it is for a private broadcasting television networks, but if it works you get a very large base of viewers that - well it's spectacular. Crackòvia has been going really well for three years now, something that seemed impossible to do, and we hope the fourth Season will continue to be this successful.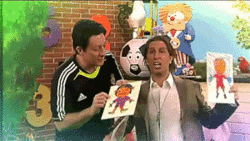 The 4th Season of Crackòvia is about to start! Make sure not to miss it!!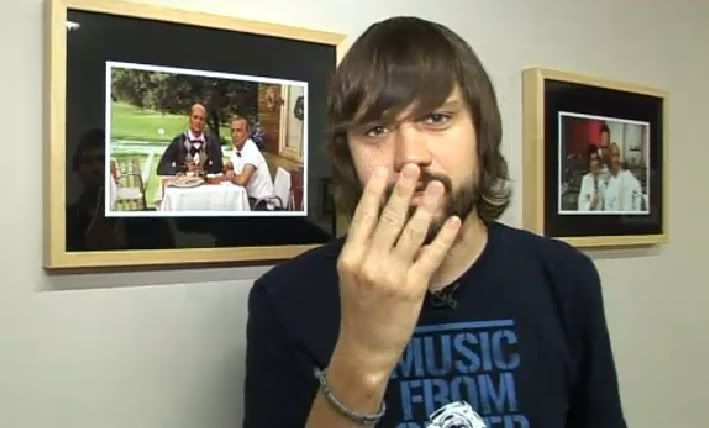 BAAAH-AAAHHH!!!


Get ready bitchessss!!!