XAVI: "BARÇA IS THE BEST CLUB IN THE WORLD"






There are some players who don't need a formal introduction and Xavi Hernández is one of them. He's the best midfielder in the world and the player who played more games in the history of Barcelona.




Great season, wasn't it?

Yes, a wonderful season. The only "but" is with the Copa del Rey final. We got to every final there was, we won la Liga, we started off by winning the Supercopa, and we ended the season playing really good football. And then we've seen on of the best games Barcelona has ever played - I don't know if it was THE best, because I haven't seen all of them, but one of the best in recent years for sure. Spectacular game. I never enjoyed playing, being on the pitch, as much as I did on this year's final. I enjoyed some of the Liga games, but none were as trascendental as this one. I really had FUN. I'm like a kid who's at the beginning and enjoying everything for the first time. And I've never played this good in my life. I'm very happy. About this year's season, about the recognition we've had worldwide. I couldn't ask for anything more.

Have the bad moments been forgotten?

The press is the boss out there. Often they print things that have nothing to do with football.

You mean the doping scandals?

When you've played as many years as I have, nothing surprises you. It's almost funny, in a twisted way. When I watch the news I sometimes find myself laughing, thinking "madre mía, how low do people stoop to get a victory. That's bullshit. You need to be more... noble, and doping is just dirty".

Are you saying this because of the 'milk factory' (lit. "centrallechera") incident?

I don't like talking about the accusations. They only made us stronger. And Mou? And Real Madrid, who didn't want to play the kind of football that I know they're capable of...We won everything except the Copa del Rey; we won la Liga, the Champions semi-final, always playing football. Barcelona is much stronger today thanks to everything Real Madrid has done this year.

Do you think Mou will be even more aggressive next season?

The same, but with more experience, he now know how la Liga works. And not just Mou, Madrid in general. But Mourinho is the kind of guy who likes to stir things up, he really riles up the Catalans and Barça. We need someone like him, as Catalans, because he keeps us constantly on our toes. Mou makes us stronger.

Did you speak with Casillas after the four clásicos?

I spoke with him after the COpa del Rey to congratulate him. Don't worry, we'll talk soon enough. I've always gotten along with him, my whole life. We'll just find a way to put everything behind us.

With Messi, is Barcelona invincible?

I've run out of words. Till the day he stops playing, he'll always be the best. In my opinion he's the best player in history. Di Stefano, Pelé, Maradona. He's the best in every match. We have to take care of that boy, make sure he's happy here; with him and the team we've built, we can win many more things.

Your feelings on this "Barça cycle".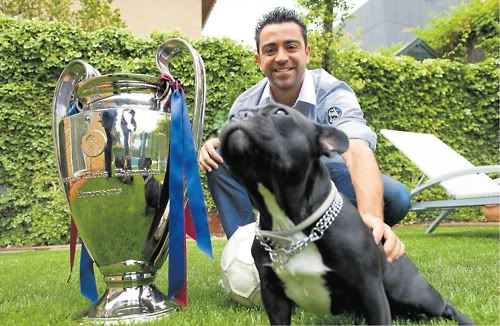 I'm really optimist, that's what I want to feel and what I really feel. You can't prophecize anything in football, because you're forced to take it back afterwards. I could say now that we'll keep winning five more years, and then next year we fall, and then I'll have to eat my words back. I can't predict the future, but my feelings are positive. Not just about football strictly speaking. You should see the atmosphere in our dressing room. It's a maravilla.

The best teammates you've ever had?

And some! There's no ego problems, we're all having fun and joking and getting along, you know, good people. Because it's the culés that rule, and there is the difference. Pep, Tito, the doctors, physiotherapists, they're all culés. Out of 50 people in the staff, 35 or 40 were groomed here at Barça.

Do you fear Pep will get tired eventually?

Pep is an intelligent man. He knows that if he signs on for four, five years, he'll get lazy. You lose motivation and challenges. If he says, I'm staying one more year, well that makes you think you have to win as much as you can to earn the right to sign on again for another year. In my opinion, that's really smart...

Knowing the manager may leave, doesn't that create anxiety in the dressing room?

Rather than anxiety, uncertainty. It's good get on the pitch with a little uncertainty. Pep loves our club, if it were him, he'd sign on 10 more years. He doesn't want to disappoint the club. He needs to stay with Barcelona for the rest of his life. One way or another, he'll always be linked to this club. You can't let someone like him get away.

But he said he'll go eventually.

As manager, yes.

What role would you have him in then? As president?

Anything really, but he needs to stay here at Barcelona. Otherwise, we're gonna be missing him a lot.

Let's talk about Abidal lifting the cup? That was really thoughtful of Puyol.

But that's a given.

You think? Sometimes your ego gets in the way....

Bullshit (LOOOL XAVI XD). Who cares who lifts it? It's only two seconds. Your ego needs to be kept in check. The glory of winning is for everyone. That's what being a TEAM means. Puyi told me "You lift it, Xavi." and I said no.He hadn't mentioned it to me earlier. Also, I felt bad that Puyi didn't get to play, that wasn't right. But it was all him, he wanted to let Abidal lift the cup. It wasn't a forced decision.


LA MANITA. What do you think about this season being called "the season of the manita"?

It was a wonderful game. We were so much better than them. They didn't even get to play.

In Madrid the speculated a lot about that ad campaign.

Well, they can think what they will, but we respect our rivals. If they want to expose all our faults, sure, we have as many as the next club. But that was just crap.

Are Alves and Sergio divers?

Please!! No. That's part of football. On the pitch we call each other everything. There is tension, anxiety, insults, that's football too. So what? Everything stays on the pitch. It's always been that way.

What will they say next year?

They can say what they want. Let them keep making things up. That's just another reason for us to be more careful.

The whole world has called you the best team in the world.

Everyone is saying it, and I'm here drooling (LOOOOL). Van Basten, Luis Aragonés, Sacchi. I have goosebumps. That they're comparing us with Sacchi's Milan or Brazil in the '70s.

Didn't Platini ask for your shirt like he did after the World Cup?

I gave it to Justri (one of Xavi's best friends). He was really happy! Platini congratulated me and told me it was wonderful. He spoke to me in Spanish, even though his Spanish is as bad as my English.

What's in store next?

We need to keep winning titles, keep showing people that we are the best. Supercopas, Intercontinental...

Is this the happiest you've ever been?

Yes, definitely. I feel fulfilled, like I've achieved something. I've been criticized, people
didn't believe in me. So of course now I value all this even more. People who haven't lived in the mud,
who have never seen filth, they don't know how hard it is to get all this. People don't know how
much it cost me to get me where I am now. Nobody believed in me, they kept signing on footballers
from other countries because they didn't believe in me.

Do you explain to the young ones that you can go through good spells as well as really bad ones?

Yes. As the older players, we have that responsibility, we need to help them put things in the right perspective.

Last year you predicted Cesc would come and you failed. Would you predict something for us?

BUt if HE was the one who said he'd come! That kid wants to come to Barcelona. He would be amazing for this club, but of course money is the problem. They're asking a lot because he's really good. 50 million Euros, and the club's finances aren't exactly good. Only money is the problem. He wants to come here and we want him here. (UUUUHHHHHH *cough cough*)

What about Rossi?

He's a very good player.

Do you know him personally?

No, but Capdevila speaks really high of him. This year has been awesome for him, he's young, talented, a good player.

What do you think of Villa's first year at Barça?

Me and El Guaje are very close

(lit. "I'm intimate with el Guaje" lololol)

.
I think he's an incredible person. He has big heart and that's something that's so hard to come by in the world of football. He's humble, hard-working, he adapted to the team perfectly, he never had ego problems. He keeps his ego only in how hard he wants to score. Of course he felt really bad for not scoring! To a striker, scoring goals is a must, and he suffered a lot. When he scored in the CL final I felt as if I had scored! Good people always deserve good things coming to them. (MY CREYS OMG)





We've all been so surprised with Mascherano. You too?

What a fantastic guy! He's so much fun to be with, I thought he was this serious guy, but no, he's funny, a real jokester. They nailed it when they signed him on. He's a team-man, he's runs like Hell and defensively he's vital to us. And he's a really good person.

How do you explain Pedro's luck? He always scores in ipmortant games...

He's really good. It's not luck. The harder you work, the luckiest you are. Luis Aragonés used to say it, and it's an example for all the generations to come. Look at Pedro, at how he plays, at how he just GETS us on the pitch, how generous he is when he defends, how he uses his legs, his ambition, his mental strength. He's a marvel.

Bojan looked sad this year.

Yes. He thought he would get more playing time, and he suffered for it. Footballers tend to be a bit selfish. He has many qualities that could make him triumph at Barça. The problem is that the level here is extremely high. I cheered him up. He's a strong guy, it was pretty clear in Málaga. He's really young and everything is harder at Barça. You have to be the best man in your position.



INDIGNADO

: What did Sergio Busquets say when he found out that Real Madrid was denouncing him, video and all?

He looked really sad. He was worried. We call each other names on the pitch, but that's nothing.Now what, suddenly Busquets is a racist. Don't bullshit me. I think it's sad that his teammates in the selección were all asking that disciplinary measures be taken against him. Sergio, who's an extreaordinary guy, epathic, such a good kid.

How's your Achilles tendon?

Perfect. It hurts a bit sometimes, but it's nothing. But yeah, I tend to avoid confrontations because the punctures hurt like hell. But that's what cured me. I have Cugat, Pruna and RIcart to thank for it. The medical staff has been with me 100%. It was like I had something constantly weighing on my tendons, I couldn't even walk. I didn't think the pain would ever stop, but I kept playing. I suffered playing, and that was the first time it ever happened to me. All this pain was worth it, though.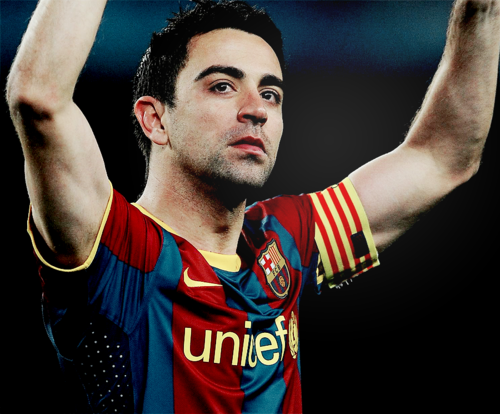 Which opponent was the hardest to take on? Real Madrid?

No, Villareal at Camp Nou. Real Madrid, too, but they weren't playing football, they were playing tricks on us. Like not mowing the pitch, having dried-up grass.... Valencia did the same thing. Playing in those conditions is much harder, but it's not because the opponent's good, it's because they're tricking us. Villareal stood up to us, they looked us in the eye and fought us as equals, they wanted ball possession and even got it, playing really good football. Villareal is the team that most resembles today's Barcelona. Cazorla, Bruno, Borja Valero, Nilmar y Rossi.... a team that could fight for the Liga title.

How do you feel about having to start next season with another game against Real Madrid? (the first title, the Supercopa)

What? No! I have the adrenaline to the highest level possible after playing in so many finals, I want to continue. This is part of the glory. Years ago we fough with Rivaldo's goal to win the fourth place in la Liga. People should remember it. It was 7 years ago. We won 4th place and we celebrated so hard, we felt like we'd just won the Champions League! We got into the UEFA with Antic, ended up 6th, playing at home. Today people don't remember how hard we fought to get to this level.

Has the mentality/attitude of culés changed?

As far as younger fans go, yes. It's different when you've watched Barça for 20 years. Ten-year-old kids who go to my camp come up to me and berate me for not winning the Copa del Rey. I tell them that this is football and you can't always win. The fans are too used to seeing us win. But whatever, it's all good. I just want them to understand how much HARD WORK there is behind every win.

What do the fans convey to you?

Affection. I went on to get a corner kick at Wembley and the fans started chanting my name. People's love is the best there is, it's what keeps the world moving. I didn't feel loved at Barça for a long time, everybody knows that. And it destroys you. Now I'm on the other side of that spectrum and... it was worth going through all that pain.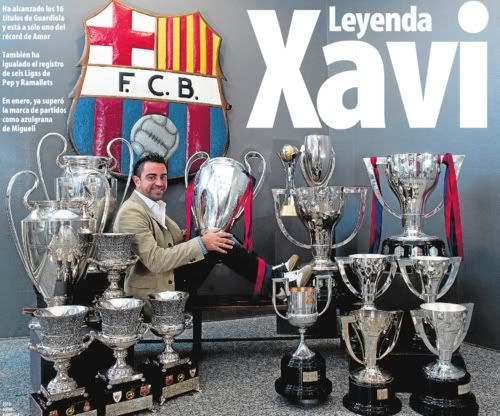 Did Manchester United's lack of options surprise you during the final?

Barcelona is the best team in the world. Rooney said so, and so did Ferguson. That's the best thing you can hear. We have to admire Ferguson for everything he's given to the world of football, he's been 25 years at United, he changed their history - ManUtd were10 leagues behind with respect to Liverpool, and now Liverpool is one behind. And they play great football. (If only all those hating ManUtd fans read this...)

And you also know how to lose.

Barcelona also knows how to lose. After the Copa del Rey final, we congratulated Real Madrid. We don't have a problem with losing. Those who don't know how to lose always end up bad. I told Iker at the Copa del Rey final, congratulations mate. I told him to enjoy the victory, that they'd earned it.

And you lost over a trivial thing like an inch in Pedro's goal...

During the first half we didn't play well, we were too tensed about the final. But in the second half we could have won 2-0. They were always on our backs, especially in the midfield, the whole second half in their half of the pitch. Except for those two balls we lost, and one of them gave them the chance to score. If we hadn't let those two balls escape, we may have won the final. On that pitch I had the feeling that we were going to win. I kept the ball and thought, we're gonna win this. But they're really good, really talented, so...

Is Cristiano Ronaldo the best at Real Madrid?

He's really good, but it's not just him. Benzema, Ozil, Di María, Xabi Alonso. Excellent footballers.

If they're such good footballers, why don't they play football?

They DID play football, just not against Barça. I watch every game they play on TV. They have a different style, more direct, more individualistic. Many times they could have owned a game, but they just wouldn't against us. That's a fact. I'm not criticizing them. (LOL I love you Xavi but yeah, I think you are XDDD)

Well, but they say that playing that way they almost won....

Whatever. In life, you get what you sow. At the end of the season, they had the Copa, we had Liga and Champions.

Don't you get tired of Madrid after four clásicos?

Do you have any idea what it's like to win aginst them... 0-2 at the Bernabéu in a CL semifinal with the state their grass was in. Let them do whatever they want next year. We'll just keep playing football.

Would you second Piqué's words at the CL celebrations?

But of course. We only talk about football. Barcelona is the best. I haven't seen this kind of football since I can remember.

Not even the Dream Team?

There is more rhythm now, fisically too, we prepare better for every game. We even rehearse throw-ins.

Manchester's goal in the final originated precisely from a throw-in, though. And what about short corner kicks?

Our third goal was from a short corner kick. Everything was rehearsed during training, and people don't even realize it. Kick the ball directly in the penalty area? Why.

Did you watch the CL final on TV?

Yes, last Tuesday on Barça TV. After dinner. It was 3 am. (why is this relevant omg)

How would you rate your performance?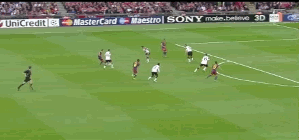 Very good. I know it sounds conceited, but it was one of the best games I've played in my entire carreer. I've played many good games, but this was really The Game. I stole 200 balls, lost very few, and I exchanged passages with everyone. All my teammates' eyes and passes were for me. But we were all good, overall, not just 3 or 4 of us.

Is this the Barça DNA?

Barça DNA means we understand football. We don't kick the ball "and see what happens", we stage our attacks. We do a 2 vs- 1 in the midfield and then pretend to attack on one side only to switch to the other side.

And when you don't have the ball?

It's wonderful. Every single one of us runs like hell every game. With Guardiola, if you don't run you don't get to play. That's our mister for ya. El Guaje has never run this much in his whole life, but he also never had this much fun playing football. I was the one who ran most during the CL final. No one would believe it, but it was me. They stole the ball and I was already suffering because I wanted it back ASAP. You mustn't give your opponent time to play the ball they've stolen, mustn't give them time to think. And the closest player must put pressure on the opponents, everyone, not just the defenders. The fact that we got back the ball right after they stole it took a toll on them after a while. In the last twenty minutes, they were mentaly drained, they didn't even try to attack.

Is it hard to think that someday you're going to have to get down from your cloud?

Again, I don't like to make predictions, but I could say things aren't changing for four, five years more.I like to think that way. Once Luis Aragonés told me "You have to think you are the best on the inside, but not on the outside". (lol wut)

So the fans can rest assured on the whole Guardiola deal.

Looking at him, I see he's having fun. He comes up to me and says "Kid, how awesome was that? The WAY we did it!" Not even him was expecting this level of success. He's also marvelling at the group and cameraderie we have created. Now he needs to be like a surgeon, giving retouches only where it's needed. But don't worry, he's at least two years ahead. Nothing escapes that guy's notice.




Translated by me, original article can be found at sport.es.
Link: http://www.sport.es/es/noticias/barca/20110605/barca-superior-cualquier-equipo/1032138.shtml
Yes, I stole pics/gifs from tumblr and from ElMundoDeportivo.es. They're not mine, and I regret nothing.