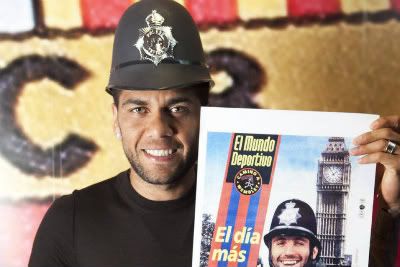 yeah I know the interview is with The Guardian and not Mundo Deportivo..;_;

In an exclusive interview, Dani Alves talks to Fernando Duarte about his move to Barcelona, the prospect of a first Champions League final – and his contempt for those cheat allegations.




Dani Alves is everywhere: his face on glass panels, his smiles and goal celebrations on a giant flatscreen TV slideshow. It may only be a meeting room at the company he has set up to handle his commercial affairs, and those of team-mates such as Eric Abidal and Maxwell, but the omnipresence seems somehow symbolic of the player's outstanding work-rate on Barcelona's right flank.

With so many stars throughout the Barcelona lineup it is not impossible for outsiders, if not his colleagues, to overlook Alves's contribution to the Catalan club's success. Even for a Brazilian full-back, Alves's forward ventures are impressive. His galloping runs offer a constant outlet to his team-mates and threat to his opponents: for instance, he is behind only Lionel Messi in the number of assists provided for the 141 goals scored by Barcelona this season in all competitions, ahead of pass masters such as Xavi and Andrés Iniesta.

He concedes his style of play necessitates tremendously hard work on the training field and matchday pitch, but that is nothing new in the life of the son of a Brazilian farmer who grew up in the arid and impoverished north-east of the country, helping the family fight the elements to maintain an allotment that produced melons and onions sold at a local market. This was the family's main source of income until Alves was spotted by a scout for EC Bahia as a 15-year-old in 1998. Four years later he would move to Sevilla, where his versatility resulted in stints as a midfielder and a second striker in a superbly successful six-year spell.

Another Brazilian right-back, Juliano Belletti, earned his place in the history of Barcelona by scoring the winning goal against Arsenal in the 2006 Champions League final, the same year a proposed move for Alves to Anfield broke down because Liverpool balked at the £8m asking price. Two years later he moved instead to the Camp Nou, with eyebrows raised over the £28m fee Barcelona paid for his services, the third highest transfer in the club's history.

"Barça paid more money for me than they did to sign Ronaldinho and people were quick to point that out," Alves says. "That only raised the pressure and the expectations around my performances. Also, as much as everybody knows what Barça is about, it is one thing to watch them, completely another to get used to playing that way. Even for a Brazilian."

Alves came to the Camp Nou in the middle of a revolution marked by the arrival of a then unproven manager, Pep Guardiola, and a Stalinist spurge that saw an overhaul of the squad, including the departures of Deco, Ronaldinho and Edmílson, fellow countrymen who might have helped accommodate Alves at the club. Instead it was an Argentinian, Lionel Messi, who offered the helping hand. "The team did not start well and everybody thought that Guardiola would be a disaster," Alves says. "But I did not think twice when Barcelona came knocking. That train could never come again."

That first season ended with a historic treble of Champions League, La Liga and Copa del Rey success, and gave a mythical contour to Guardiola's project. But Alves's own season ended in disappointment as he was forced to watch the final against Manchester United in Rome from the sidelines after receiving a booking in the contentious semi-final against Chelsea at Stamford Bridge.

This year he managed to avoid that costly second yellow card and will finally get the chance to meet United in a Champions League final. But there was no shortage of semi-final controversy once again, this time in the ugliness that prevailed during the marathon of matches against Real Madrid.

José Mourinho, who Alves refuses to name throughout the interview, had his special part to play, but many were also unhappy with what were perceived as Barcelona's conning tactics. Alves came under particularly close scrutiny for his part in Pepe's sending-off in the first leg at the Bernabéu, which opened the way for a 2-0 away victory that all but settled the tie.

"I was called a teatrero [Spanish slang for play-acting] but what amazed me the most is that people simply forgot the fact that Pepe came all studs up against me," Alves says. "I know and he knows how hard he hit me. The only reason I don't have a scar or something worse to show is because I wear carbon fibre shinpads to prevent injuries. If you listen to the audio in the Spanish TV, you can hear the impact of his studs. Maybe if I had broken my leg people would stop talking."

Alves is calm and controlled when he justifies his role in the affair but there is a clear sense of contempt towards Barcelona's great rivals. He argues that the Spanish champions' antics were induced by Madrid's approach to the semi-final. "We only wanted to play football because Barça are very hard to beat when it comes to a game of football," Alves says. "In the mind games we would always lose and that was something Guardiola kept reminding us about. But there were lies, false accusations. Real have great players but they were more worried about referees and even at their own matches they kept talking about Barcelona. We had to listen to a lot of tripe. We tried not to buy into their tactics but it reached a limit."

By tripe he also means the accusations of racism levelled at Sergio Busquets. "He has got black team-mates, for heaven's sake. How would he be able to come to training if that really happened?'' Alves, nonetheless, admits that both teams let the public down. "The games weren't pretty and I think everybody was a little disappointed," he says.

Could his view on Real's tactics be swayed by lingering bitterness at Barça's demise at the hands of Mourinho and Inter in the semi-final last season? "It would be wrong to describe him as a chip on our shoulder. Last season he did his homework and beat us fair and square. But then things changed and so did his behaviour toward Barcelona. He kept attacking us, even after setting up his team to play with almost 10 men behind the ball against us."

Alves knows that the tremendous battle to overcome Real will be meaningless if Barça return from London empty-handed. Like every cab driver in Catalonia, he believes that United's class of 2011 have learned from their 2009 mistakes. "They are in amazing form this season and their run in the Champions League has to be respected. United will never be a side fearing opponents. They will bring the game to us and we need to be on our toes. They will not pay us excessive respect, like Real did."

That could mean a more conservative role for the marauding right-back next Saturday. "Sometimes I am almost like a winger so I can open up spaces for our midfielders. I doubt that United will be sitting back in that way waiting for us to move."

Alves has spoken before of his enjoyment at watching Sir Alex Ferguson's team on the television, but his admiration extends to English football more generally. When his contract extension talks with Barcelona stalled at the beginning of the year and critics, including the influential Johan Cruyff, questioned his dedication to the blaugrana cause, he entertained thoughts of a move to the Premier League.

"I was really tempted," he admits. "There were some offers and I really like the English style. But then look at what I've got here at Barcelona. I play with amazing guys, a great coach and our style is admired around the world. It's priceless.

"That doesn't mean that providing for my family isn't a priority. My discussions with Barça were never only about money. If that was the case, there were clubs offering to pay more. I just wanted assurance from the board and I never stopped working hard for the club." United's left-back, Patrice Evra, is sure to experience that first hand in next weekend's Wembley showdown.

SOURCE

I thought this was very interesting, especially the comments in regards to Busquets and the Pepe situation. I wish there were more interviews with him!