Jose Manuel Pinto Colorado was born in El Puerto de Santa María, located 10 km north east of Cádiz in Andalusia on Nov. 8, 1975. At 35, he's the oldest member of the team.




He was playing youth football with Safa San Luís when he was noticed in 1994 at age 19 by Real Betis scouts and shortly after joined the Betis B team where he played 68 games until 1998.

In 1998, he was promoted to the first team, where he looked like this:




Unfortunately, he only graced Real Betis with his long, flowing locks for one season, moving to Celta Vigo in 1999, where he stayed for 10 years and looked like this:




and then this:




and posed like this during games:




While at Celta Vigo, during the 2005-06 season he allowed only 29 goals in 37 league games, earning the Zamora trophy. During his ten years at Celta, he played a total of 224 games, including 23 in european competitions.


bye, Celta

Pinto, Albert, Victor

During the winter transfer of the 2007-08 he was loaned to Barcelona as a back-up keeper due to Albert Jorquera's injury, but was then signed on a permanent deal and ~the rest is history~
He's played in 31 of Barcelona's games since arriving, 21 in Copa Del Ray games, only letting 24 goals.




Some quotes~






He's also bffs with Lionel Messi.



^ the little girl is Pinto's daughter who was born not long before he came to Barcelona. Also he's married. But that's all I know about his ~personal life


NOBODY ON THE CORNER GOT SWAGGA LIKE US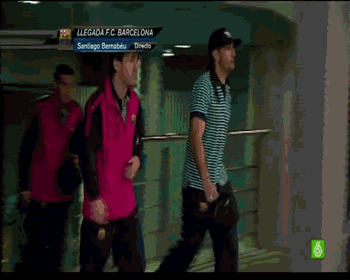 ~WAHIN~

In his spare time, he produces hip-hop music under the label Wahin Makinaciones (http://www.wahinmakinaciones.com), which hosts such groups as Delahoja.

Their new video:



(don't worry, he only produces the music, not the videos.)




OH AND ALSO:



Thank you for your time.


Tomorrow he will (most likely) play the final for the Copa Del Ray. #praisbethebraidedone







sources:
http://www.barcablaugranes.com/2011/3/9/2039400/getting-to-know-jose-manuel-pinto
fcb.cat
wikipedia
http://www.fcpintolona.tumblr.com
and the wind beneath my wings via tumblr: http://ane4vr.tumblr.com/