PEP GUARDIOLA Italian INTERVIEW:
"My time at Barça is coming to an end"




If you had the luck and skills to be managing a club like Barcelona, with players like Piqué and Puyol, Xavi and Iniesta, David Villa and Leo Messi, you'd have a hard time imagining yourself anywhere else, right? Well, this isn't true for Pep. The manager of Barça has already made up his mind, and the press is going to go on a frenzy.

Pep: I'm happy here, but I think my time at Barcelona is coming to an end. At a club like this, you can't stay too long. Next season will be my fourth year here, and to stay four years at a huge club takes guts. The players soon get tired of you, and you get tired of them, the press gets tired of you and you of the press, all those reporters...seeing always the same faces, answering the same questions over and over... in the end you have to realize when it's time to go. Just like I realized my time here was over back when I was a player here... I just knew I had to go.
Q: You know, this week-end there's the Milan-Inter derby... is it true that you almost ended up being manager of one of those two teams?
Pep: Me? No way. I have too much respect for Barcelona, as long as my contract lasts I will never talk with any other club. I would never do something like that. The day I decide it's over, you know, thanks for everything, for making me strong, for giving me the chance to win so much and so big, etc.... only THEN, if someone wants to contact me, then sure, let's hear what they have to say. But I'm here now, and that's what counts. And besides, if you saw what happened to someone huge like Benitez, he ended up having having a so-so season... and now there's Leonardo... and then there's Allegri, you know, I had the privilege of knowing him personally when he came here with Milan this summer and he made a huge impression on me. Those two clubs are among the Bigs in Europe, they have huge numbers of supporters, and of course, awesome players.
Q: So Massimo Moratti will have to wait...
Pep: Ah, Moratti already has a great manager.
Q: Is it true that you said once you would come back to Italy and manage Brescia for free?
Pep: no, that was a joke! My daughters need to eat, man, come on! No, I said that as a joke, because I had a great time at Brescia, and besides... you never know! I'm easily persuaded, at the end of the day... it's not the clubs that influence my decisions, it's the people... you decide based on the people you want to work with.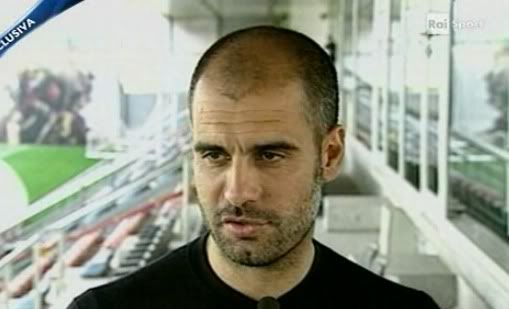 I'm trying to load the video on tumblr but internet is being a bitch to me rn so you'll have to wait a little bit more for the actual footage, OR you can go watch the vid here:
http://www.rai.tv/dl/RaiTV/programmi/media/ContentItem-3a9172a5-4b80-4fb9-b27a-e5864f41ee0b-raisport.html