So we saw quite a few new faces during the games in Wembley, and I thought compiling a short guide to the most prominent/promising members of Barca Atletic and the lower age division teams might be helpful. As always, all opinions are my own, your mileage may vary and all that.



Where possible, I've avoided using the official head shots (because they are for the most part unflattering). The team listed is the division the player belonged to last season. Ordered by age: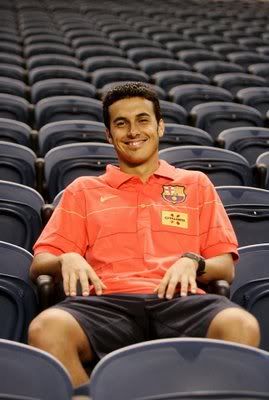 (I love this pic. He looks adorable.)

Pedro Rodriguez (The Artist Formerly Known as Pedrito)
Winger, Spain, 22, Barca/Barca Atletic

Congratulations to the newest member of the first team. Pep made it official just before the squad went off the US, and it's fully deserved, based on his performances in London. A steady, reliable back-up for Leo with skill and pace to spare.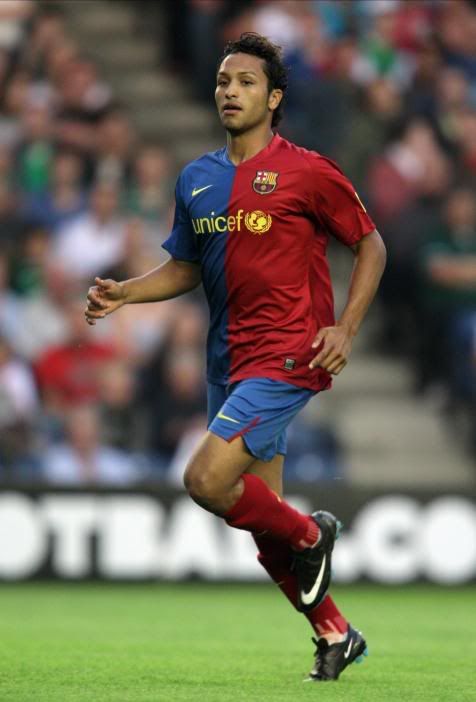 (During one of his less unfortunate hair phases.)

Jeffren Suarez
Winger, Spain/Venezuela, 21, Barca/Barca Atletic

On the fringes of the first team along with Pedro last season, his development was stunted by a long-term injury. Very quick, very inventive and skillful, but still has dodgy judgement sometimes.





(From Scotland last season, before he did tragic things to his hair, if I remember correctly.)

Victor Sanchez
Unknown, Spain, 21, Barca/Barca Atletic

Yeah, we're not sure what he is. He's been known to play in every single position except goalkeeper for Pep and then Luis Enrique in the B team, and has had a couple of appearances in the first team, mostly as a defender. I think his versatility is stopping him from becoming a better player - he has some great games but also some real shockers, and the lack of continuity is partially to blame. Still, a true all-rounder who can do a bit of everything.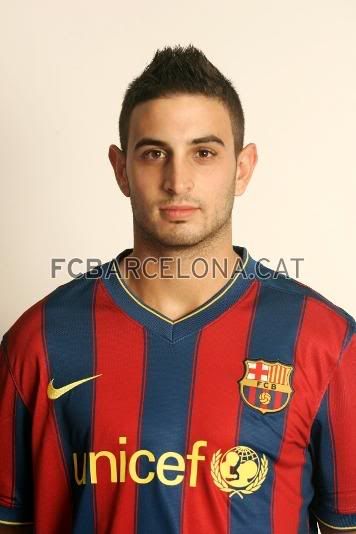 (...mocking that hair would be far too easy. I'll refrain.)

Jose Manuel Rueda
Midfielder, Spain, 21, Barca Atletic

A bit of a new face, at least for me. Played fairly well in London and scored a cracker of a goal, but I'm not too sure whether he could be a talent on the same level as Sergi Busquets quite yet.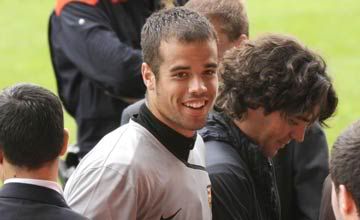 (He kind of reminds me of Julio Cesar over at Inter, for some odd reason.)

Ruben Mino
Goalkeeper, Spain, 20, Barca Atletic

Took over the first choice goalie position for Barca Atletic last season and impressed with a series of good performances. I assume it's still going to be him and Oier (more on whom below) fighting it out this season.





(I know this is small, but most of the other options had really, truly, epically terrible hair. Which would be unfortunate because he is otherwise adorable.)

Oier Olazabal
Goalkeeper, Spain, 19, Barca/Barca Atletic

Bought by Barca a couple of years back and part of a fine tradition of Basque keepers at Barca. He's played a couple of times for the first team despite his young age, but lost his position at Barca Atletic to Ruben last season.





(In action! And nice that he's not a little guy, like quite a few of the people on this list.)

Andreu Fontas
Centerback, Spain, 19, Barca Atletic

A revelation in London, for some Fontas was the best CB to appear in London (better than first team players Caceres and Henrique), and they're not far off. Reassured and skillful, he's one to watch for the future.





(Definitely seeing the resemblance.)

Jonathan Dos Santos
Midfielder, Mexico, 19, Youth A

Jonathan is the younger brother of fellow youth team product and former first team player Giovani, but the two are fairly different in style. Jonathan is a midfielder of the Guardiola school, and if his impressive performances in Wembley are any indication, he's on his way to being the same type of pass-and-move specialist as Xavi and Iniesta.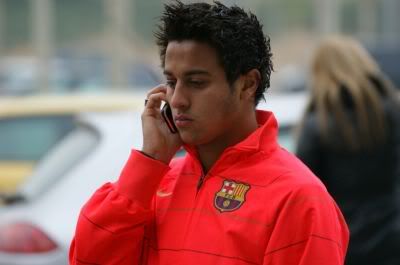 (Don't let Luis Enrique catch you on the phone at the training ground, now. I'm pretty sure he frowns on that.)

Thiago Alcantara
Midfielder, Brazil/Spain, 18, Barca Atletic

Thiago didn't appear in London, but we're sure to see more of this guy in the future, as he is usually seen as one of the most promising players at La Masia. Not surprising, considering his heritage: he's the son of Brazilian World Cup winner Mazinho. Sometimes compared to Deco in terms of style.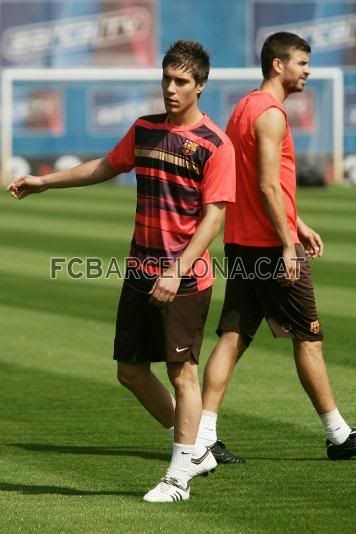 (Stringbean! Hee. Also, why so serious?)

Ruben Rochina
Forward, Spain, 18, Barca Atletic/Youth A

It's not easy to come up through the youth system as a striker, and even harder to break into the first team as one. That's the challenge facing the undoubtedly talented Rochina, who showed his skill and keen sense of positioning at Wembley. His finishing's not bad either, as shown in his stints both for the Barca youth teams and for the Spanish U17 and U19s.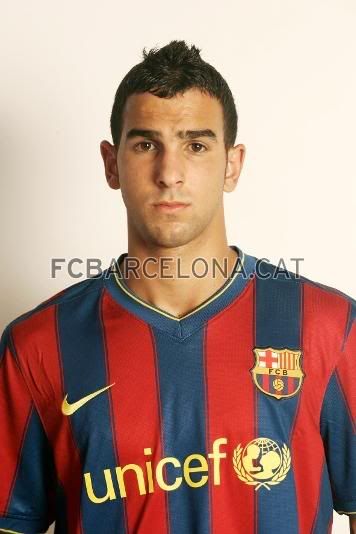 (Oh dear. See my comment re: Rueda.)

Martin Montoya
Rightback, Spain, 18, Youth A

Montoya first impressed at the European U17 championships when Spain won the title (with a squad featuring 7 Barca players). He was pretty good at Wembley too, fast and always ready with the right lay-off pass. It is my fond hope that he will grow into an effective deputy for Dani Alves.





(See, he even has Leo's old hairstyle.)

Gai Assulin
Winger, Israel, 18, Barca Atletic

I believe Gai is the only one on this list who is a full international. (And the youngest one who's already playing for Barca Atletic instead of the age division teams.) Being dubbed the 'New Messi' almost as soon as anyone heard his name has not given Gai an easy time of it. Whenever he plays, everybody seems to expect the spectacular (I'm guilty of this myself), on the basis of his undeniable natural talent. The problem, I think, is mental. As we saw in Wembley, his judgement isn't quite there yet, nor is the mentality. But then not everybody can handle the first team at 16 or 17 like Leo and Bojan, so we just have to be a bit more patient.





(Not that bad a photo for an official head shot. I'm impressed.)

Albert Dalmau
Rightback, Spain, 17, Youth B

I had never heard of him before Wembley, but he was very impressive in the two games there, both offensively and defensively. Still very young, so there's plenty of room for development.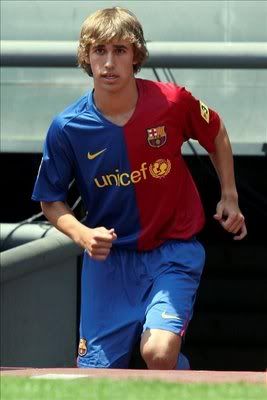 (I keep wanting to ruffle his curls. He's like the new baby of the first team, now that Bojan's a 'veteran'.)

Marc Muniesa
Centerback/leftback, Spain, 17, Youth A

The youngest player on this list (by a couple of weeks), and yet he's already been on the bench for a CL final and gotten himself sent off at Camp Nou. *g* Kidding, that wasn't his fault. Dubbed the new Puyol for his precocious talent (which is funny since Carles was a late boomer in some ways), his judgement, calmness under pressure and eye for a pass are already extraordinary. Pep thinks the world of him, and he's a guy who's been known to get calls about young talent right. Can't wait to see how he develops.



So, there you go - our talented, if hairstyle-challenged kids. I hope you enjoyed that look at some possible first team stars of the future.

Out of that list, the guys who are coming along on the US tour are Pedro, Jeffren, Muniesa, Fontas, Dos Santos and maybe Gai. (I say maybe because there are conflicting reports, strangely enough.)