Con el socio todo, sin el socio nada.
With the fan everything, without the fan nothing.
Sticky: Book Discussion Post.
Recognizing that moving on to new interests is a fact of fannish life, I want to thank the mods of
_fcbarcelona_
sincerely for creating such a fantastic community in honor of my favorite team. This will be my last post here. I am founding a new LJ community,
som_i_serem
, and I hope that all of you who are still interested in reading and talking about Barça will join us there for match posts, team news, and much more.
So long, and thanks for the wonderful memories!
When I first joined this comm a couple of years ago, it was such a fun, friendly, active community. But as time went on, the numbers of posts and comments dwindled. In fact, recently I looked around and realized that the only person still posting was me!
After a few weeks of rumours and some Guillem Balague "exclusives" (at least I'm guessing so, he's blocked me so who knows), Alex Song has signed for the next five years, for a fee of 19m Euros.
Welcome to Barça!
So, what do we think? Good transfer? Unnecessary? Do we need him? For me, I've yet to be convinced that he's a worthwhile addition to the squad. I hope he does great and fits in well, but I don't feel excited at all about the transfer. Here's hoping I'm proved wrong...
[fcb.com]
To set the scene: Barça Femenino went into the final match of the season, at home against mid-table Sporting Huelva, three points ahead of Athletic Bilbao, but with a negative head-to-head against the Basques (who lost only to Barcelona, and that away, all season long, so they weren't likely to do any favors to Barça and drop points in their last match), so they had to get at least a point to win the league. And you would think this would not be very difficult, considering that Barcelona have never even
drawn
, let alone lost, at home all season long, but these things have a way of complicating themselves (ask any Manchester City fan, amirite). So thank god for Marta Corredera, who scored just after halftime to give everybody's nerves a rest. The scoreline remained 1-0 until the end of the match, when the party began! There's a bunch of links about the match/league win, including to an English match report, over at
Futfem in English
, so I'm going to skip all that and go straight to the fun part: PICSPAM TIME!!!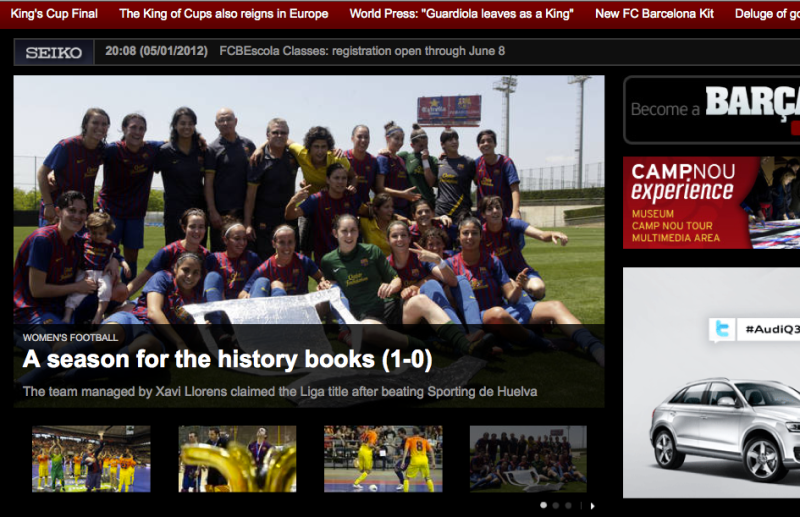 (
my girls being on the front page of Barça's website is probably more of an achievement than winning the league. okay hyperbole but not by much.
Collapse
)
You know who else won the league and deserve some congratulatory picspamming up in here? Barcelona Femenino Juvenil-Cadete!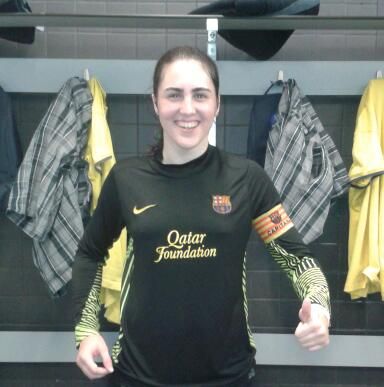 especially my girl Alba Moreno, because goalie captains are fierce <3



(

pedobear warning on this cut-tag, Barça girls know how to celebrate even when they're not legal yet!Collapse

)
And then, because there is no rest for the flawless, the ladies were off to the Basque Country to compete in the Torneo de Getxo, which is an exhibition tournament mainly significant for the fact that Basque berets are involved in the trophy ceremony. Very serious business! Which totally explains why most of the weekend's twitpics involved booze, tapas or both.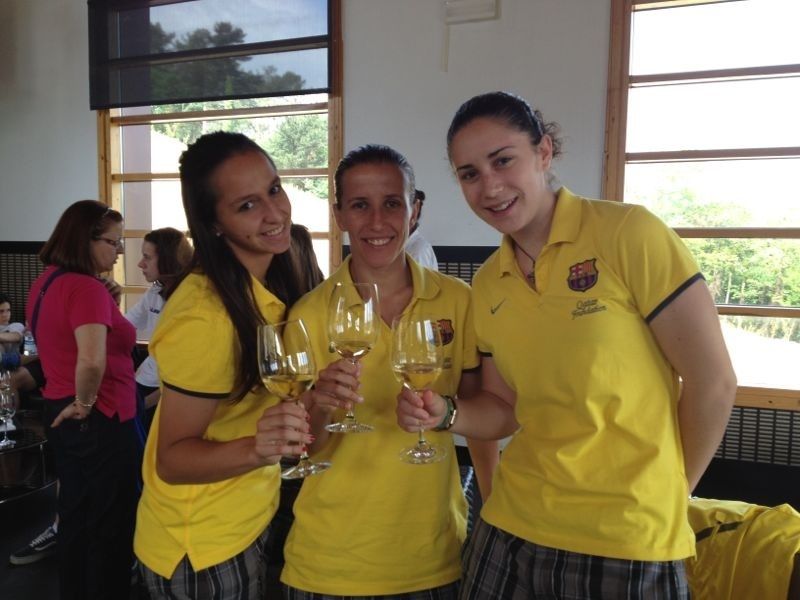 (
spoiler alert: they won
Collapse
)
BY THE WAY, DID YOU KNOW THE COPA DE LA REINA IS THIS WEEKEND? WE'RE PLAYING ATHLETIC IN THE SEMIFINALS. STAY TUNED IF YOU ENJOY HEARING A WOMAN ATTEMPT TO CONVEY EMOTIONS VIA THE INTERNET WHILE SIMULTANEOUSLY CHEWING OFF ALL HER FINGERNAILS AND PULLING OUT ALL HER HAIR.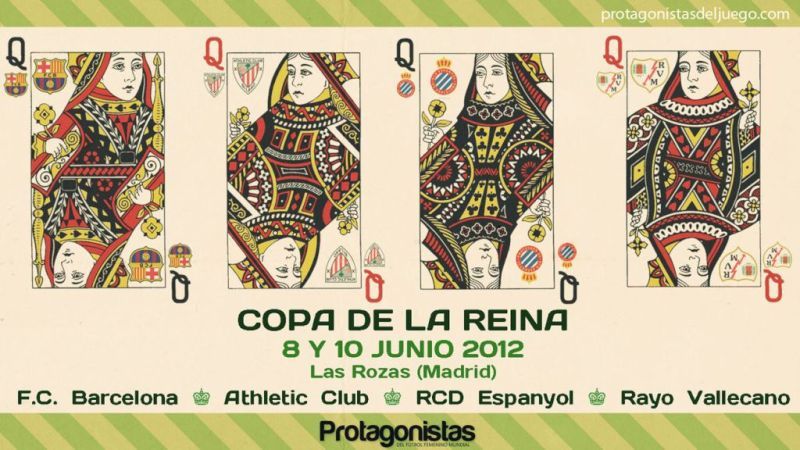 ETA: if you have any questions at all about our ladies, don't be shy to ask! after all the time I spend stalking them on twitter and trying to read articles in Spanish, I would be
overjoyed
to be able to put my newfound knowledge to good use. XD
APPARENTLY OUR GIRLS WON THE LEAGUE AND I FORGOT TO SPAM YOU ALL WITH CELEBRATORY PHOTOS. RECTIFYING THIS POSTHASTE.
Info Futbol AFA:
[CONFIRMADO] Lionel Messi va a ser padre, su novia Antonella está embarazada.

Translation:
Confirmed: Lionel Messi is going to be a father, his girlfriend Antonella is pregnant!
NO OFFICIAL NEWS YET BUT FOR THE SAKE OF IT...
LET'S COME UP WITH BABY NAMES
Guys, we have some terrible news...
You may have heard it already, Abidal is planned to have a liver transplant in the upcoming weeks.
#AnimsAbidal
http://furia-roja.livejournal.com/695299.html#cutid1
and give me a grief translation?
And why are Barca called both Azulgrana and Blaugrana? Is this the same or is there a difference? I allways thought that AZUL was that kind of blue you see at Cote d'Azur ... any Barca-blue is nowhere near this kind of blue:(
Can you help?
BTW: can we have a "curious cule" tag?
Can anyone have a look at that :
As you all may know already, there's a great book about Barcelona just came out a few weeks a go called
Barça: The Making of The Greatest Team in The World
, written by renowned journalist
Graham Hunter.
If you have purchased the book, do visit our
book discussion thread over here
and have a chat with other members about what's going on in the book.
Some info on the book:
Barça: The Making of the Greatest Team in the World
is published by
BackPage Press
. It is available now in print and digital editions from Amazon, iTunes and
www.backpagepress.co.uk
.
You can Check out
BackPage
Press
on twitter (
twitter.com/backpagepress
), facebook (
facebook.com/backpagepress
) and watch videos with author
Graham
Hunter
on their YouTube channel (
www.youtube.com/backpage2010
)
And guess what? We have good news! We are holding a contest to win
one signed copy of Barça: The Making of The Greatest Team in The World
!
All you have to do is follow the rules and answer the puzzle!
Rules
1. Contest opens from Thursday, February 23, 2012 - Wednesday, February 29th 2012 (GMT)
2. Contestants have to be a member of
_fcbarcelona_
with at least 10 comments posted.
3. Contestants have to have a full name, a valid email and a complete mailing address submitted in their entry.
The Puzzle
To be able to win the signed copy, you have to deduce 3 simple
ditloids
. What is a
ditloid
?

From WikiPedia:
"A ditloid is a type of

word puzzle

, in which a phrase, quotation, date, or fact must be deduced from the numbers and abbreviated letters in the clue. Common words such as 'the', 'in', 'a', 'an', 'of', 'to', etc. are not normally abbreviated."

For example:
Ditloid: PG b B c in 2008.
Deduction: Pep Guardiola became Barcelona coach in 2008.
Another example:
Ditloid: B w the 2011 C L a M U in W with g f M V P.
Deduction: Barcelona won the 2011 Champions League against Manchester United in Wembley with goals from Messi, Villa, Pedro.
As you can see capitals indicate a name, a major event/competition, a place (anything that needs capitalization).

Got it? Great. Now to the 3 ditloids that you have to deduce are:
1. 4 p with 100 g for B are LM SE LK and CR.
2. B b the 1st c in h to w 6 t fr 6 co in LL, CdR, CL, SSC, SC, and CWC in 2009.
3. YT LM BK and XH s in the CDRF a AB.

Comment with your answers and your details -- comments will be screened so only us can see it.
Winner will be selected randomly from a pool of contestants with the right answers.
GOOD LUCK DEDUCING KIDS!
Barça 11
VV, Montoya, Piqué, Puyol, Abidal, Iniesta, Busquets, Cesc, Alexis, Messi, Pedro.
Bench: Pinto, Xavi, Thiago, Adriano, Cuenca, Bartra, Tello
Valencia 11
Valencia: Alves, Miguel, Rami, V. Ruiz, Mathieu, Albelda, T. Costa, Feghouli, Jonas, Piatti, Soldado.
Streams
http://bit.ly/yRgogK
http://bit.ly/z2Tnkw
http://bit.ly/yIqbk1
http://bit.ly/y4LeYs
http://bit.ly/zK9lPX