GENERAL INFO

Name: Taylor Gross
Age: Sixteen
Sex: Female
Location: Maine

FAVORITES
10 bands: The Early November, Copeland, Bayside, ...and then I turned Seven, Shot Down Stars, Eighteen Visions, Jets to Brazil, Mae, Death Cab for Cutie, The Postal Service.
5 movies: Donnie Darko, The Butterfly Effect, Garden State, Fight Club, Nightmare Before Christmas.
Store to shop: Goodwill.
Color: Brown.
T.V. show: Laguna Beach/Degrassi.
Favourite Book(s): A Million Little Pieces, by James Frey.


QUESTIONS
What do you think about homosexuality? Go for it, my Mother is a lesbian, I'm bisexual.
What do you think about testing products on animals? It's wrong, animal cruelty shouldn't exsist.
Do you believe in war? Well, it exsists no matter what I think.
Do you smoke or drink? Not anymore.
Do you have any Piercings and/or tattoos: I'm getting a tattoo on my hand of a heart...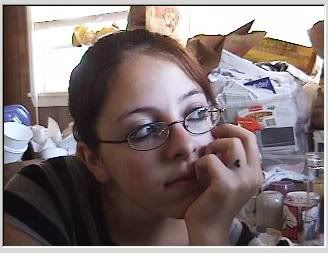 OTHER STUFF
Promote this community in two other places and link it:... I never really got this.
Who invited you? No one.
Why do you want to be a member of this community? Cause I just joined livejournal and I have one friend...
What is your ideal soulmate? Someone I haven't met, yet. Someone really cliche in teenage girls' weblogs.
Anything Else you think we should know? I'm bipolar?

At least 2 pictures of you: