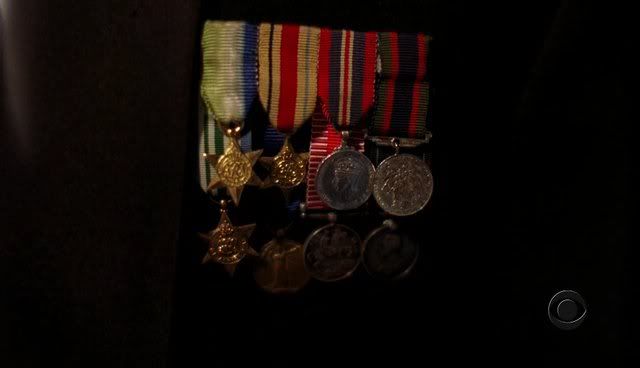 OK, I did some digging around, and in all likelihood these are not Ducky's medals. Not unless he's 80. However, I've only been able to identify three of them...

The info below is taken from: http://www.stephen-stratford.co.uk/wwii_medals.htm

Atlantic Star (top left):

This star was awarded to commemorate the Battle of the Atlantic within the period 3 September 1939 to 8 May 1945. The 1939-45 Star must have been earned by 6, or 2 for aircrew, months service before commencing qualifying service for the Atlantic Star.

The recipient was awarded this star if their service period was terminated by their death or disability due to service. Also the award of a gallantry medal or MID also produced the award of this medal, regardless of their service duration.

Royal Navy and Merchant Navy personnel, together with Army and RAF personnel serving with either Naval service, had to complete 6 months service in the Atlantic, home waters, North Russia Convoys or South Atlantic waters west of longitude 20 degrees East.

RAF members of air crews who had completed 2 months service in active operations within the specified area, providing that service for the 1939-45 Star had been completed.

Africa Star (top second from left):

This medal was awarded for 1 or more days service in North Africa between 10 June 1940 and 12 May 1943 (inclusive).

Royal and Merchant Navy qualified through service in the Mediterranean between these two dates. Also service in the campaigns in Abyssinia, Somaliland and Eritrea between 10 June 1940 and 27 September 1941 would qualify. Merchant Navy would also qualify with service in operations off the Moroccan coast between 8 November 1942 and 12 May 1943.

Army personnel had to enter North Africa on the establishment of an operational unit. Service in Abyssinia, Sudan, Somaliland and Eritrea also qualified. Service in West Africa did not qualify for this medal.

RAF personnel had to land in, or flown over, any of the areas previously mentioned.

Victory Medal / End of War Medal (top third from left):

This medal was awarded to all full-time personnel of the Armed Forces. Operational and non-operational service of at least 28 days counted. The Merchant Navy requirement stated that the 28 days minimum should be served at sea. The recipient was awarded this medal if their service period was terminated by their death, disability due to service or capture as a prisoner-of-war and their service qualified them for one of the stars. Also if the recipient had received one of the stars for a service period of less than 28 days, they were also awarded the War Medal.


Since we know that at least one of Ducky's relatives (his uncle Monty) served in WWII, these are probably his family's medals. However, since I have no idea what the others are (and I checked UK, US, Australian and New Zealand medals), some of them may well be Ducky's. Does anyone know whether it's considered ok to wear medals that aren't yours provided they belonged to (dead) relatives?

If anyone finds out what the rest of them are, let me know! These medals are driving me nuts.

Edit:

Some further info from
k1mono...

The fourth medal at the top is a Canadian Volunteering Service medal.

On the bottom row, the second from left is probably the UK Victory medal (possibly the WW1 medal as opposed to the WW2 victory medal as there is a lion standing next to the winged figure, which was on the second world war medal but not on the 1st world war medal).

Three more unidentified medals, folks!