im new here...so i thought id say hello!

name:Brittany
age:15
gender:Bitch
5bands:jack off jill, my ruin, scarling, otep, miss kittin
5movies:Grease, spice world, gypsy 83, thirteen, party monster
random hought:
yourownband?:not yet =(
tattoos:none..
piercings:YUS! ears( X2) monroe,lip,nose,eyebrow, soon to be getting LOTS more
pictures, etc. pretty much whatever you want..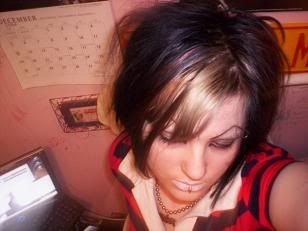 ME AND MY WONDERFULL BOYFRIEND <3