Hi there...
I'm vx69 (also known as vx "Cheerleader" 69 or as "dirty old scumbag" by some), data :
french (indeed)
male
mostly listening to : industrial, punk, rock'n'roll, and every possible mix of these (passionate fan of : Foetus, The Cramps, Ministry, lords Of Acid, Zodiac Mindwarp, and, by the way, ZATS)
member of Punish Yourself (
http://punishyourself.free.fr
), a band that has been described as "cyberpunk" or "Industry horror picture show" (by the way, I'm a RHPS addict). We have lyrics like "I wanna love you pretty lady, I'm mad a about your fantasy, you're turning me into a zombi, I wanna be your zombi" - not very clever but apocalyptically funny (or so I hope)
can't remember how I discovered Zombina And The Skeletones, but I instantly loved their stuff. So catchy, so fun, so soooooo... I'm not always a big "horror punk" addict (I'm more into sheer gothabilly/deadbilly like Deadbolt or Ghoultown) (what the fuck am I writing ? Spooksters are united - they will never be divided) ANYWAY the pop-side of ZATS instantly appealed to me. Zombie pop is what I need.
and here's a little picture of my own self :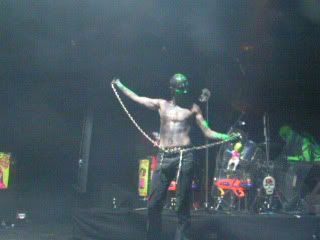 (I know, paint...)