Chris and I in his bathroom. We look funny, and I look like a hillbilly lol.
I like Chris's hair in this picture.
Um yeah, Chris looks high.
King of the crates?
I look red because we walked to Claywell. Michelle looks pretty though.
Still red.
I like that picture of Chris. Hey look its Elizabeth's head.
Eww its me.
Chris on the roof.
That damn cop who tried to arrest us.
And what Rj and Stephanie!!! Chris does have lip marks on him, but you can't tell from the picture.
I look funny.
Chris claims he wasn't mad in that picture.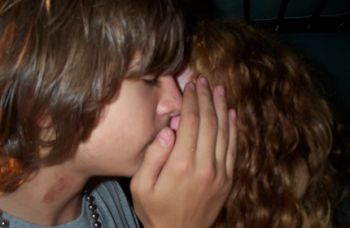 Oh...hhmm....kissing is fun.
I hope you liked them.