one.
name: megan.
two.
age: 22. gasp.
three.
location: myrtle beach, sc.
four.
list 5 of your favorite things: hm that's kinda broad, but:
1- the beach. 2- my friends. 3-my family. 4-reese cups. 5-music.
five.
list 5 of your pet peeves:
1-bad drivers. 2-spiders. 3-liars. 4-popping knuckles. 5-nascar? haha.
six.
if you could change one thing about your body what would it be? i honestly wouldn't change anything, except possibly lose 5 pounds or so....i'm somewhat content.
seven.
if you could change 1 thing about your personality, what would it be? i'm too jugdemental.
eight.
what is one thing you love about your body? my eyes. anddd my boobs.
nine.
list some of your favorite bands:
john mayer, brand new, quietdrive, secret lives of the freemasons, dashboard, sugarcult, manchester orchestra, jimmy eat world, something corporate, hidden in plain view, so they say, the varsity, plain white t's, underoath, motion city soundtrack, the academy is..., mae, mandy moore, luke pickett, the rocket summer, copeland...
ten.
post atleast 3 pictures of yourself (more if you'd like):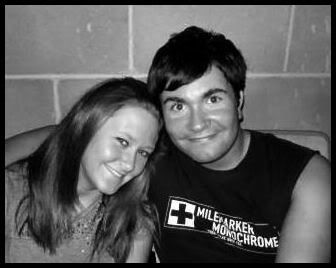 not my boyfriend, just a good friend. :)
haha, uh...
me & the best friends.