well ill make the first post here - and as cairns is in Australia I thought it suited.

My step dad took
xbrokenxhope And I up the Tablelands today so She could see what Cairns had to offer. It was such a good day The drive was beautiful - The waterfall was so pretty - I wanted to Climb Down and swim in there! We walked Along the Kuranda Rainforest walk...then checked out the Kuranda Markets and went to a pub for a round of Vodka and orange. We then went to Mareeba or something...There was this tiny ass mall with like 4 shops *blink* and they called it a Plaza - yeah well it shits all over maroochydoor plaza *rolles eyes in sarcasim* from there we headed Down to Atherton and has fish and chips for lunch - on our way down the table lands we seen a sign for a lake - so we stoped there and went on another rainforest walk were We seen these tree giants and I threw the Camera when a Bug attacked me Im so glad it didn't break - Its gross on the way down so much grafiti you'd think some people would have some respect for one of the oldest rainforrests in the world! assholes!

when we were back in Cairns we tried rescuing this budgie that was being attacked by a biger bird, some guy around our age came to help + some random woman offered her shirt...not the one she was wearing - then mum tried - and it flew away. =(

Anyways - Here are the pics from today - There this really good one I took of the big tree *yay*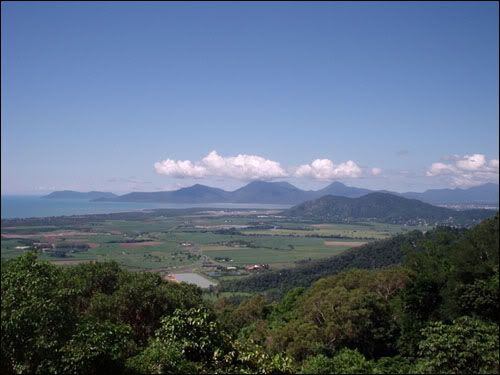 On the way to Kuranda - Over looking Cairns


us on the Info dial at the look out. I was hugging her, not trying to pull her down...


My turn on the info dial - wearing cha's sunnies - my eyes were hurting from the sun.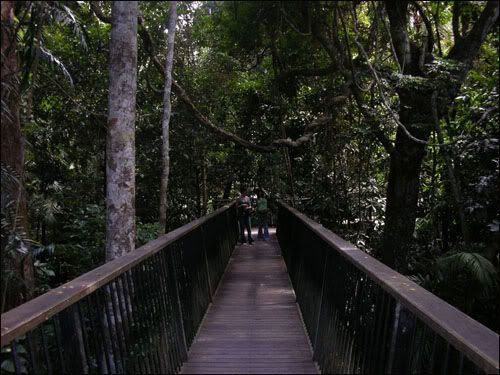 The rain forest walk At karanda - it went around the gorge, was so pretty!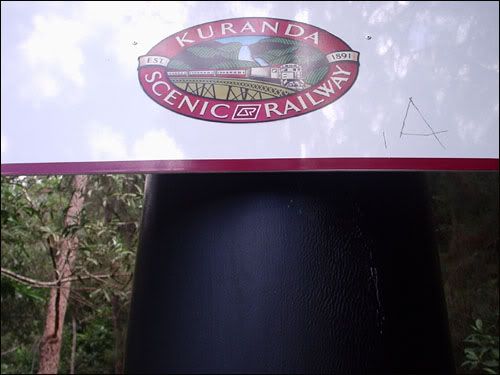 The Kuranda Rail ran alongside part of the rain forest walk


The rail - you can get a train up and along the table lands - theres also a cablecar


The Barron Falls - Kuranda rainforest


Kurranda Rainforest Walk again - so green!


The great Mareeba mall - lol - lol - haha


me on the Train tracks at Mareeba - out of the rainforest now :( still pretty but


Sign out of Mareeba so cha can have her memorys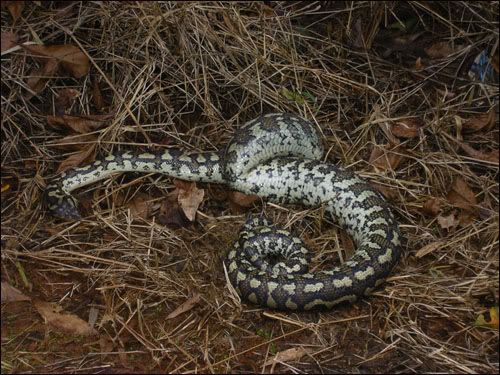 All I wanted to see all day was a snake - Becuase I want a pet snake - I got my chance, but it was dead - we must have looked odd - all three of us with our cameras photographing a dead snake...cars driving past beeping.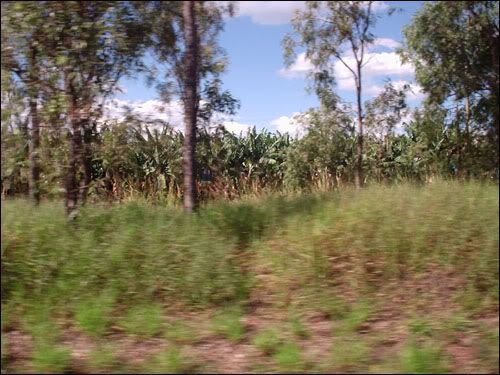 Banannnnnnnnnaaaaaas!


Back into rain forest now! - Past Atherton


Me standing on a table at the lake - i wasn't going to let the crocodiles eat me!!!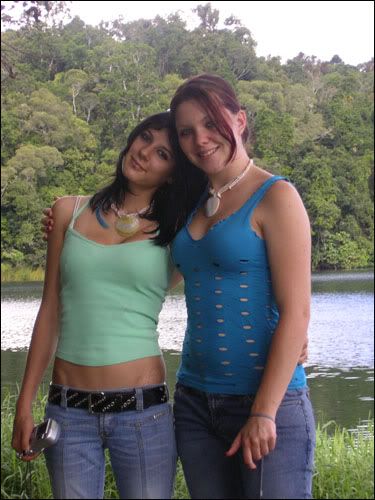 Cha joined me when i told her that crocodiles like girls!


the bush turkey wasn't as scared as us!


Cha with the giant tree back in the rainforrest - this time near the lake


me with the giant tree


Yeah I took this mad ass picture! me! ME! meeee! yay for my photography skills! - the giant tree again


The roots cha took on my cam - she said they look pertty


yeah the info sign from the giant trees


On the way down the atherton Tableland range