[.*Basics*.]
Name: Christina Marie Jasinski
Age/Birthday: 14 March 22nd 1990
Location: Austin Texas
Marital Status: uh… single
[.*Favorites*.]
Bands:
Alternative: Incubus, Red Hot Chili Peppers, Metallica, Sublime, Offspring, Weezer, Velvet Revolver, Greenday, Old Blink 182 (Their new stuff is ok I guess), Coheed and Cambria, Hot Hot Heat, Godsmack, System Of A Down, Jimmy Eat World, Keane, Lifehouse, Nine Inch Nails, No Doubt (Gwen Stefani), Relient K, Saliva, Sugarcult, Switchfoot, My Chemical Romance, The Hives,The Killers,3 Days Grace, Jet, Snow Patrol, Edwin McCain, Our Lady Peace, OK Go
Classic Rock: Pink Floyd, Led Zepplin, Van Halen, Jimi Hendrix, Ozzy, Queen, The Beatles, Eric Clapton, Aerosmith
Country: Lonestar, George Straight, Dolly Parton, Martina McBride
Other: Destiney's Child, Outcast, Aaliyah *R.I.P.*, Savage Garden, Spice Girls, Selena*R.I.P.*, Backstreet Boys, Marcy Playground
Song:
wow… that's pretty hard. "I Miss You" by: Incubus, "I Get Carried Away" by: George Straight, "On Fire" by: Switchfoot, "I'll Be" by: Edwin McCain
Store:
Leopard Lounge, Fast Forward,
TV Show:
Friends, South Park I Love the 90's, I Love the 80's, I Love the 70's, Will and Grace, Fear Factor, Motor Mouth, My Coolest Years, Mad TV, Saturday Night Live, Comedy Central Presents…, Home Improvement
Movie:
The Crow, Rocky Horror Picture Show, Cape Fear, Romi and Michelle's High School Reunion, The 9th Gate, Charlie and the Chocolate Factory (old one… hopefully Johnny Depp's will be just as good), Don Juan De Marco, all of the Austin Power's, Jawbreaker, Stigmata, Almost Famous, Honey, To Kill A Mockingbird (not as good as the book), Mrs. Doubtfire, Hook, What's Eating Gilbert Grape, Miss Congeniality,
Fondest memory:
That would have to be in kindergarten when me and my grandpa were walking down the street after school and saw a puppy in the window and he sang me that song that goes "How much is that doggie in the window…"
[.*Opinions*.]
Gay Marriage:
I'm for it. I've heard many opinions on this topic before and had a debate on it in speech class. I was for it. If strait people can get married to proclaim their love to everyone then why cant a homosexual person either? I don't see why it's such a big deal to not let them get married. Plus we don't fall in love
War:
War can have its ups and downs:
Ups- stopped slavery, stopped Hitler, brought independence to many countries
Downs: so many freaking innocent people die
My opinion on war is that if it's gonna stop something that is just plain wrong… like what Hitler did and if it's the only thing left to do then it must be done.
Underage Drinking:
Well… I've lost a number of friends who died by either being hit by a drunk driver under the age of 21 or who was in the car with a drunk friend and got in an accident. I'm completely against it. I don't understand why people would want to drink anyways. I've been told it tastes bad, I know that it makes your breathe awful, and you act like complete idiots when you drink. It can't be that hard to say no and just wait till it's legal.
[.*Other*.]
Plans for the future:
I either want to go to Vogue College of Cosmetology and become a makeup artist and a hair stylist or I want to become a High School teacher, probably an algebra 1 teacher or a Choir teacher because I just love those classes, maybe even a P.E. teacher.
If you could have one thing, what would it be and why?
Oh my… another toughie. Ummm… The one thing that I want to have is my Grandpa back because he was there for me more than my own parents and it really sucks that he's gone forever.
How did you find out about us? vintage_x3 invited me
Promote to two communities OTHER than promotion communities or two live journals:
http://www.livejournal.com/users/troubled__heart/26429.html?view=184893#t184893
http://www.livejournal.com/users/gerards_gurl/15599.html?view=55279#t55279
Any last words? Have heart my dear
[.*Cam Whore*.]
Post 4 or more pictures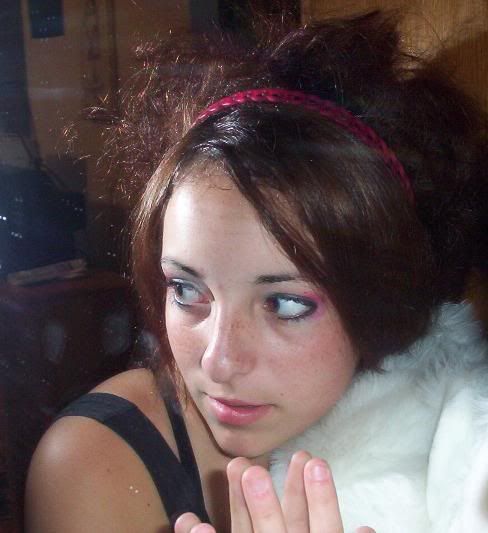 One picture for the members page, 100x100 please