[ Basics ]
Name? Elizabeth Allen

Location? phoenix, arizona

Age? 16

Gender? female

Sexuality? straight

Zodiac Sign? gemini

Significant other? non-applicable.

[ Favorites ]

Color? orange

Bands? i listen to stephen sondheim.

Movie? star trek II: the wrath of khan

Book? the entire oz series

Curse word? haven't got one.

Dorky phrase? some days you just can't get rid of a bomb!

Song? The Gun Song from stephen sondheim's Assassins

Quote? "yes. it would move me to tears, if i still had tears to shed." -Mr. Freeze, the original emo kid

Food? churros

Writing utensil? mechanical pencils

Beverage? cranberry juice

Condiment? mayo

Website?
http://www.batmantas.com/
Pickup line? i am far too introverted to have pick-up lines.

Emoticon? XD

[ In-depth ]

Are you a dork? i consider myself more of a geek, really. you know, specified geekiness. i like history and anthropology and quantum chemistry and musicals.


Why are you worthy of this community? i feel my general disposition fits the criteria.


What type of dorky activities do you enjoy? i love Murder, She Wrote. i like to watch Hogan's Heroes. i listen to Sweeney Todd when i do the dishes. i read large amounts of x-men comic books from the seventies and eighties.


Where do you shop for your dorky clothing? the colourful ensemble i'm wearing now has enjoyed previous establishment at such fine facilities as macy's and target.


Do you love us? i don't dislike you.


If you could ask us a question, what would it be? will you be my friend, and actually know what i'm talking about when i want to argue how morally corrupt Alice is, and why she deserves to die under Dorothy's foot?


When is the last time you took a bath? this morning.


What would you do if you were dressed as the one of the following : banana, cupcake, cracker, broom, or choose one of your own. i think i'd talk in a pirate voice and pet everyone's dog who walks by me.


Write an interesting solution to this mathematical problem: 2+2=? 2+2= jungian archetypal psychology


How many dorks does it take to screw in a light bulb? none. they'd get distracted and go watch the fourth of july star trek: next generation marathon.


Write a short, creative story about your plot to take over the world. so, there i was, cleaning up the goaty mess from the chupacabra's last horrible romp around my fair city, when it occured to me: angela lansbury. the only way to do it. she would win over everyone's hearts and distract them with stroies of olde while i snuck into UN headquarters and committed nefarious crimes through a hostage situation.

[ Dorkiest thing to do ]

In the shower? five words: opening sequence in The Pest.

At the mall? nearly pee my pants with excitement when i discover Suncoast carries box sets of Murder, She Wrote.

With your friends? drag them to your house to watch the Foster's Home for Imaginary Friends: Season one dvd you bought off ebay for 36 dollars because it wasn't commercially available in stores.

In the car? head-bang to Pagliacci. Carmen is also acceptable, but a bit too well-known to be entirely dorky.

When you are alone? see above.

[ Pictures ]

Provide us with some visual stimulation.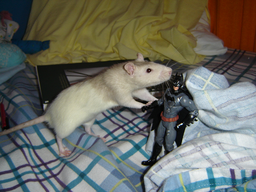 [ Your thoughts ]
Please provide us with a few of your own thoughts. i really hate alice in wonderland. i think the entire book is literally choked by rude, corrupt characters, blinded by selfishness and greed. alice included. not to say anything for the writing, carroll's brilliant.
[ Final Question ]