I got 2nd & 3rd place at
arrestedcontest this week! oddly enough, I like the 3rd place one a lot more than the 2nd pace one, which was just made so I would have 2 icons to submit. but, yay! this + pudding = me in a much better mood than I was.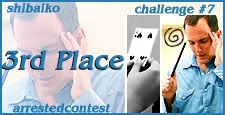 if you happen to take either, comment & credit, you know how it goes.