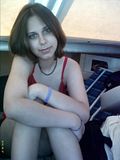 Allo. I'm brittany.
I'm Fourteen&& from the lovely.. [yeah right]
state of michigan =]

Currently in my cd player is:
Relient K, Seether, Evanescence,
The dresden dolls, Pray for the soul of betty,
Good Charlotte, U2, Garbage

My favourite movies are thirteen, new york minute
&& lemony snickets a series of unfortunate events.

I love the perks of being a wallflower, aimee,
the lovely bones, cut, tithe && valiant.

I bring my camera with me everywhere, i
love to dye my hair colours like blue, red && purple.
Add me? Comment on my friends only entry, please :]
Not here.