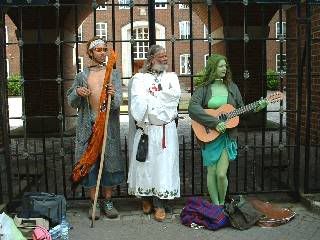 (center person in image, one of my all time hero's in life, the enviromental activist who changed his name to Arthur Pendragon)
If you are mad, whacky, alternative and harmless, add me and I will add ye back! No bigots, narrow minded persons, non-commenters, people addicted to "conforming". Please do not add me if you are going to un-add me a few days later. Journal= Friends only.
Age - 25
Sex - (no thanks) apparantly Female.
Species- not sure, have had series of incarnations as human but an not originally human..
Fave things include - wicca, druidry, nature, the sea, creative writing, acting, film making, history, archaeology, anticapitalism, Aikido, gothic/mediaval clothes, insane humour (example: Jackass), samurai, sleeping, new age, headbanging, fb swapping, sleeping, paranormal, sci fi, fantasy, Livejournal, cats, gardening, absinthe/vodka, fancy dress, charity projects, historical re-enactments and LARP, DVDs, Tolkien, jumble sales, "dumpster diving", etc etc...
Religion - pagan
Life's ambitions - to act in a BIG historical movie or two, to write fantasy novels then make them into controversial movies, have a cottage in Wales with pet cat and chickens, prove the existance of Atlantis, meet Arthur Pendragon...
Hates- fashion, racism, money, capitalism, anti-gays (I'm not gay but hating those who are is dumb), pink stuff, plastic bags, war-mongering, liars, timewasters, rude people, uniforms, cod live oil, pop music...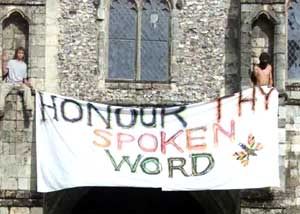 elven_ranger