First of all, these girls have got the skinniest looking legs I have ever seen!
And second of all, I was looking for pictures of Geoff to see if maybe I can get back onto the being in love with Geoff bandwagon and all I kept getting (ironically enough) was pictures of Mr Margera himself.
Some choice quotes that I also ended up with randomly include:
"Bam Margera is a slime-fart."

"Bam Margera. •, Neil Gaiman. •, Garth Ennis. •, Jimi Hendrix ... I am an ugly fat fuck.""

"is bam margera gay"

Desnuda sex bam margera. Pictures wallpaper simon rex ass.

"Postal service Asian porn Bam margera"

"I love Bam Margera!!! I want... To the fat short cumslut who. fucking lives on the 12th ..."

And my all time favourite: "Bam from the new billy joel music video!!!" to which someone commented with "...it's billy IDIL. ideot."

Classic. Morons insulting each other!

And last but not least: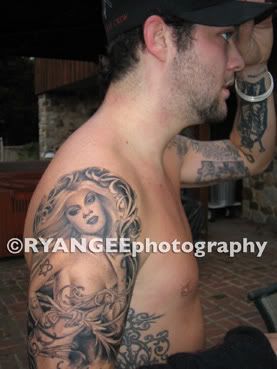 I knew those fat genes would catch back up with Bam eventually. I hope when he has kids of his own they trash on his ass like he does to Phil.
xoxo