BASIC
Name:Paul Kojiyama
Age:21
Location:England
2+ things you couldn't live without:My guitar and cigarettes (terrible habit I know)
If you had a super power what would it be &why?:I would FLY!

YOUR FAVORITE
color: Red
+10 bands: Marilyn Manson, Matenrow, KMFDM, X-Japan, Schwarz Stein, AFI, Alkaline Trio, Manuskript, Apoptygma Berzerk,
+5 movies:Labyrinth, The Crow, Nightmare Before Christmas, Nosferatu, Legally Blonde
lyric: "The most natural thing in the world /When the pretty boy meets a glamour girl / The most natural thing in the world / The diversity of life"
food: Alcohol…
word: Blood. Or Schizo

YOUR LEAST FAVORITE
+5 bands &why: Oh God I can't stand all those Pop Idol bands like Hear'Say and Girls Aloud and all the rest of them…
food: Chocolate
law: Music Piracy
saying: "Cheers Ears"
smell: My stepmum's perfume


OPINIONS

the mods:
♥
_ohhearttattack that is truly ROCKING hair!
♥
_deaddisco_ you have pretty eyes
♥
shootmeup_babyYou like Alk 3 therefore you rock
the "scene": Humans are tribal, we all want to belong to a group
labels: Label me what you like, but I refuse to label myself
sxe: Hahahahaha. No.
abortion: I say it's up to the girl. Because if I got a girl pregnant I would just respect her decision – though I would be inclined to keep it, I know it would affect her life WAY more than it would affect mine.
bush: I prefer a shaven haven ;p
vegetarians/vegans: I respect you for trying to make a difference, and a veggie diet is better for you, in my opinion, but I like the taste of meat too much to give it up.


Pictures.

4+ pictures SHOWING YOUR FUCKING FACE: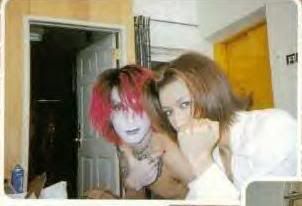 That's me with the red hair, with one of my friends.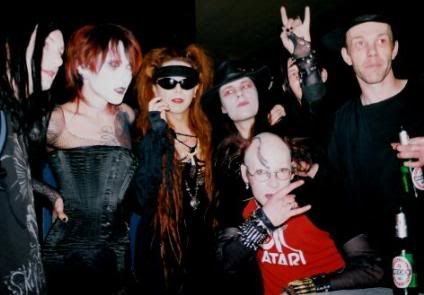 Me at Whitby :) I'm the one with the white face and corset, second from left



Photoshopped pictures allowed? I'm such a poser, tee hee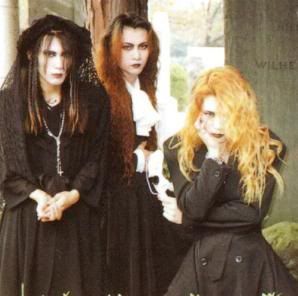 That's a promo shot with my band – I'm the one on the far left. (PS we're working on a band website I'll let you know when it's up!)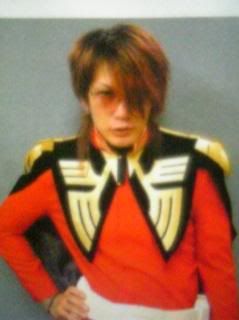 Yeah this is… um… Haha a horrible photo, at my friend's 21st birthday party.



Promote in 1+ other communites &provide a link to it: I don't belong to any comms yet… I only just decided to apply to a few to get some LJ friends…
ARE YOU HARSH?!