Basics
Name:
Ashley
Age:
19
Sex:
female
Location:
oklahoma
Favorites
food:
pepperoni pizza, steak, & okra
bands:
nirvana, breaking benjamin, sugarcult, hinder, the used
color:
lime green
Movies:
the breakfast club, pretty woman, 10 things i hate about you, anchorman, 40 year old virgin, talladega nights
Celebrities:
jared leto, will ferrell, julia roberts, jim carrey, reese witherspoon
Shows:
grey's anatomy, chappelle's show, south park, the colbert report
Stores:
target, hollister, charlotte russe
Fill this
I want:
a massage.
I need:
sleep.
I miss:
getting to see my friends everyday in high school.
I love:
my pillow.
I hate:
spiders.
Promote
Promote us to atleast 3 places. Not places that will bitch us out for you promoting there, or else its on youu. uno dos tres

Pictures

me and my best friend

us in cancun

from when I was in my friend's wedding.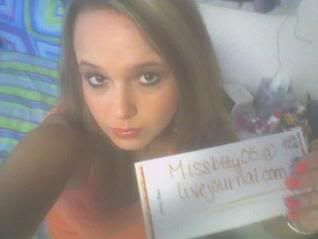 my salute to you.