Basics-
Name: Chelsea
Age: 14
Sex: female
Location: Los Angeles, CA
Interests: Music, Friends, Basketball, Clothes, Dancing
-Favorites-
Favortie Movies: Thirteen, Butterfly Effect, the forgotten
Favorite Bands/Singers: my chemical romance, jimmy eat world, the used, the killers
Favortie Places to Shop: ambercrombie, victorias secret, hollister, guess
Favortie Colors: pink, yellow
-Simple Questions-
Where did you promote us?[show links]: http://www.livejournal.com/users/_lets_dance_/5114.html?view=35578#t35578 Why do you want to be in our community?: Because this community looks really active and I just thought it would be fun to apply to
What is the one thing you regret in life?: I regret losing one of my best friends because we live so far away and just never seem to make time to see eachother
-Your Opinion on-
Cheerleaders: I think cheerleading is great. I really wanted to try out for cheer this year but i never got around to it.
Drugs: I personally dont do drugs because of consequenses it can have on your body. I dont think that doing drugs is the best way to deal with all your problems and feel happy. It just makes them go away for a while and by doing drugs it can just make all your problems worse.
Looking At Porn: I dont..but if it makes you happy do whatever you want
Sex: Its a personal desicion, but I think you really need to make sure your ready mentally and physically before having it.
Abercrombie: I love abercrombie. I have alot of my clothes from there but some things are over priced.
Post at least 3 pictures of yourself.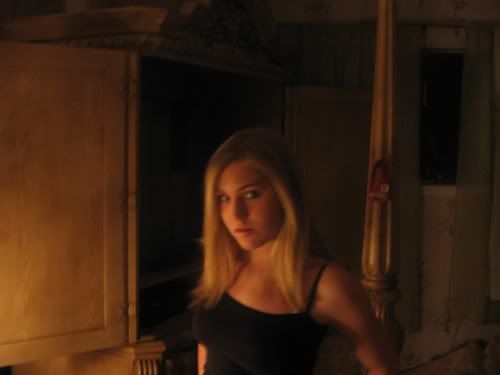 okay these pics arent the greatest but they give you an idea...