APPLICATION:
- name: jesse
- age: 16
- where youre from: philadelphia
- favorite bands/artists (other than RHCP):
john frusciante's solo work, the mars volta, bob dylan, sublime, stevie ray vaughan, etc. did i say john fruciante's solo work? oh yeah and i can't get enough of john frusciante's solo stuff. i think you guys get the idea.
- favorite song/lyric by RHCP: the whole blood sugar sex magik album is amazing. i honestly can't pick a favorite song. but the lyrics to sir psycho sexy have to be at the top of my list.
- other information you would like to share about yourself.: well, i play guitar, and record stuff.
- picture: i'm the one who creamed my pants. well actually, i always look like that.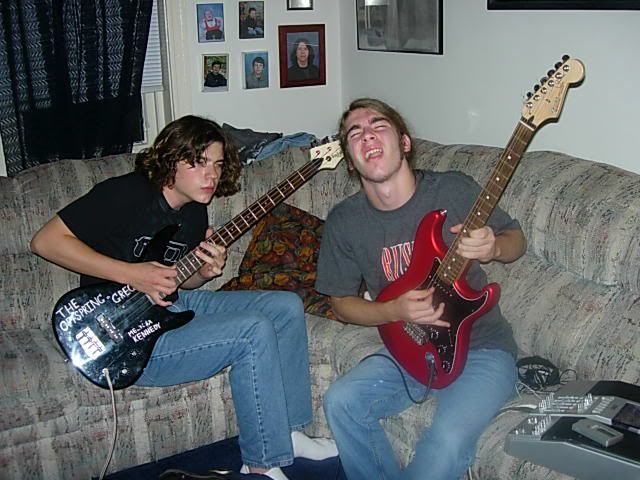 now that that's that, i saw the chili peppers with the mars volta here in philly at the wachovia center on tuesday night. it was my first time seeing them live and they were amazing.  got a bunch of pictures that i will post. oh and for whoever requested a setlist:

1. Intro Jam
2. Can't Stop
3. Dani California
4. Scar Tissue
5. Charlie
6. Fortune Faded
7. Jam/21st Century
8. Parallel Universe (w/out intro)
9. Hump de Bump (w/ Marcel Rodriguez-Lopez bongo solo)
10. John solo (Songbird by Fleetwood Mac)
12. Right on Time (w/ London Calling intro)
13. Don't Forget Me
14. Tell Me Baby
15. Blood Sugar Sex Magik
16. Readymade
17. Flea and John Jam
18. By the Way

ENCORE
19. Under the Bridge
20. You're Gonna Get Yours/Give it Away

and they played Snow in there somewhere, but i'm not sure where, because i got this setlist from someone else who left out snow.