Hello! I am selling one pair of Sundown Festival concert tickets which I've won in a contest. This event will be a fashionable blend of K-POP & J-ROCK.
Artises which will be performing at Sundown Festival:

- After School (KPOP)
- F.Cuz (KPOP)
- LM.C (J-ROCK)
- SuG (J-ROCK)
- Tenko (Drummers) and Asian Fashion Parades & Harajuku Street Fashion
Venue:
Universal Studios Singapore®, Resorts World™ Sentosa
Date:
31 July 2010, Saturday
Time:
8pm
Performance duration:
estimated 2.5hrs
More info at
sundownfestival.sg/
Selling
A PAIR @ SGD120
. (original price per ticket - $118 from SISTIC)
If you're interested, please feel free to drop me an Inbox or e-mail me @
sakuranova@hotmail.com
.
*
Tickets do not entitle you for Artist Meet and Greet.
HYDE
discography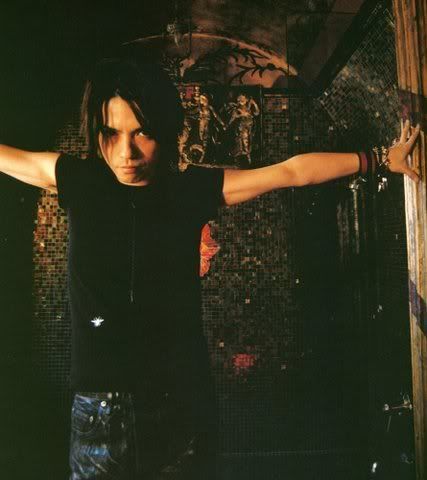 Albums
2002,
Roentgen

2003,
666

2004,
Roentgen
English version
2006,
Faith

Singles
2001,
Evergreen

2001,
Angel's Tale

2002,
Shallow Sleep

2003,
Hello

2003, Horizon

coming..


2005,
Countdown

2006,
Season's call

2008, Love Addict (Vamps)

coming...
I just upped this and thought I'd share it with you guys
KAT-TUN!!!
I have their Discography uploaded
here
at my journal.
For j-rock fans I recommend:
BUTTERFLY (Best of KAT-TUN Album)
WILDS OF MY HEART (Best of KAT-TUN Album)
Bokura no Machi de (Bokura no Machi de Single & Cartoon KAT-TUN II You Album)
HEARTBREAK CLUB (Cartoon KAT-TUN II You Album)
Keep the Faith (Keep the Faith Single & KAT-TUN III -Queen of Pirates- Album)
LIPS (LIPS Single & KAT-TUN III -Queen of Pirates- Album)
DON'T U EVER STOP (DON'T U EVER STOP Single & KAT-TUN III -Queen of Pirates- Album)
THat's all... I'm not surprised if you know this group but just don't listen to them because they're an idol group... but whatever. XD
Okay... so this community is sorta inactive, but I really want to get the word of this group out... It's sort of a more JPOP group, but their more recent songs have an edgier rock sound....
Current Mood:

cheerful

Current Music:

KAT-TUN - Will Be All Right


I'm looking for the original backing track/karaoke track on T.M.Revolution's "VENUS" single. Can anyone help?

Whoever can help me, just let me know what you need and I'll probably have it for you ;)

Thanks!!
Aww.. sad that this community is so inactive :(
Current Mood:

calm
HELLO!HELLO!
I was originally from NY, but I no longer live there. ;~~~; I miss it.

I figured some of you would be interested in joining, I'd like to share with you all a new internet J-music girlgroup!

B.E.A.T.! ☆ Café

We will be a small girlpop group who sings Japanese numbers from all sorts of musical Japanese names and groups.

Members and fans here can expect single covers, compilations, interviews, comic strips, and much more. =]
This is a fun place for fun music and cute things. n.n

Please do check us out! Auditions are being held, hope to see people there. n.n-

-
seramew
, group leader and coordinator. &hearts
Hey guys, can i please request the

I'd really like to know more about them, I like what I've heard so far (music-wise). If anyone's ready to educate me, that'd be great. XD

Thanks. :)
I'm not requesting any files or anything, but rather more information about the group. I've dug up their official website and know Hideki started it, but then left and that's about it. :0
Can someone share Lonely In Gorgeous by Tommy February 6 ? It's the intro theme to the anime Paradise Kiss. Thank you in advance!