[[basics]]
name: Gabby
sex: female
age: 15
location: san diego, california
sexual preferance: maleeee
birthday: november 10, 1989
sign: scorpio

[[favorites]]
5 + bands: bright eyes, the faint, hawthorne heights, david bowie, jimi hendrix, the rolling stones
5 + movies: the breakfast club, blow, the notebook, sixteen candles, fast times at ridgemont high
actor: tom cruise
actress: probably reese witherspoon or scarlett johannsen
color: pink
2 + books: beauty queen, go ask alice, the a list

[[your opinions on]]
abortion: personally, if youve been raped, i think that there is a reason to do it. although, if it was your choice, then you should be held responsible and not have an abortion. its a horrible thing to do, however, if you were raped and really didnt want to have the baby, i suppose thats an option.
gay marriage: i support gay marriages. gay people deserve to be just as happy as we are, and we are all the same, they just prefer the same sex. when i first heard it was going to be illegal i was soo furious. they deserve to be just as happy as we are.

[[other]]
who is your role model and why: lindsay lohan. she is beautiful to the bonessssss.
describe yourself in one word: interesting.

[[last words]]
why should we accept you: because i will be very active and promote!
what can you do for this community: bring excitement, and promoting!!

not the best pictures i have, but they will do.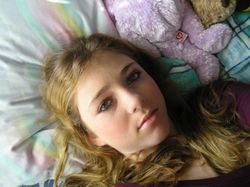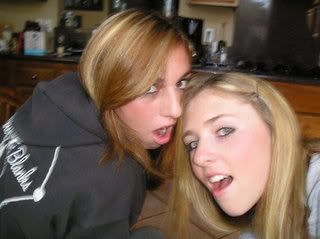 im on the right.



im on the left.