Name: Chelsea
Location: L.A.
Age: 14
Five Bands:
1. U2
2. BEATLES
3. Green Day
4. Ben Harper
5. Bob Marley
Five Movies:
1. I am Sam
2. Thirteen
3. Mean Girls
4. The color of friendship :)
5. Garden State
Two Songs:
1. Across the Universe~~~beatles
2. 99 problems~~~jay-z
Three Books:
1. annie's baby
2. go ask alice
3. Perks of being a wallflower
Two T.V. Shows:
1. One Tree Hill
2. OC
Favorite Actor/Actress:
Actor: Chad michael murray.. soooo hootttt lol
Actress: Rachel McAdams
CODE
- They're my tator tots, god!
Promote us in one journal and one community (show us the links):
http://www.livejournal.com/users/acrosmyuniverse/47617.html?view=338433#t338433
http://www.livejournal.com/community/trueradiance/2083.html?view=7203#t7203
How did you find us?: friend from school who wants to be nameless... shes crazy. :D
At least 3 pictures (INCLUDE A 150x150-for member information.):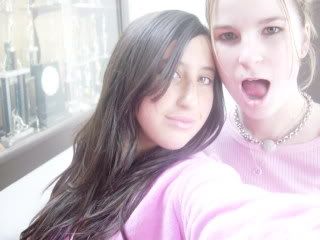 went to the grammys...